NASA Launches Orion On Second Try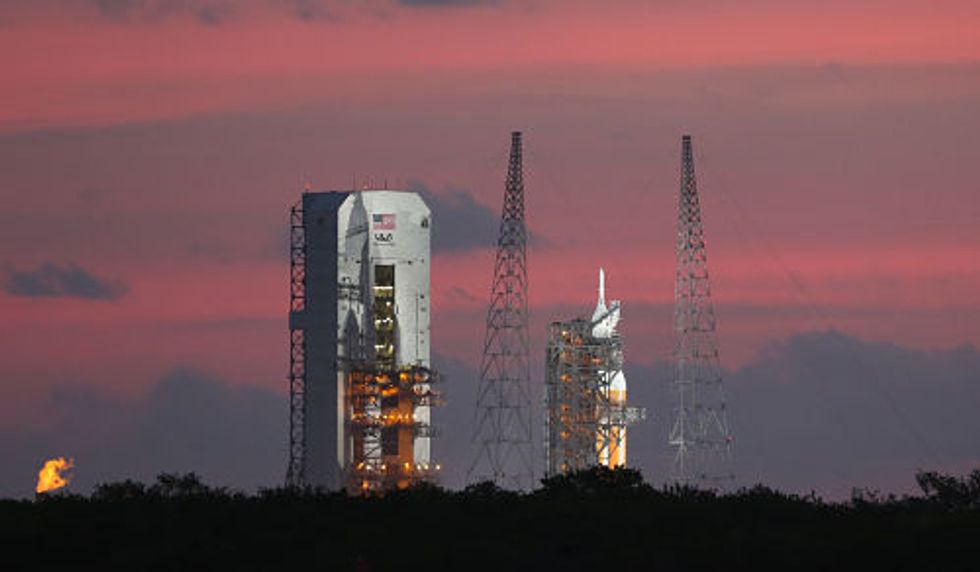 By Scott Powers and Marco Santana, Orlando Sentinel (TNS)
KENNEDY SPACE CENTER — Atop the most powerful rocket available, NASA's next generation space capsule Orion blasted off at 7:05 this morning against the backdrop of a rising sun at Cape Canaveral Air Force Station.
"Liftoff at dawn, the dawn of Orion and a new era of American space exploration," said Michael Curie, NASA announcer.
Six minutes into the flight, the rocket successfully jettisoned its three boosters, and the second stage ignited. That stage's burn ended 18 minutes into the flight as the spacecraft entered Earth orbit.
"Orion is functioning perfectly at this point," Curie said.
The launch went off on NASA's second attempt after wind and technical problems scrubbed a Thursday morning try.
But that was forgotten when the Delta IV Heavy rocket and Orion rumbled into the sky, to the delight of thousands of people along the waterfronts of Brevard County.
The four-hour, unmanned mission gives NASA a chance to test America's new do-everything spacecraft. In coming decades, Orion is expected to carry astronauts deep into space to the moon, asteroids, Mars and beyond.
The launch literally is the beginning of NASA's next big thing — deep space exploration — culminating in a Mars visit in about 20 years.
"This is Day 1 of the Mars era," proclaimed NASA administrator Charles Bolden.
For now, Friday's flight is expected to give critical information about how Orion jettisons parts of the rocket as it goes up; how aviation controls and computers function; and how electronics hold up in deep-space radiation.
Also being closely watched will be how its heat shields work as re-entry temperatures reach 4,000 degrees; and whether its three sets of parachutes make the landing safe enough for humans.
Orion is set to orbit Earth twice, swinging out to 3,600 miles away, farther than any spacecraft designed to carry humans has gone since Apollo. From there it will reach a re-entry speed of 20,000 mph and splash down in the Ocean about 600 miles west of Baja California, Mexico.
NASA and Lockheed-Martin, which developed Orion, will be able to gather much of the data they want during the flight, but a lot more will only be available off the capsule's recorders, after it is recovered.
The Navy is in charge of recovery. Orion then will be taken back to Kennedy Space Center, returning before Christmas, Geyer said.
The next big test is scheduled for 2018, when NASA's powerful new rocket, the Space Launch System, is ready. That will take another unmanned Orion for a trip around the moon.
The SLS is far more powerful, capable of 8.4 million pounds of thrust, about four times as much as the Delta IV Heavy. Orion and the SLS will be the backbone of NASA's long-term human space exploration plans.
Bolden said his granddaughter recently reminded him of this long-term potential and vision: "Don't get hung up on Mars, because there are other places to go once we get there."
Photo: NASA has scrubbed the launch of a Delta IV heavy rocket Thursday, Dec. 4, 2014 at launch complex 37B at Cape Canaveral. Orion crew capsule will embark on it's first voyage Friday morning. The two-orbit, four hour uncrewed flight test will evaluate the systems critical to crew safety. (Red Huber/Orlando Sentinel/TNS)