House Panel Prepares To Charge Trump Aides Navarro And Scavino With Contempt
@Brandi_Buchman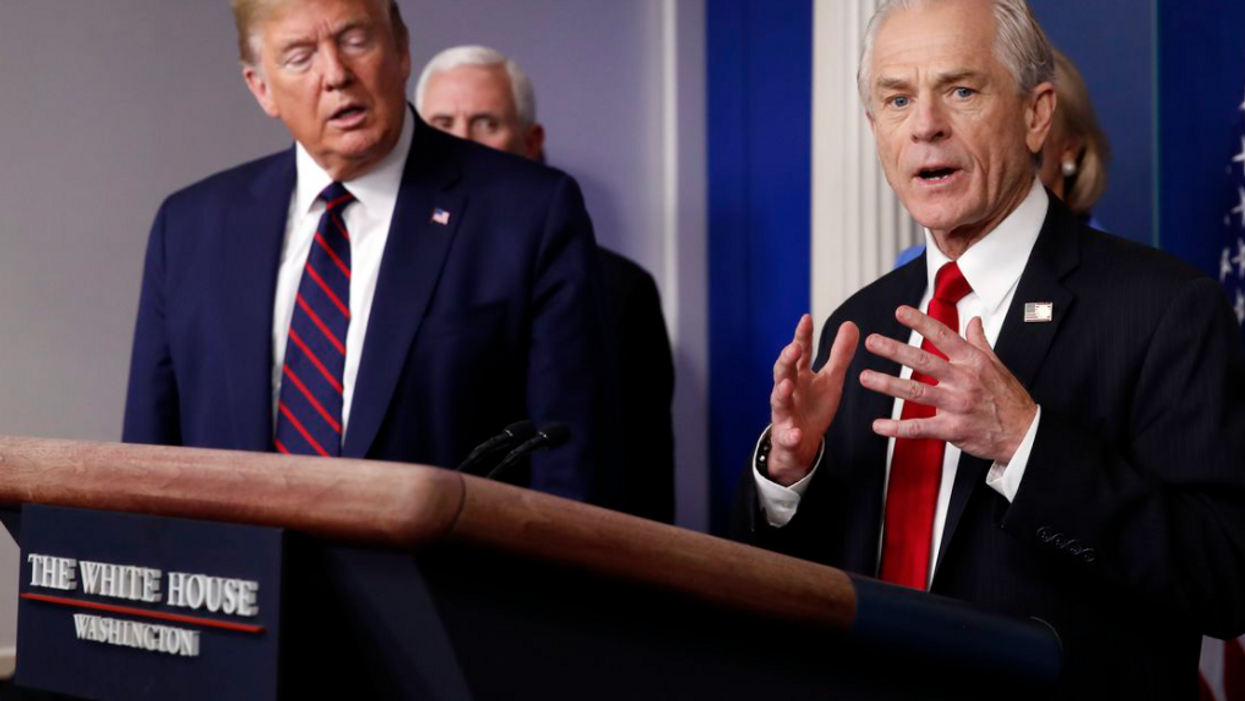 Members of the House Select Committee on the January 6 insurrection are poised to vote criminal contempt of Congress charges for two ex-Trump administration officials who have for weeks refused to face questions about their involvement in former President Donald Trump's push to overturn the 2020 election.
Onetime White House trade adviser Peter Navarro and ex-White House deputy chief of staff Dan Scavino were put on notice Thursday when the committee announced it would hold the vote on March 28.
Navarro's obstruction has unfolded while he has actively shilled a book about his time in the Trump administration. It featured entire passages where he basked in the plotting that he and former Trump adviser Steve Bannon—currently awaiting trial for his contempt of Congress charge—did in hopes of delaying the certification of the 2020 election on a bunk legal premise.
Scavino's records and deposition have been coveted since his subpoena in September. Scavino was in Trump's proximity the day of the attack and investigators believe he may have critical insight into the 187 minutes that Trump went silent as his supporters stormed the Capitol and assaulted police.
Navarro did not return a request to Daily Kos for comment on Friday. Historically, however, Navarro has taken a hostile posture toward investigators, calling them "domestic terrorists" on a "witch hunt" to hurt the former president.
In the wake of his February subpoena, Navarro said publicly that he would not comply, citing executive privilege claims to his conversations with Trump as well as over various materials from his stint in the White House.
He repeated his stance to The New York Times, saying if Trump waived the privilege, he would be "happy to testify."
"It is premature for the committee to pursue criminal charges against an individual of the highest rank within the White House for whom executive privilege undeniably applies. Until this matter has been settled at the Supreme Court, where it is inevitably headed, the committee should cease its tactics of harassment and intimidation," Navarro said.
Claims of executive privilege may be a little less sure-footed than Navarro suggests, however, following the massive blow dealt to Trump by the U.S. Supreme Court this January.
The high court ruled in Trump v. Thompson that Trump could not block the National Archives from transferring presidential materials to the committee. It also left a lower D.C. Circuit court ruling in place that brushed away Trump's argument that his status as a former president outweighed the public interest in probing the insurrection.
Critically, and as noted in comprehensive analysis by the Lawfare blog, that ruling also made it clear Trump's claims of executive privilege would fail even if he were the incumbent. As a result, that finding inflicts deep and potentially fatal wounds into related privilege claims propped up by the former president's cronies.

As for Scavino, his more than decade-long relationship with Trump plus his role as the White House communications director has put him in the hot seat while negotiations with the committee fizzled. A month after his initial subpoena, an attorney for Scavino said the former official tried to engage with the committee—but without success. Scavino also raised questions about the validity of the committee and its subpoena powers.

Numerous federal courts have resolved this since then, finding that the panel was properly formed in the House and acts within the bounds of its authority as an exploratory and legislative body.
He has also tried to keep the probe away from his phone records, suing Verizon this past January. He originally sued as an anonymous plaintiff but a judge ordered him to file the lawsuit publicly.
Scavino was a vocal advocate of Trump's election disinformation and promoted the rally at the Ellipse on Jan. 6 on Twitter. His office was just outside of the Oval Office as well, and it has been widely reported that this created an opening for Trump to avoid using official White House telephones. He would sometimes rely on Scavino's cell phone, instead.
Scavino may also have insights into the filming of several videos Trump reportedly shot from the White House while the riots were erupting. Committee chair Rep. Bennie Thompson (D-MI) has said he asked the National Archives for such videos, including any drafts or unfinished products.

In the end, Trump released a clip lasting just over a minute. In the same breath that he asked rioters to disperse, he said "this was a fraudulent election."
"We love you. You're very special. You've seen what happens." Trump said. After the committee approves the vote Monday for Scavino and Navarro, it will go to the full House of Representatives. Once approved, the contempt finding is referred to the Department of Justice. It is up to Attorney General Merrick Garland to decide whether to prosecute.
So far, just Steve Bannon, Trump's former adviser, has been criminally charged with contempt of Congress. Bannon was not an official White House staffer during the time investigators sought information and records, a factor that may have made reaching a decision to charge Bannon slightly easier.
Bannon goes to trial in July, but he's not sitting around quietly.
Over the past week, his attorneys have pushed to get the case thrown out. He now argues in a mind-melting bit of legal gymnastics that the Jan. 6 committee's rule barring third-party lawyers from attending witness deposition led him to believe his subpoena was invalid.
In court, Bannon claimed that when he was negotiating his appearance with the committee, he requested a lawyer for Trump also be present. The committee denied the request.
Bannon now argues that he is protected by a 2019 decision from the Office of Legal Counsel which found congressional subpoenas could be considered "legally invalid" if the subpoena stopped an executive branch attorney from appearing alongside an executive branch employee.
But Bannon was not an executive branch employee on January 6. He left his post in 2017 and the Justice Department is using this factor to advance its legal fight. Prosecutors have emphasized for months that Bannon is operating in bad faith. On this latest issue, U.S. attorneys argue his attorney, Robert Costello, could have raised the issue long ago but did not.
As this next criminal contempt vote looms, the Department of Justice has remained mum on whether it will pursue criminal contempt of Congress charges for Mark Meadows, Trump's former chief of staff. The House of Representatives approved the referral in December.

Meadows initially cooperated with the panel but eventually backtracked. He provided 9,000 pages of records, including more than 2,300 text messages.
Meadows has emerged as a central figure in the investigation as records made public thus far have offered insight into the pressure campaign foisted on then-Vice President Mike Pence to delay or stop the certification.
A bombshell report by The Washington Post and CBS published Thursday has now dug Meadows into an even deeper hole.

This time, text messages obtained by reporters have exposed how Meadows fielded correspondence from Ginni Thomas, wife of Supreme Court Justice Clarence Thomas. Ginni Thomas, in a flurry of over two dozen unhinged, conspiracy-laden messages, begged Meadows to "stand firm" with Trump to overturn the election.
She called on Meadows to have conservative attorney Sidney Powell become the "face" of Trump's legal fight to overturn the results and urged that a "hard line" be taken with Republicans in the White House or Congress who did not agree that the election was stolen.
Ginni Thomas attended the 'Stop the Steal' rally on January 6. and has denied having any involvement in organizing events for the day. It is unclear whether she has been subpoenaed by the House Select Committee or asked to make a voluntary appearance.

In one November 24 message after Ginni Thomas told Meadows that the "left is attempting the greatest heist of our history," Meadows replied that it was a "fight of good versus evil."

"Evil always looks like the victor until the King of Kings triumphs," Meadows wrote. "Do not grow in well doing. The fight continues. I have staked my career on it. Well at least my time in DC on it."
For now, the only other criminal contempt referral awaiting action is one for Jeffrey Clark, a former DOJ official.
Clark, according to emails and testimony given to the Senate Judiciary Committee last year, was pushing to have then-acting Attorney General Jeffrey Rosen removed. Rosen would not go along with a plot to inform swing state legislatures that they should appoint new electors and reject certified votes.
Trump's election fraud claims had already been trounced in court nearly 60 times when Clark allegedly put the gears to Rosen.
Clark appeared before the committee once in November when a contempt referral was threatened, but he was uncooperative and walked out. After a lengthy delay due to a medical problem, Clark did not appear before the panel again until February 2.
He sat for just under two hours and refused to answer over 100 questions as he invoked his Fifth Amendment privilege.
Public frustration over the Justice Department's failure to move on Meadows or Clark has mounted steadily in the past few months and some 443 days have passed since the Capitol was assaulted by Trump's supporters and members of extremist groups like the Proud Boys and Oath Keepers.
U.S. Capitol Police officer Harry Dunn endured a barrage of racist slurs for hours as he fought off hordes of rioters on January 6.
"When I first started doing interviews, I was asked often, what do you want the January 6th Committee to ask? To find out?" Dunn told Daily Kos in an interview Friday. "It was hard to answer that question because I didn't even know what I didn't know."
But every day since, he said, there's something new or "some new revelation or new rabbit hole" to explore.
The argument could be made that few people want to see justice for January 6 more than those officers who risked their lives to defend the Capitol and the lawmakers and staff inside.
And Dunn is patient.
"Compare what we know now about that day to what we knew on January 6. Imagine what we'll know in another two years," he said.
Reprinted with permission from Daily Kos