NBA Players, City Leaders Cheer Sanctions Against Donald Sterling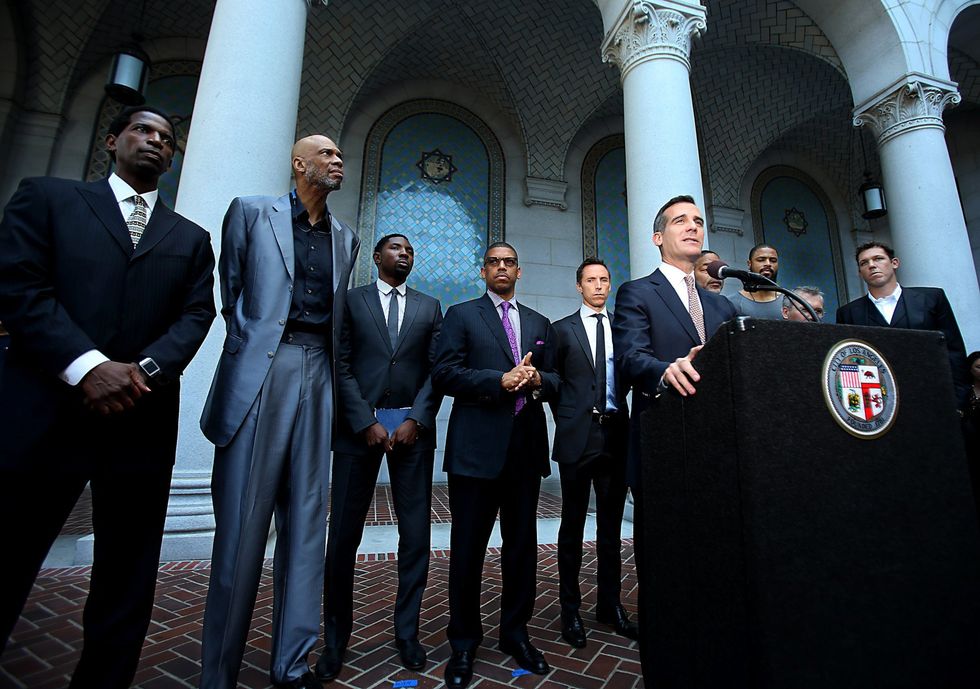 By David Zahniser, Los Angeles Times
LOS ANGELES — City leaders and current and former NBA players on Tuesday hailed the basketball league's decision to ban Los Angeles Clippers owner Donald Sterling for life and fine him $2.5 million for racial comments caught on tape and made public late last week.
"Today, we feel like justice has begun to be served," said Los Angeles Mayor Eric Garcetti, who had publicly supported a change in ownership. Standing on the steps of City Hall, Garcetti thanked NBA Commissioner Adam Silver for "bringing down the hammer" on Sterling.
Sacramento Mayor Kevin Johnson, a former NBA player and representative of the National Basketball Players Association, also praised the action, saying it delivered "a statement about where we are as a country."
"It doesn't matter if you're a professional basketball player, or a man or a woman who works hard for your family, there will be zero tolerance for institutional racism, no matter how rich or powerful" someone is, he said.
The celebrity website TMZ posted an audio recording Friday that purports to capture Sterling telling a woman identified as V. Stiviano that "it bothers me a lot that you want to broadcast that you're associating with black people." The man and woman on the recording argue about a photo posted on Instagram showing her with Magic Johnson.
At a news conference, Silver told reporters that Sterling had acknowledged it was him in the recording. The commissioner said he reached his decision on the lifetime ban and other measures Tuesday morning, the day after the NBA's investigation had been completed.
In addition to the fine and lifetime ban, Silver also said he would pursue a forced sale of the Clippers — an action that would require backing from three-fourths of NBA ownership groups.
"I fully expect to get the support I need" to force a sale, he said.
Outside City Hall, Johnson and other current and former players, including Los Angeles Lakers star Steve Nash, said they were pleased with the punishment and looked forward to the NBA following through with the measures.
"If you see cancer, you've got to cut it out real quickly," Johnson said. "And Commissioner Silver did that in real time."
It was unclear how Silver's announcement would affect a planned anti-racism demonstration outside Staples Center before Tuesday evening's Clippers game, but Garcetti that the NBA executive's action was something the entire city could rally around.
"We may be a two-team town, but today, we are behind one team," he said.
Luis Sinco/Los Angeles Times/MCT