Neither Law Nor Order, But Bloody Chaos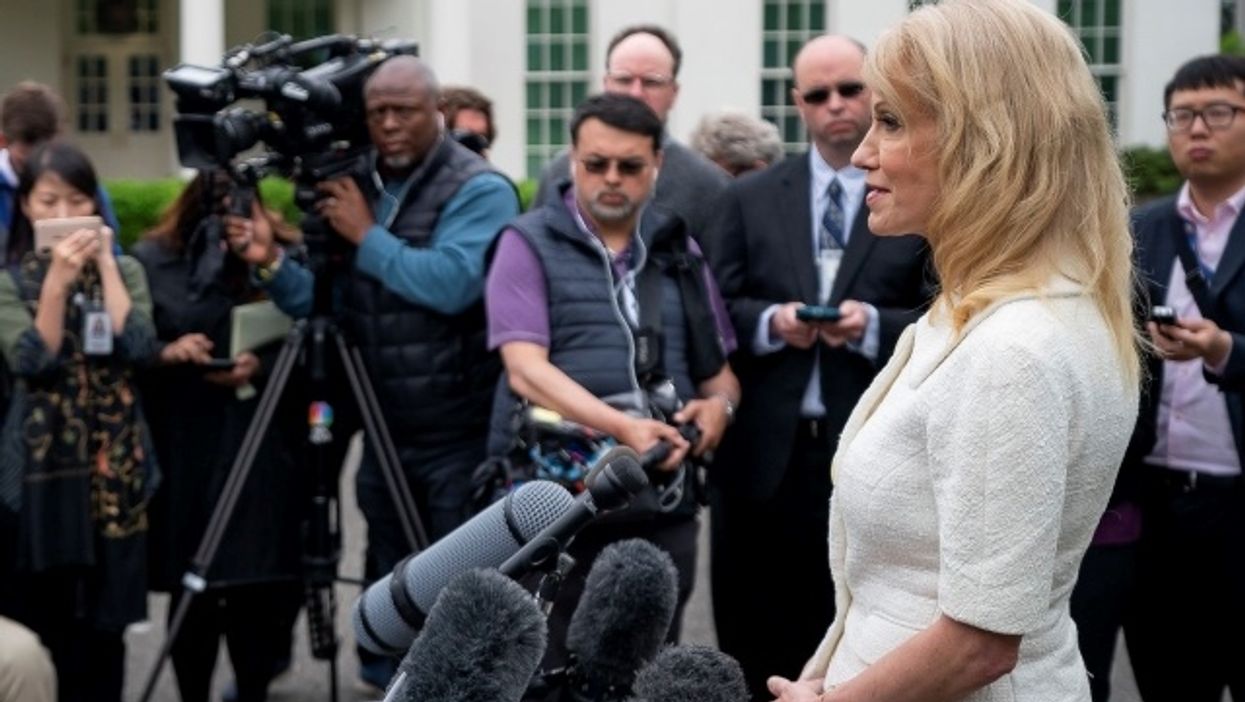 Photo by The White House
On the eve of her departure from the White House, after the arrest of a 17-year-old "militia" gunman for a double homicide, Kellyanne Conway blurted a gloating observation: "The more chaos and anarchy and vandalism and violence reigns, the better it is for the very clear choice on who's best on public safety and law and order."
To anyone familiar with the methods of fascism, the Trump adviser's ugly boast was telling. Authoritarian parties and regimes, dating from the era of the Reichstag fire and Kristallnacht, have always covertly encouraged violent disorders to justify their own repressive acts. Beneath President Donald Trump's rhetoric of "law and order" lies not only the notorious lawlessness of the president and his cronies but also his incessant instigation of crime and brutality on the far right. He is assuredly not the choice of anyone who hopes to improve the nation's security.
---
Before Trump, no modern president had ever encouraged his followers to consider their fellow citizens as enemies who pose a threat to the nation and must be somehow extirpated. By repeatedly tweeting outrageous calumnies against his political adversaries — claiming that Hillary Clinton, Barack Obama, George Soros and many others committed "treason" — he has provoked violent plots against them. By shrieking false alarms about "invading immigrants" and "election fraud," he has driven his armed followers to imagine that America is on the verge of civil war. And with his constant drone of white resentment, he has assisted recruiting neo-Nazi extremists, even as he pretends not to know who they are.
By now, we ought to understand the grave dangers posed by a president who publicly fantasizes vengeance and bloodshed. We've seen how his permissive attitude toward the "very fine people" who marched with swastikas in Charlottesville, Virginia, led to repeated acts of murder and mayhem aimed at immigrants, Blacks, Jews and other minorities.
The Republican National Convention again demonstrated the perils of right-wing extremism when its organizers decided to invite an appearance by the nutty St. Louis couple who aimed their weapons at peaceful demonstrators on the street outside their home. (Local prosecutors indicted them for that crime.) For the Republican Party to make heroes out of kooks who threaten their fellow Americans with firearms can only lead in one direction.
That direction became clear as demonstrations and rioting broke out in Kenosha, Wisconsin, after the police shooting of Jacob Blake, when a teenager in a baseball cap named Kyle Rittenhouse showed up from Illinois with an "AR-15-style" rifle. Because he was under 18, his possession of that weapon on the streets was unlawful. Before the night was over, he would scuffle with demonstrators, kill two of them and wound a third. It doesn't matter that his victims were innocent of any crime, because he inflicted retribution on the far right's perceived "enemies." (Before this tragic incident, he was last seen in the front row of a Trump rally, where the president vilified Democrats and immigrants.) As the gleeful commentary on social media suggests, this kid really "owned the libs."
Urging civilians onto the street with guns to confront other citizens can only result in more mayhem and murder; white nationalists are plotting to kick off the "second civil war" they have long imagined. That isn't "law and order." That is social breakdown verging on national destruction — and it is the potential consequence of a growing violent fascist underground that has been responsible for most terrorist acts in this country over the past decade.
The most darkly ironic moment at the Republican National Convention came when Vice President Mike Pence asked his audience to remember the late Dave Patrick Underwood, an officer in the Department of Homeland Security's Federal Protective Service. The vice president said that Underwood was "killed during the riots in Oakland," falsely suggesting that he had been killed by protesters against police brutality. But the facts about Underwood's death revealed a deeper truth: He was assassinated by a right-wing extremist seeking to set off "the boogaloo," a term for urban violence leading to civil war.
Such is the bloody atmosphere of the United States after four years of Donald Trump stirring up hate. It is the mood that sustains him. But we will have neither law nor order if he somehow remains in office for four more.
To find out more about Joe Conason and read features by other Creators Syndicate writers and cartoonists, visit the Creators Syndicate website at www.creators.com.