Child Abuser, Neo-Nazi Among January 6 Defendants Who Keep Criming
@next2godwin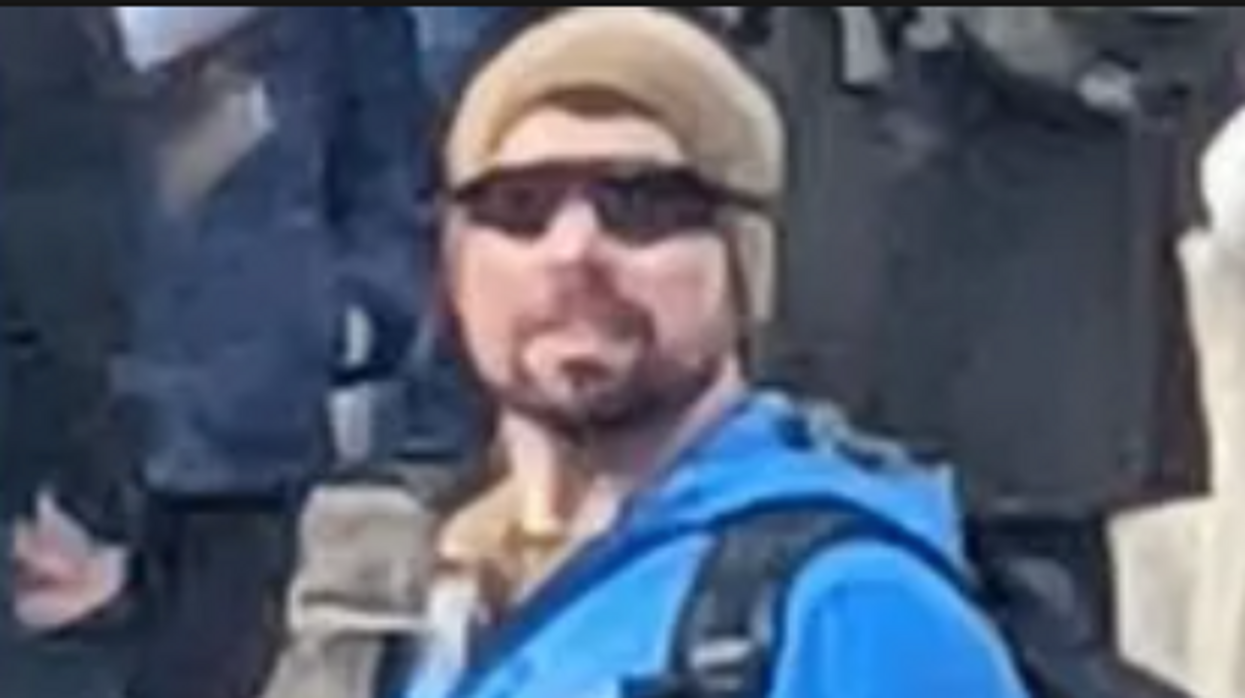 Image by US Department of Justice
It's been over 20 months since the January 6 insurrection — an unprecedented breach by irate Trump supporters that caused $1.5 million in damages to the Capitol building and grounds — but the damage to American democracy is still being tallied.
The Department of Justice has charged over 900 people with crimes in connection with the Capitol riot, several dozen of whom are still locked up and awaiting trial. Thirty of these rioters are currently sitting in a Washington, D.C., jail., CBS News reported Friday.
As the FBI sifts through video footage, social media posts, and public tips in search of those who have escaped justice thus far, a rising number of indicted rioters have been re-arrested for gun, drug, or domestic abuse-related crimes, a CBS News review of Justice Department court filings showed.
Neo-Nazi Navy Reservist
One such instance is the case of Hatchet Speed, a Navy reservist from McLean, Virginia, who allegedly stormed the Capitol with the Proud Boys, an alt-right paramilitary group; bought dozens of firearms after January 6; and talked of how to "wipe out" Jews.
Prosecutors described Speed, who was arrested on June 22 and charged for his involvement in the Capitol breach, as a "heavily armed Nazi sympathizer" with "Top Secret/Sensitive Compartmented Information (TS/SCI) clearance," according to the Washington Post.
Prosecutors charged that Speed blamed "Antifa" for breaking the Capitol building's windows; accused then-Vice President Mike Pence of betrayal in rhetoric that mirrored former President Trump's incendiary tweets against his number two at the time; and made threats against Democratic House Speaker Nancy Pelosi.
Months after, prosecutors brought more charges against him: that he "espoused the use of violence to further his anti-government and anti-Semitic ideologies" in statements to an undercover FBI agent — and that he purchased $50,000 worth of firearms in a fit of "panic" buying, amassing a weapons stash that included rifles, shotguns, pistols, revolvers, and even silencers.
Speed, prosecutors also alleged in charging documents, sympathized "with domestic terrorists Eric Rudolph and Ted Kaczynski," backed "jihadist" efforts to "wipe out" Jews, and called Adolf Hitler "one of the best people that's ever been on this earth."
Speed's arraignment is set for September 22, and the federal public defender assigned to him has declined all requests for comment.
'Sexual Battery Of A Minor'
Authorities also arrested another rioter from Norfolk, Virginia, who illegally entered the U.S. Capitol with a "Captain America-style shield," on domestic violence charges months after his arrest for January 6, CBS News noted in its report.
The rioter, Kene Brian Lazo, was sentenced to 45 days in jail after pleading guilty for his role in the Capitol siege. He admitted to illegally entering the Capitol and remaining for 30 minutes in Rotunda and senate chamber.
Prosecutors said that Lazo, donning a helmet, goggles, an American flag cape, and other tactical gear, stormed the Capitol building chanting "our house!"
"[I]f shit his the fan [I] will get some dead guys [sic] gear and guns if it comes down to it," Lazo posted on Facebook, according to prosecutors.
In his hearing before U.S. District Judge Christopher Cooper, Lazo sniffled and cried so loudly that the judge asked if he needed some to recompose himself, to which Lazo replied, "I'm okay, Your Honor, I'm okay," according to LawandCrime.
Months later, Lazo was re-arrested on more serious charges: "rape, aggravated sexual battery of a minor under 13 years of age, assault and battery of a family member, and other charges," LawandCrime noted in its report.
Four Vials Of Testosterone
CBS News also reported on the arrest of Elias Nick Costianes of Nottingham, Maryland, a Capitol rioter who federal agents alleged committed other offenses after executing a "Capitol riot warrant" at his home last February.
Federal agents found four guns in Costiane's home: "a 9mm pistol; a M&P 15 semi-automatic rifle; a .223 caliber semi-automatic rifle; and a 12-gauge shotgun, as well as 9mm, .22 caliber, .223 caliber, and shotgun ammunition," per a U.S. government press release. Two of the guns weren't registered to the defendant.
Agents also found a hypodermic needle and four vials of Testosterone Enanthate, a controlled substance in the United States, in his Costianes home, per CBS.
Costiane will appear in court again in October for his Capitol riot case, where he stands accused of breaching the senate chamber's second level.