Nervous Trump Hints He Might Refuse To Meet With Mueller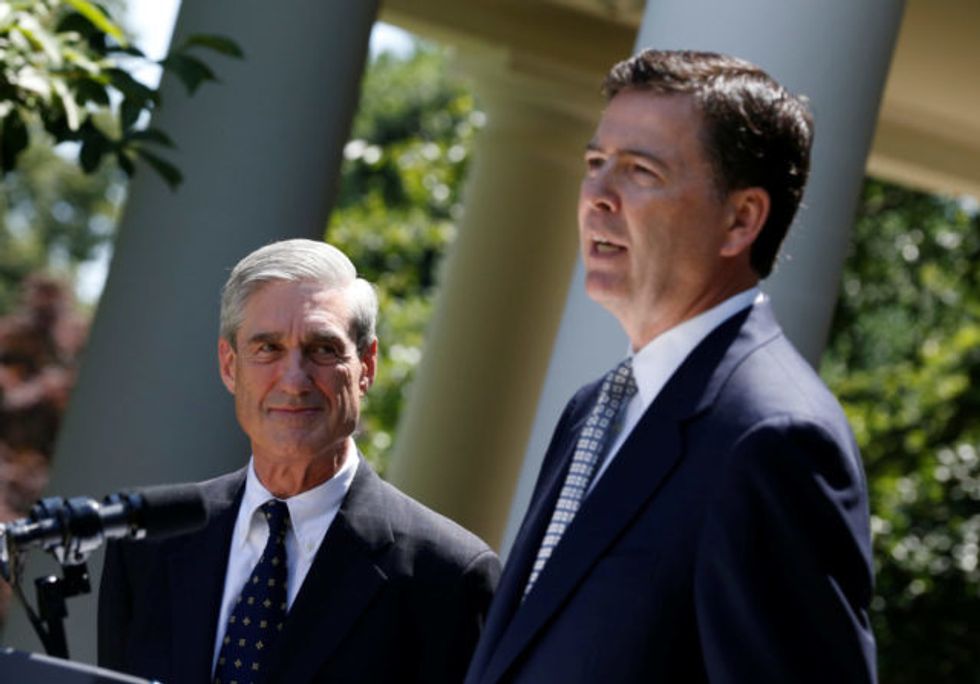 Reprinted with permission from Shareblue.com
Donald Trump was forced to face White House reporters Wednesday afternoon, and it did not go well for him.
At a joint press conference with Norwegian Prime Minister Erna Solberg, Trump tried to cushion the blow by only calling on two reporters, both from conservative outlets, but still could not manage to avoid making devastatingly bad news for himself.
Fox News' John Roberts asked Trump if he would be willing to sit down for questioning by special counsel Robert Mueller, and what preconditions he might demand. Trump then went on a lengthy digression that included solid gold hits like "no collusion" and "Democrat hoax," but failed to answer Roberts' actual question.
Roberts followed up that embarrassment by asking Trump to answer the actual question, which turned out to be that Trump doesn't actually think he will submit to the interview, after all.
ROBERTS: Are you open to meeting with him? Would you be willing to meet with him without conditions, or would you demand that a strict set of parameters be placed around any encounter between you and the special counsel?

TRUMP: Well, again, John, there has been no collusion between the Trump campaign and Russians, or Trump and Russians. No collusion. When I watch you interviewing all the people leaving their committees, I mean, the Democrats are all running for office and they're trying to say this stuff. But bottom line, they all say there's no collusion. And there is no collusion. And when you talk about interviews, uh, Hillary Clinton had an interview where she wasn't sworn in, she wasn't given the oath, they didn't take notes, they didn't record, and it was done on the Fourth of July weekend. Uh, that's perhaps ridiculous, and a lot of people looked upon that as being a very serious breach, and it really was.

But again, I'll speak to attorneys. I can only say this: There was absolutely no collusion. Everybody knows it, every committee — I've been in office now for 11 months. For 11 months, they've had this phony cloud over this administration, over our government, and it has hurt our government. It does hurt our government. It's a Democrat hoax that was brought up as an excuse for losing an election that, frankly, the Democrats should have won because they have such a tremendous advantage in the Electoral College. So it was brought up for that reason. But it has been determined that there is no collusion, by virtually everybody, so we'll see what happens.

ROBERTS: But again, would you be open to —

TRUMP: We'll see what happens. I mean, certainly I'll see what happens. But when they have no collusion and nobody's found any collusion at any level, it seems unlikely that you'd even have an interview.
Trump appears to be laying the groundwork to refuse the interview based on some sort of dubious legal argument, as well as his own false sense of indignation at even being asked. Trump's lawyers have been making a pretense of cooperating with Mueller, but that pretense may have ended Wednesday. His lawyers are reportedly worried that Trump — who was caught lying 30 times under oath during a two-day deposition — might perjure himself.
Mueller was never likely to take "no" for an answer, but Trump's impulsive performance here may have hastened the day when the special counsel forces the issue.