Nervous Trump Lawyers Worry He'll Commit Perjury In Front Of Mueller
@EricBoehlert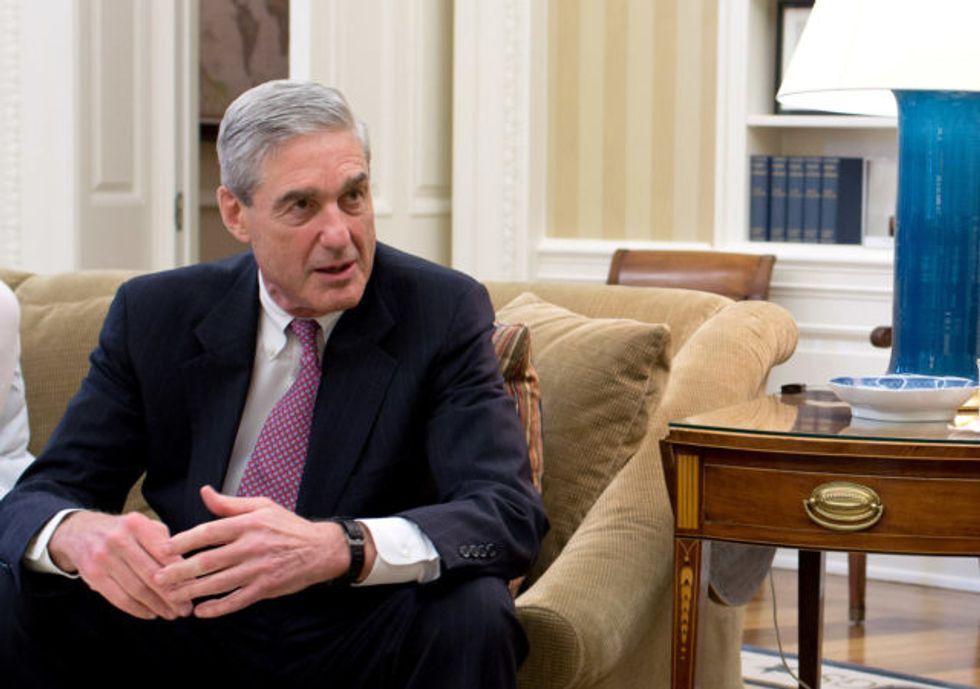 Reprinted with permission from Shareblue.com
As questions mount about Donald Trump's mental capacity , White House lawyers are trying to devise a strategy where he will be able to answer questions about possible Russia collusion from special counsel Robert Mueller, but without having to do so face-to-face.
"Anticipating that Special Counsel Robert Mueller will ask to interview President Donald Trump, the president's legal team is discussing a range of potential options for the format, including written responses to questions in lieu of a formal sit-down, according to three people familiar with the matter," NBC News reports .
If the whole Russia investigation is a "hoax," as Trump claims, and he has nothing to hide, why are his attorneys trying to shield him from direct questioning?
It's certainly possible they are afraid Trump will commit perjury many times over if he sits for hours and is subjected to intense questioning. After all, he has a long history of lying under oath . Trump for the last year has shown no hesitation about lying or simply changing his stories with regards to his campaign's interactions with Russian operatives in 2016.
Mueller is also reportedly investigating whether Trump tried to obstruct justice when he fired then-FBI Director James Comey. Trump quickly announced on national television that he fired Comey because of his handling of the Russia investigation.
That occurred last May. Since then, Trump's aides have not allowed him to sit down for a one-on-one interview with a legitimate TV news reporter since he blurted out his reasoning for firing Comey.
In other words, that's likely what Trump's lawyers are trying to avoid with a Mueller interrogation — Trump accidentally telling the truth, or Trump simply making stuff up.
Chances are, though, the special counsel's office isn't going to allow Trump to hide. "The odds of prosecutors agreeing to written responses are somewhere between infinitesimally small and zero," Chuck Rosenberg, Comey's former chief of staff, tells NBC News.
Meanwhile, Michael Wolff's new insider White House book, "The Fire and the Fury," raises all kinds of questions about Trump's mental capacities . The book notes, for instance, that Trump endlessly repeats himself in private meetings. That could be a blueprint for a disastrous Trump interrogation with prosecutors.
Trump's dubious mental state isn't the only problem his lawyers face in terms of dealing with the Mueller investigation.
"President Trump's Twitter habit may become a legal liability for him, as his latest tweets about the Russia investigation could help build a potential case against him for obstruction of justice or witness intimidation," USA Today noted last year.
For instance, after former Trump campaign adviser George Papadopoulos pleaded guilty and revealed that he is cooperating with the special counsel's Russia investigation Trump tweeted that Papadopoulos is " a liar ."
If Trump turns out to be a target of the investigation and he's publicly attacking and smearing a key witness, that could be used against him legally.
For now, Trump attorneys are huddling and trying to figure out a way to shield the president from answering the tough questions.