Netanyahu To Obama: 'Bottom Line,' Iran Must Dismantle Nuclear Program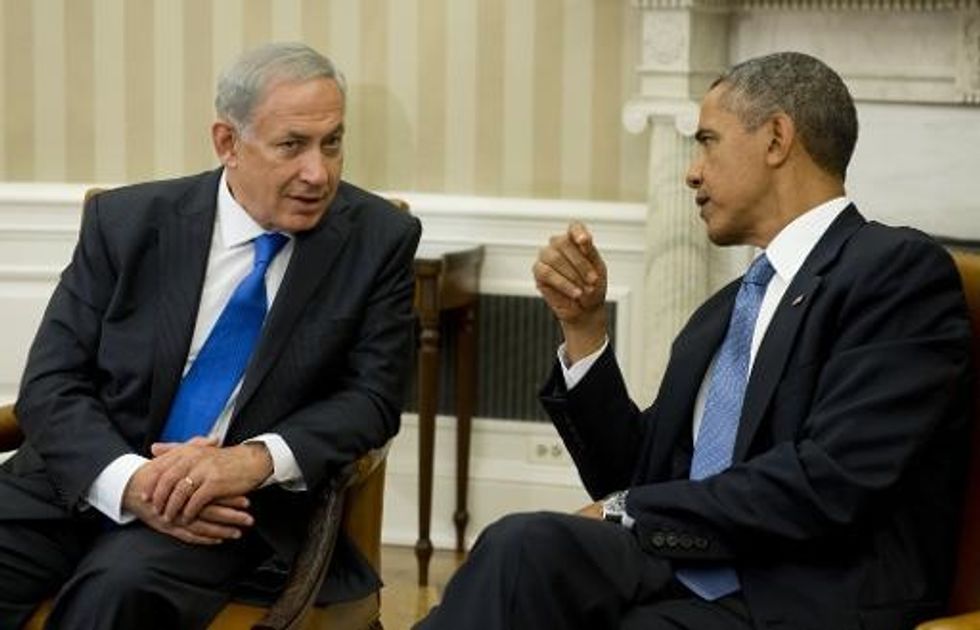 Israeli prime minister Benjamin Netanyahu's meeting at the White House with President Obama on Monday comes after a historic breakthrough in the U.S.' relationship with Iran that further complicates the two allies' already tense relationship.
Netanyahu is perhaps the greatest skeptic of the thawing tensions suggested by the phone call on Friday between Obama and Iranian president Hassan Rowhani, the two countries' first direct contact since 1979.
As expected, Iran's nuclear weapons program dominated Monday's talk in the Oval Office.
Netanyahu — who once called Rowhani a "sheep in wolf's clothing" —  believes Iran is trying to buy time and ease international sanctions in order to develop nuclear weapons – a claim that Iran denied just this past week during the UN General Assembly.
While speaking with Obama, Netanyahu warned that "Iran is committed to Israel's destruction," dismissing the Iranian president's more-moderate rhetoric as mere cover-up for an extreme nuclear policy and demanding that "conciliatory words be met with real action."
The president admitted that Rowhani's "words are not sufficient" and that Iran must "have actions that give the international community confidence that, in fact, they are meeting their international obligations fully."
For Israel, Netanyahu firmly put it: "What's the bottom line? Iran must fully dismantle its nuclear program."
President Obama reassured the prime minister that the United States will "take no options off the table, including military options" to ensure that Iran does not pursue the development of nuclear weapons.
The president also addressed Netanyahu's fear that the United States would lift economic sanctions on Iran – sanctions that many credit with forcing Iran to the negotiating table. Netanyahu praised the president for keeping "those pressures" in place, deeming them necessary "if diplomacy is to work."
Netanyahu also suggested that "if Iran continues to advance its nuclear program during negotiations, the sanctions should be strengthened."
Still, Obama emphasized the need "to test diplomacy" and added that the process "will not be easy," but assured the leader of the Jewish state that "we enter into these negotiations very clear-eyed."
During Monday's meeting, Obama and Netanyahu also discussed the civil war in Syria and the unrest in Egypt, and Obama praised Netanyahu's "courage" during the ongoing Israeli-Palestinian peace talks. Netanyahu is scheduled to address the UN General Assembly on Tuesday, and is expected to again warn the world about Iran's nuclear program.
AFP Photo/Saul Loeb