Netanyahu Tries To Undo Harm To US-Israel Relations; White House Icy In Response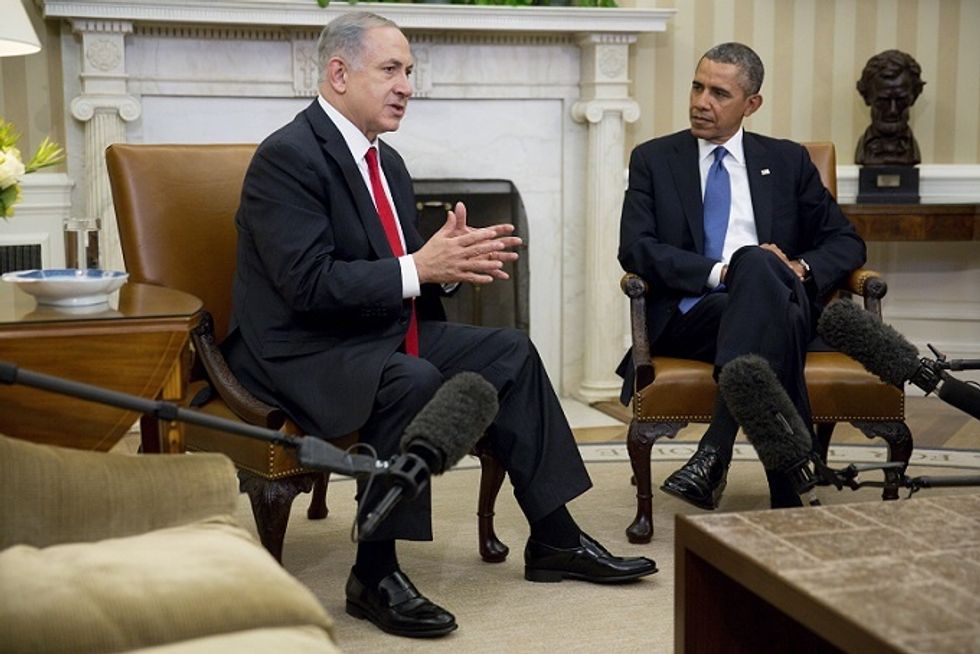 By David Lauter, Tribune Washington Bureau (TNS)
WASHINGTON — Israeli Prime Minister Benjamin Netanyahu tried to walk back controversial remarks he made in the closing days of his re-election campaign, turning to two U.S. television networks to rebut charges of racism and insist he still backs a negotiated peace that would include a Palestinian state.
But his words met an icy response at the White House, where press secretary Josh Earnest repeated that Netanyahu had walked away from previous Israeli commitments to a two-state solution for the conflict with the Palestinians.
"I haven't changed my policy" on a Palestinian state, Netanyahu said in an interview with NBC's Andrea Mitchell that aired Thursday. "I don't want a one-state solution. I want a sustainable, peaceful two-state solution."
That remark sought to take back one he made in the final days of the campaign. As he sought to spur his nationalist, conservative backers to the polls, Netanyahu had said he would oppose creating an independent Palestinian state. His remarks were widely interpreted as negating the pledge he had made in 2009 to back a two-state solution to the Israeli-Palestinian conflict.
Netanyahu insisted in Thursday's interviews that he had meant only that a Palestinian state wasn't possible in current conditions.
"Circumstances have to change," he said, pointing to the efforts the Palestinian leadership in the West Bank has made to negotiate a unity pact with the more radical Hamas movement, which controls the Gaza region.
Undoing the tie with Hamas, which Israel and the U.S. consider a terrorist group, is a necessary first step for any negotiations, he said.
"You have to get the international community to press on the Palestinians to go back to — go back on their unity pact with the terrorist Hamas and come back to the table," Netanyahu said in an interview with Megyn Kelly on Fox News, according to excerpts released by Fox. The interview was scheduled to air Thursday evening.
Mahmoud Abbas, the leader of the Palestinian Authority, said he was pessimistic about the chances of negotiating a two-state solution with Netanyahu. The Palestinians plan to resume efforts to persuade the U.N. Security Council to pass new resolutions aimed at securing their statehood, Abbas said.
Administration officials seemed unimpressed with Netanyahu's efforts to make amends.
"What is apparent is that in the context of the campaign, and while he was the sitting prime minister of Israel, he walked back from commitments that Israel had previously made to a two-state solution," Earnest said.
"This was a policy that was supported and in place under both Democratic and Republican presidents," he added. "We'll have to sort of see what sort of policy and priorities the prime minister chooses" in his new government.
In the meantime, he repeated the suggestion that administration officials had made Wednesday that if Netanyahu was abandoning the two-state goal, the U.S. might drop its longstanding policy of blocking United Nations resolutions that Israel opposes.
"The United States has repeatedly intervened in some of those debates at the U.N. and in other places by saying we should — the best way for us to solve this problem is to get the two parties to sit down at the negotiating table, resolve their differences so that this two-state solution can be realized," he said.
"Now that that foundation has been eroded, it means that our policy decisions need to be reconsidered. And that's what we will do."
In the interviews, Netanyahu also tried to take back a remark about Arab voters that had prompted an angry reaction from administration officials and many prominent American Jews.
In a video released on election day, he had warned supporters that Arab voters were heading to the polls "in droves." U.S. officials called that comment a negation of Israel's democratic values.
Netanyahu denied any discriminatory intent.
"I'm very proud to be the prime minister of all of Israel's citizens, Arabs and Jews alike," Netanyahu told NBC.
"I wasn't trying to suppress a vote; I was trying to get out my vote," he said in both interviews.
On that front, too, the White House showed little inclination to let the issue drop. Asked about Netanyahu's comments, Earnest decried "cynical, divisive election day tactics" which were a "pretty transparent effort to marginalize Arab Israeli citizens and their right to participate in their democracy."
Both sides continued to say that despite the current strains between the two governments, the underlying alliance between the U.S. and Israel remains strong.
"There's an unbreakable bond" between Israel and the U.S.," Netanyahu said on NBC. "We'll work together, we have to."
Netanyahu also adopted a softer tone in his criticism of the nuclear deal the U.S. and five other world powers have been negotiating with Iran. He continued to say, as he did in his speech to Congress earlier this month, that he thought a better deal could be negotiated, but did not repeat some of the tough rhetoric he used then.
It's possible to negotiate "an agreement we wouldn't like but we could live with," he said in the Fox interview.
A key concern, he said, would be the duration of restrictions on Iran's nuclear activities and what tests Iran would have to meet to have those restrictions lifted. That issue remains under negotiation, officials involved in the talks have said.
(Special correspondent Maher Abukhater in Ramallah contributed to this report.)
Photo: U.S. President Barack Obama watches as Israeli Prime Minister Benjamin Netanyahu speaks in the Oval Office of the White House in Washington, D.C., on Monday, March 3, 2014. (Andrew Harrer/Bloomberg via Abaca Press/MCT)