Neurologist Oliver Sacks Describes His Fascinating Life In 'On The Move'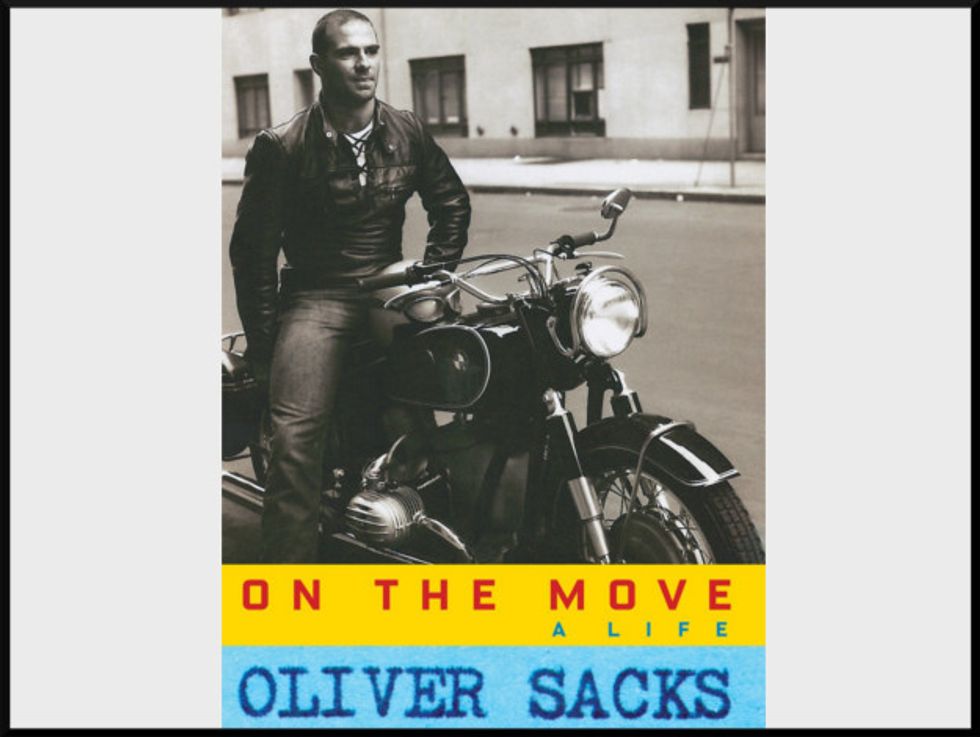 By Jim Higgins, Milwaukee Journal Sentinel (TNS)
On The Move: A Life by Oliver Sacks; Knopf (416 pages, $27.95)
___
Hold on a minute: The young stud straddling the BMW motorcycle on the cover of On the Move is Oliver Sacks, the genial neurologist of Awakenings?
As this memoir makes clear, the Whitmanesque Sacks truly contains multitudes: The compassionate scientist who writes beautifully and travels to Mexico to look at ferns has also been a motorbike buff, competitive weightlifter, and, in the past, a drug abuser.
In February, the 81-year-old Sacks revealed in a New York Times op-ed that he has terminal cancer.
In reacting to the mild-mannered way in which philosopher David Hume described his own terminal condition, Sacks wrote, "I am a man of vehement disposition, with violent enthusiasms, and extreme immoderation in all my passions."
Indeed, On the Move is a memoir of a man who lived the advice of Ms. Frizzle: Sacks has taken chances, made mistakes, and gotten messy.
On the Move picks up where Uncle Tungsten, Sacks' childhood memoir, ended. He grew up in London in a brilliant, loving Jewish family, with his father a doctor and his mother a surgeon. Unfortunately, mother's love and support did not extend to her teenage son's attraction to other males. "You are an abomination," he reports her once saying. "I wish you had never been born."
"I have needed to remind myself, repeatedly, that my mother was born in the 1890s and had an Orthodox upbringing and that in England in the 1950s homosexual behavior was treated not only as a perversion but as a criminal offense," Sacks writes.
He understands now that his mother spoke those words when she felt overwhelmed and probably regretted them.
But he also admits that "her words haunted me for much of my life and played a major part in inhibiting and injecting with guilt what should have been a free and joyous express of sexuality."
In college at Oxford, Sacks won 50 pounds for an essay on anatomy, then spent 44 pounds on "the most coveted and desirable book in the world" — the 12-volume Oxford English Dictionary, presaging his future as the man who would revive the art of the literary medical case study.
Feeling that London already contained too many Dr. Sackses, he sought his medical destiny in the United States. While pursing advanced training, he rode his motorcycle around California, at least once making the unexpected acquaintance of Hell's Angels. He pushed himself relentlessly in weightlifting, at one point setting a California state record.
But while he became strong, Sacks writes, that physical strength did nothing for what he calls his "timid, diffident, insecure, submissive" character. He also became addicted to amphetamines. "A rash drug taker in the 1960s, I was prepared to try almost anything," he confesses.
Freaking out more than once, he was helped back to earth and sanity by a calm friend, a black physician improbably named Carol Burnett. Sacks may have struggled with sexual and romantic relationships, as he relates in his book, but he has clearly been both gifted and fortunate in his friendships.
Giving up the laboratory, where he often fumbled, Sacks turned to clinical work with patients, and found his calling.
His work with postencephalitics at the Beth Abraham Hospital in the Bronx led to his book Awakenings (1973) and the subsequent movie. The Man Who Mistook His Wife for a Hat (1985), a collection of case studies, became a best-seller and made him famous — a mixed blessing for a man who loves solitude.
Sacksologists will find many nuggets to chew on in this memoir, including details on his clinical work, memories of Robin Williams and Robert De Niro, thoughts about autism and deaf culture, and hints about books he has not yet published.
I see the roots of his compassion in family relationships, including his Auntie Birdie (who played a role in his world similar to Sook in young Truman Capote's life) and his brother Michael, who was given insulin shock treatment after a psychotic break as a teenager, and never developed the ability to live a normal independent life.
Once, after a fall from a Norwegian mountain path led to a horrific leg injury, Sacks considered that he might be dying. "A line from an Auden poem, 'Let your last thinks all be thanks,' kept going through my mind." That sense of gratitude permeates On the Move.
(c)2015 Milwaukee Journal Sentinel, Distributed by Tribune Content Agency, LLC.