New Advisers To Iraq Aimed At Energizing A Flagging U.S. Strategy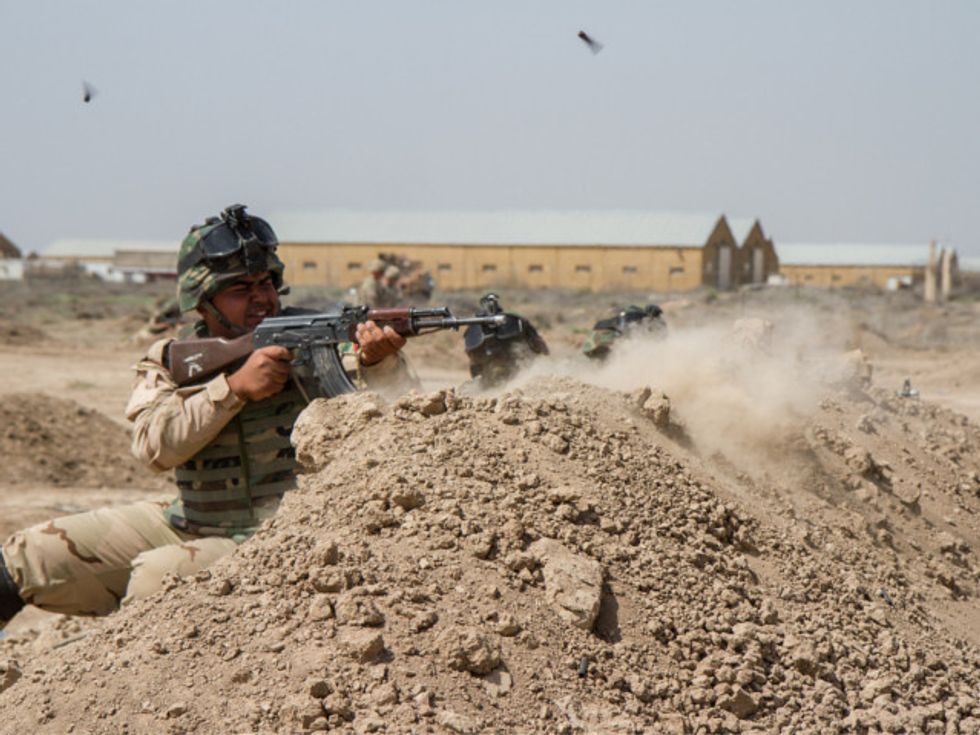 By Jonathan S. Landay and Lesley Clark, McClatchy Washington Bureau (TNS)
WASHINGTON — President Barack Obama's decision Wednesday to send more U.S. military personnel to Iraq is merely a mid-course adjustment to an effort that has failed to blunt the Islamic State's onslaught and does not represent a new U.S. strategy.
"This is a tactical tweak to the strategy," said Douglas Ollivant, a retired Army officer and former White House adviser on Iraq. "Nothing is changing."
The decision to boost the U.S. military presence in Iraq by 450 — a 15 percent increase in personnel — is an admission that the strategy of airstrikes, combined with training and equipping the Iraqi military, has done little to reverse the Islamic State's conquests one year after the extremists seized control of Mosul, Iraq's second largest city.
The decision to place those trainers at Taqaddum, an Iraqi base near the city of Habbaniya, in eastern Anbar, the country's largest province, also is an admission that administration hopes have not panned out that a change in leadership in Iraq's Shiite-dominated government would win support from Anbar's Sunnis. The new training site is an effort to recruit and arm large numbers of Sunni tribal fighters, who mostly have stayed out of the fight or have openly sided with the Islamic State.
By placing U.S. military trainers and U.S. troops at Taqaddum, the United States hopes to create a safe zone that would draw local Sunni fighters who are unwilling to risk traveling to the other training site in Anbar, the al Asad air base.
"Sunni tribes are reluctant to leave their lands," said Ollivant. "You have to go to them."
Ben Rhodes, a deputy national security adviser, acknowledged as much in comments to reporters.
"We are hoping to get more of those Sunni tribes invested in the fight against ISIL, to have a greater recruiting base for the effort," he said, using the administration's preferred acronym for the extremists, who are also known as ISIS. "That will be key to not just getting a manpower issue resolved, but frankly making sure that the people who have the most at stake in this part of Iraq are fully invested."
The White House announcement made clear that Obama has rejected for now demands from critics, including senior members of Congress, that U.S. troops trained in directing airstrikes be embedded with Iraqi forces.
"U.S. troops will not serve in a combat role," said White House press secretary Josh Earnest. Earnest said Obama has not ruled out a future deployment of so-called Joint Terminal Air Controllers.
Obama also spurned demands by some lawmakers to send military hardware directly to Sunni fighters in Anbar and militia forces belonging to Iraq's Kurdish Regional Governments, bypassing the Shiite-dominated government, which has been reluctant to arm the Sunnis and is accused by the Kurds of withholding badly needed weapons.
The United States instead will accelerate the delivery of arms and other military equipment to Baghdad for distribution to those forces, the White House said.
Rhodes admitted it's become clear that the Islamic State has moved faster to consolidate its positions than Baghdad and the United States have to reverse its advances through airstrikes and the training and arming of Iraqi security forces.
"We need to make sure that in terms of where our forces are and how we're able to equip Iraqi forces, that we can be more nimble, because clearly this is a very nimble enemy," he said. "Part of the problem we're trying to solve . . . is: how can we move faster?"
"These new advisers will work to build capacity of Iraqi forces, including local tribal fighters, to improve their ability to plan, lead and conduct operations against ISIL in eastern Anbar," said Earnest.
The decision to focus the stepped up U.S. effort on Anbar underscored the effect of the fall of Ramadi last month, the gravest setback suffered by Baghdad this year. Ramadi, whose capture gave the Islamic State control of all of Anbar's major urban centers but was initially dismissed by the U.S. military as unimportant, is only about 80 miles west of Baghdad.
Some experts said they harbor doubts that the approach will succeed in vanquishing the Islamic State. Too much time has been wasted, they said, and many Sunni tribes, feeling abandoned by Baghdad and the United States, have been aligning with the Islamic State, an exclusively Sunni organization that despises Shiites as apostates.
"There is no meaningful, realizable Sunni tribal outreach," said a former U.S. military commander who helped recruit Anbari Sunnis to fight the Islamic State's predecessor, al-Qaida in Iraq, during the 2003-11 U.S. occupation. "There has been a significant withdrawal of support by the Sunnis we have successfully used in the past."
Many Sunnis also hate the Iranian-backed Shiite militias that Baghdad deployed to fight the Islamic State after the fall of Mosul triggered the virtual collapse of the Iraqi army.
Iraqi Prime Minister Haider al-Abadi began pressing Obama to send additional U.S. trainers before Ramadi fell the weekend of May 15-17. It was only after its capture that the president agreed to al-Abadi's request.
There are currently 3,100 U.S. troops in Iraq.
(c)2015 McClatchy Washington Bureau. Distributed by Tribune Content Agency, LLC.
Photo: Iraqi soldiers trained with members of the 3rd Brigade Combat Team, 82nd Airborne Division, at Camp Taji, Iraq.  (U.S. Department of Defense via Flickr)