Meet The New Campaign To Pressure Both Parties On Women's Economic Concerns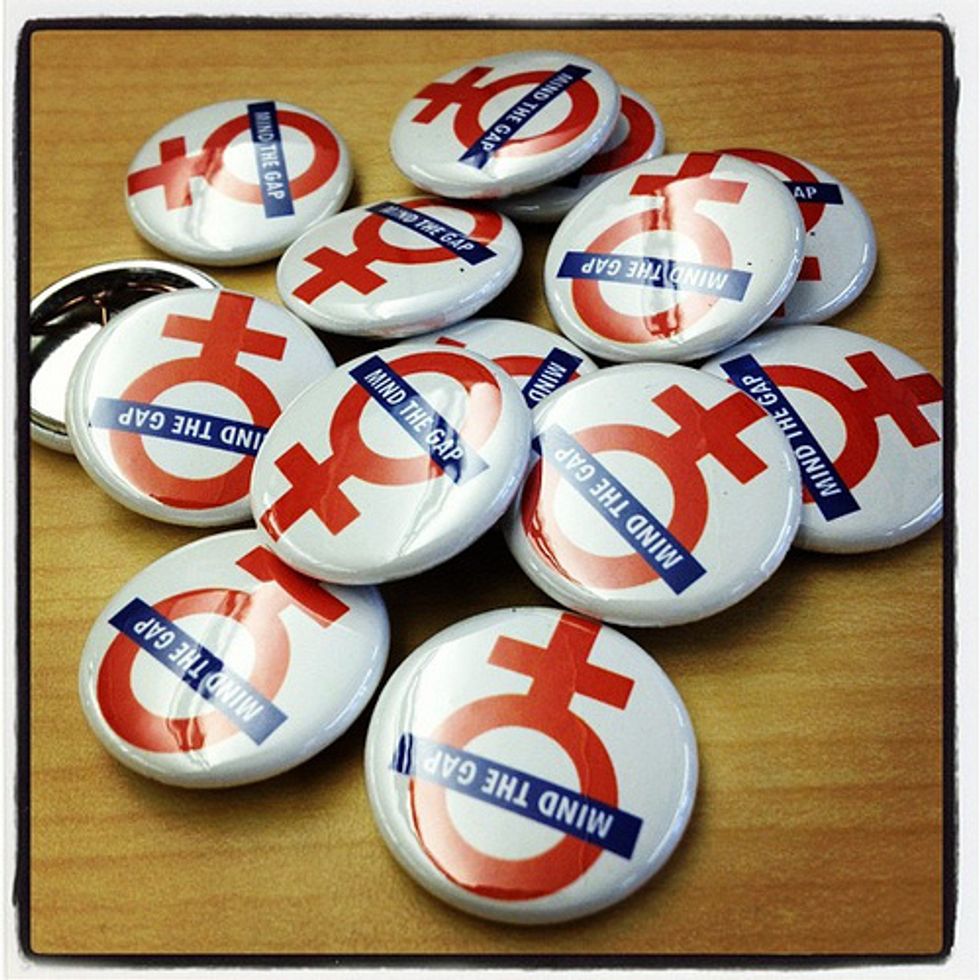 Tuesday marks the launch of Make It Work, a three-year, non-profit campaign that hopes to call attention to women's economic security — or, one may argue, insecurity.
Make It Work is specifically focused on the economic inequality experienced by women, which the organizers believe is too often ignored or forgotten in broader discussions of income and wealth inequality.
Vivien Labaton, co-director of the campaign, explained to TheNational Memo that as more women graduate college — at increasingly higher rates than their male counterparts — and take on the role of breadwinner in the home, the gender wealth gap may be easily overlooked. Make It Work seeks to remedy this by seizing upon the opportunity that the 2014 midterm elections and 2016 presidential election present for women: a chance for them to use their "highly coveted votes" as a means of ensuring that candidates answer for the economic concerns that plague women's lives and threaten their economic security.
Considering that women account for approximately two-thirds of all minimum-wage workers in the United States, candidates from either party could suffer by ignoring the reality that wealth inequality and gender pay gaps disproportionately impact women. Through online ads and on-the-ground organizing tactics in three soon-to-be announced targeted states, Make It Work will push the message that any candidate who addresses these issues deserves women's support during election season.
The campaign is avoiding overt partisanship, but Democrats presently stand to gain more from the movement than their Republican opponents. Because the issues at hand require remedies that exist only through policy reform and legislative action, and Make It Work's strategy relies heavily on the influence of women's votes in political elections, an absolute divorce from party politics seems impossible.
Women's votes could determine whether Democrats retain control over the Senate in 2015. Women now make up 53 percent of the electorate, and in the 2012 presidential election, 55 percent voted for President Barack Obama. The 2012 presidential election also saw an increase in unmarried female voters, to 25 percent of the electorate; nearly tw0-thirds of them voted for Obama. Democrats will need to keep those numbers high to compete in competitive midterm races.
Both parties recognize the weight of women's votes — but they have considerably different approaches as they attempt to appeal to women. Facing the accusation that they have waged a war on women, Republicans have backed away from specific women's issues and focused more on merely disputing the claim that said war exists — or at least that they are waging it.
The dialogue among elected Democrats goes deeper. In an effort to mobilize voters of both genders, Democrats have focused on income inequality and introduced legislative initiatives — like a minimum-wage hike — to tackle this challenge. Democrats — including the president — have also assumed the role of outspoken defenders of women's economic rights, explicitly tying wealth and income inequality to gender discrimination and the gender pay gap. With legislative proposals like the Paycheck Fairness Act — a bill that would, among other things, allow women to fight for fair and equal pay — Democrats are confronting women's issues far more directly than Republicans. Whether this earns them Make It Work's support remains to be seen.
Even if it does, Democratic candidates — especially those in red states — will face an uphill battle. The issues most important to most Americans — and, specifically, women — are those that influence and shape the Democratic Party's platform, and yet these positions are often distracted from and distorted.
Wealth inequality and women's economic security can define the next few months or even the next years, but only if men and women force candidates to answer to the unequal economic realities of so many Americans in order to win an election.
As Labaton puts it, this is not a "persuasion challenge," but rather an "activation challenge."
Yet she remains hopeful. "We know the potential is huge," she says.
Photo: Sarahstierch via Flickr

Want to know more about what is being done to fight gender inequality? Sign up for our daily email newsletter!