New Campaign Songs For Donald Trump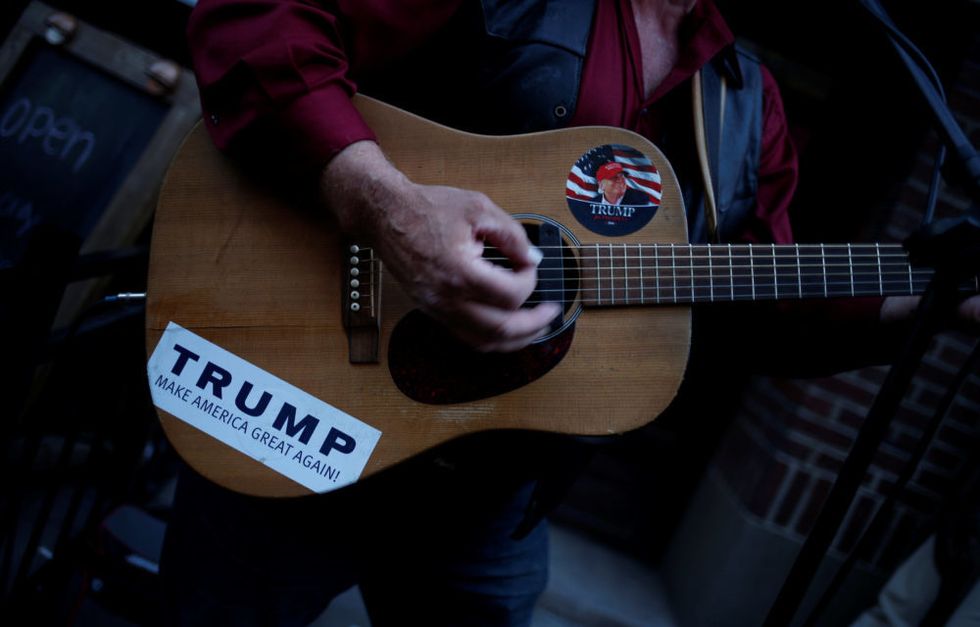 Politicians using songs on the campaign trail without artist permission has long been a touchy subject, but few have earned as much scorn from the music industry as Donald J. Trump. At this point, he couldn't play with "The Itsy Bitsy Spider" on stage without getting a phone call from Raffi's lawyer.
Still, Trump and the RNC seem to have paid licensing fees for his campaign's music, so irked artists don't have much say in the matter. The National Memo wanted to help work the situation out, so we've assembled some alternatives for Donald — songs he can grow to love, but that are a better fit for the… tone of his campaign.
The Rolling Stones
What Trump played: "You Can't Always Get What You Want"
The song is oddly appropriate, based on the millions of disappointed Republicans forced to vote for their party's demise. Or maybe Trump picked it out for arch rival Ted Cruz. Either way, The Stones didn't like it and filed a cease-and-desist letter.
Better option: "Sympathy for the Devil"
Trump's conscience probably works a lot like those old cartoons: On his left shoulder he has a little devil, and on his right he has—well, nothing. He fired the angel that used to be there and refused to pay him for his work. But the Donald and his little red friend get along just fine, both being men of wealth and taste. 
Best Option: "Let It Bleed"
Given Donald Trump's overblown speech on Thursday, he needs a track to reflect all the violence in our lawless streets. Plus, guitarist Keith Richards once pulled a knife on Trump back in 1989, so there's no doubt he would've approved.
Queen 
What Trump played: "We Are the Champions"
When David Duke's favorite candidate blasts a power ballad by a bisexual, non-white foreigner, everybody loses.
Better option: "I Want It All"
Trump already has a business empire, his own TV show, a skyscraper with his name on it, and he still wants to control the free world? Maybe it's time to stop believing that this guy is running for the sake of the American people.
Neil Young
What Trump played: "Rockin' in the Free World"
If Donald Trump took the time to listen to the song's cynical lyrics, he'd quickly realize that it's far from a patriotic rocker. Then again, details have never been the GOP nominee's strong point. Just take a look at anything he's said over the past year.
Better option: "Transformer Man"
A piercing mishmash of synthesizers and distorted falsettos, "Transformer Man" is often cited as Young's worst song. Coincidentally, Donald Trump will eventually be recognized as America's worst presidential candidate. It's a match made in heaven!
George Harrison/The Beatles
What Trump played: "Here Comes the Sun"
The former Beatle's family objected when Ivanka Trump marched out to the Abbey Road classic this week. Perhaps Donald chose it because Ivanka is the center of his world. Just watch out—if the sun weren't 93 million miles away, he'd probably be dating it.
Better option: "I Me Mine"
Look, it's Trump's three favorite words, right there in the title! Make no mistake, however. Donald really is a humble man, the most humble. His publicist John Miller told me so.
Best option: "Beware of Darkness"
Far and away, this Harrison solo track is the best choice possible. Why, you ask? Because this suggestion came straight from the official Harrison Twitter account.