New Report: Russian Money Saved Trump Organization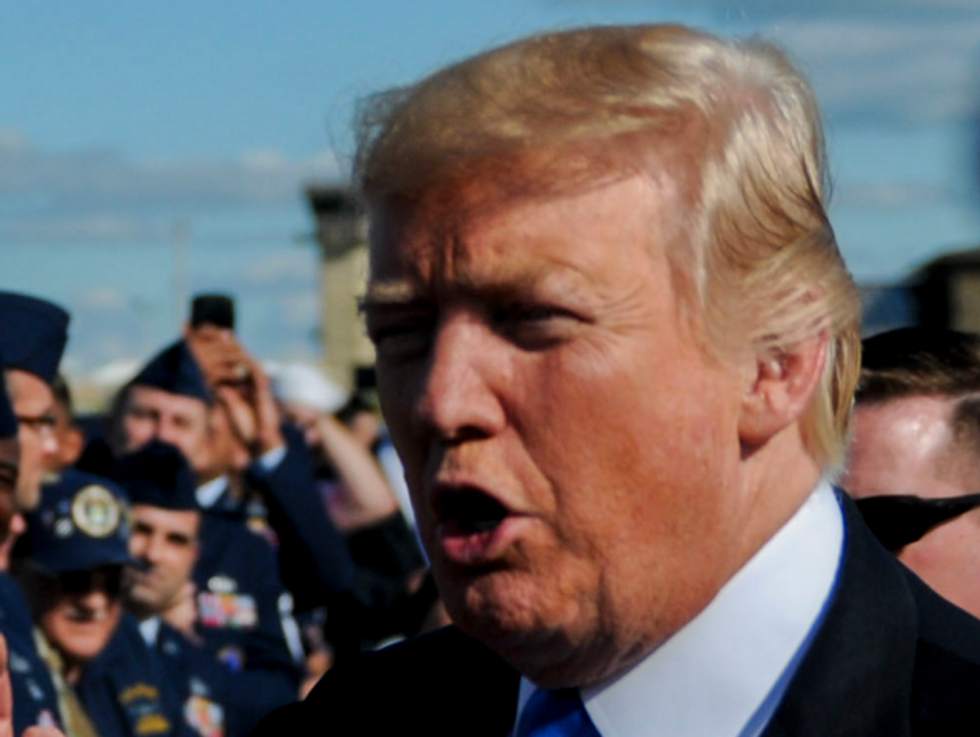 Reprinted with permission from AlterNet.
President Donald Trump's celebrity was cemented in the American mind with the show "The Apprentice," which sold him as a real estate mogul and business genius imparting his wisdom to a new generation of entrepreneurial hopefuls. But the show's fundamental premise is a lie.
Far from a business genius, Trump was largely a flop in business. As a recent investigative piece in Foreign Policy explained, Trump's repeated failures in the '90s made him virtually radioactive to any American banks looking to fund new ventures. Lenders were wary of trusting the most prominent son of actual real estate titan Fred Trump, because Donald Trump's businesses were consistently going belly up — most famously, the Trump Taj Mahal Casino in Atlantic City.
So how was Trump able to recover his image from its '90s battering? Trump's sons have repeatedly offered not-so-subtle clues.
In 2008, for instance, Donald Trump Jr. said at a New York conference: "In terms of high-end product influx into the US, Russians make up a pretty disproportionate cross-section of a lot of our assets."
And in 2014, Eric Trump reportedly told golf writer James Dodson of the family business: "Well, we don't rely on American banks. We have all the funding we need out of Russia." (Eric Trump has since denied saying this.)
Reporters Jonathan O'Connell, David Fahrenthold and Jack Gillum at the Washington Post reported back in May on the Trump Organization's curious shift from funding projects almost entirely with debt in the '90s to employing large bushels of cash by the mid-2000s.
Michael Hirsch, writing for Foreign Policy, found significant corroboration for Trump's reliance on foreign funds. Multiple anonymous sources, former associates of the president, told Hirsch that Trump especially used Russian funds when American sources ran dry.
Some of this, it seems, came in the form of direct real estate purchases. Despite repeatedly denying any ties to the Kremlin, Trump has even admitted to one major deal with a Russian, Dmitry Rybolovlev, who is believed to be close to Putin. Rybolovlev bought a Palm Beach house from Trump for $100 million — $60 million more than what the president had initially paid for it, according to an ABC interview with Trump. This is a remarkably high profit for any such deal — but it is even more startling because it happened in 2008, when the American real estate market was cratering.
"That deal delivered so much cash to Trump, it almost has to be seen as a campaign contribution, or the purchase of Donald Trump," Trump biographer Michael D'Antonio told Hirsch.
A former business associate told Hirsch that this was not the only property Trump sold to a Russian national.
"I think part of it was he was toxic to the banks. I think he also probably learned that personal guarantees [on loans] weren't a brilliant idea either," the anonymous associate told Hirsch. "So he was saying to himself, 'What else could I do in the world? I'll just convince people to buy my brand.' And the only people who were willing to buy it were tasteless Russians, people who like the absurd, ostentatious gold-leaf lifestyle he has. You're not going to sell that brand to blue bloods in Greenwich, Connecticut."
But the Russian connection is also hiding in plain sight. In the early 2000s, Trump started his comeback by partnering with the Bayrock Group, a financial firm run, in part, by Felix Sater. Sater had pleaded to guilty to participating in a fraudulent scheme with the Russian mafia in the '90s, became an informant to the FBI, and was a key player along with Michael Cohen is brokering a deal to build Trump Tower Moscow in 2016 before the negotiations mysteriously went quiet after Trump secured the GOP presidential nomination.
Hirsch explained:
Bayrock's money sometimes came from sources outside Russia and the former Soviet republics, according to one of the firm's former employees, including an obscure Icelandic investment bank called the FL Group. But those roads too sometimes appeared to lead back to Russia. In 2017, real-estate developer Jody Kriss, whom Sater hired to help him run Bayrock, told Timothy O'Brien of Bloomberg what happened after an Icelandic competitor of the FL Group contacted him to invest in Bayrock. When Kriss brought that offer to Sater and Arif, they told him that the money behind Icelandic banks "was mostly Russian"—and they had to take FL's funds for deals with Trump because FL was "closer to [Vladimir] Putin," according to O'Brien. (Kriss confirmed this account to FP.) In 2007, the FL Group invested $50 million in several Bayrock projects linked to Trump, including a development in Whitestone, Queens, and Trump SoHo in Manhattan. FL Group dissolved in 2014.

 

Kriss told Bloomberg's O'Brien that he eventually left Bayrock because he became convinced that the firm was a front for money laundering.
All of these connections are almost certainly being scrutinized by Special Counsel Robert Mueller, federal prosecutors at the Southern District of New York, and any of the other agencies investigating the president's past.