New 'Sheriff' Has A Badge — But Doesn't Have A Clue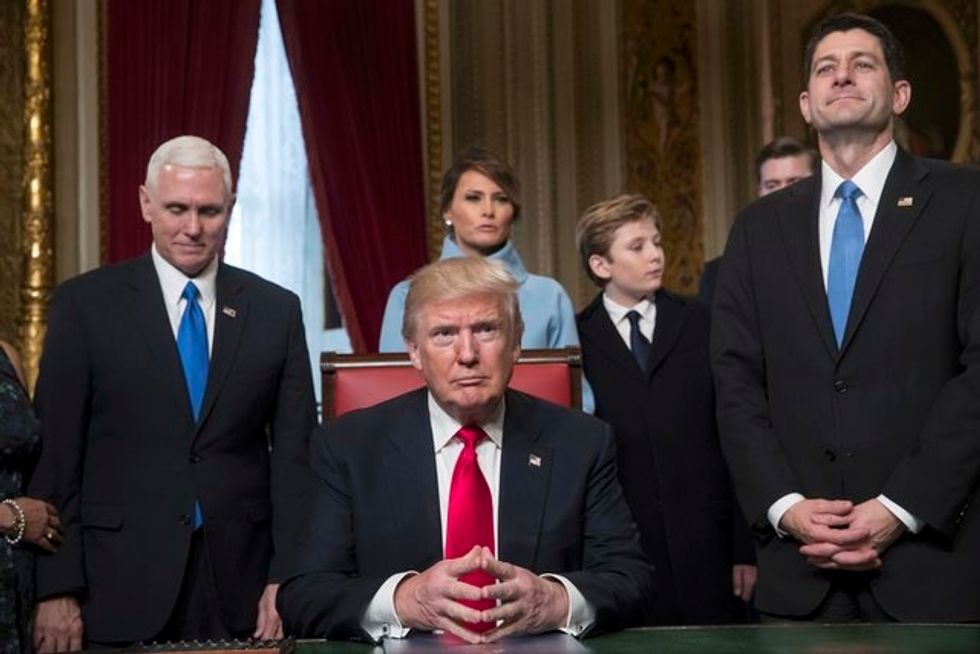 It was, arguably, the most telling moment of Donald Trump's inauguration speech.
People want good schools, neighborhoods and jobs, said the incoming president. "But for too many of our citizens, a different reality exists: mothers and children trapped in poverty in our inner cities; rusted-out factories scattered like tombstones across the landscape of our nation; an education system flush with cash, but which leaves our young and beautiful students deprived of all knowledge; and the crime and the gangs and the drugs that have stolen too many lives and robbed our country of so much unrealized potential.
"This American carnage," promised Trump, "stops right here and stops right now."
Leave aside the dubious veracity of painting our admittedly challenged nation as a hellish doomscape — "American carnage?!" Really? — and ponder instead what he actually said there. Poverty, unemployment, miseducation, crime and drugs, issues that have bedeviled every nation and all generations, came to a screeching stop "right here … and right now" at noon on January 20th.
Why?
Because there's a new sheriff in town, pardner. Because he's putting his foot down. Because he says so. If Trump gave any other reason — if he has ever given any other reason — it escaped notice. No, once again, we are promised a magic solution through the sheer force of his will.
It's silly enough that you want to laugh until you remember that 63 million Americans didn't get the joke, that they took this stuff seriously. Indeed, they took it seriously enough to make him leader
Never mind that Trump is really just that guy at the end of the bar who, with beer-lubricated certainty and megaphone volume, tells you how to solve humanity's most intractable problems. And maybe as he's speaking, as you're under the spell of it, it sounds like wisdom. But the next morning, you sober up and see it for the hogwash it is.
Unfortunately, America has not sobered up yet.
It will soon. If the country is even halfway serious about resolving its challenges, it has no choice.
The magical thinking embodied in Trump's speech is not a recipe for fixing problems, nor even for addressing them. It is, rather, a primal scream, viscerally satisfying in the short term but masturbatory and useless in the long term. At some point, in the not-distant future, after poverty, unemployment, miseducation, crime and drugs have not magically disappeared, one hopes the people who fell for this act will realize that.
Lasting change does not come because you yell at a problem. Lasting change comes because you work at it, because you commit to using the best ideas and the best minds to produce the best results. It's not perfect, but it's the process we have.
In the meantime, if there is a silver lining here, it is that the GOP now has the White House, the Congress and no excuses. So the rest of us would like to know when we can expect America to be "great again?" Is there a date the party would like to share?
Yes, the question is tongue in cheek, but it is also meant to point out what has always been painfully obvious and became even more so after the new president finished ordering poverty to get out of town by sundown. Namely, that it was all always an act, a fake, a con, even if voters have been slow to figure that out.
Bluster is not governance and the world doesn't stop being complicated because you tell it to. Maybe even Donald Trump doesn't know that yet.
But he's about to find out.
IMAGE: President Donald Trump is joined by the Congressional leadership and his family before formally signing his cabinet nominations into law, in the President's Room of the Senate, at the Capitol in Washington, January 20, 2017. From left are Vice President Mike Pence, the president's wife Melania Trump, their son Barron Trump, and Speaker of the House Paul Ryan, R-Wis. REUTERS/J. Scott Applewhite/Pool