New Testimony Shows Ukraine Officials Aware Of Hold On US Military Aid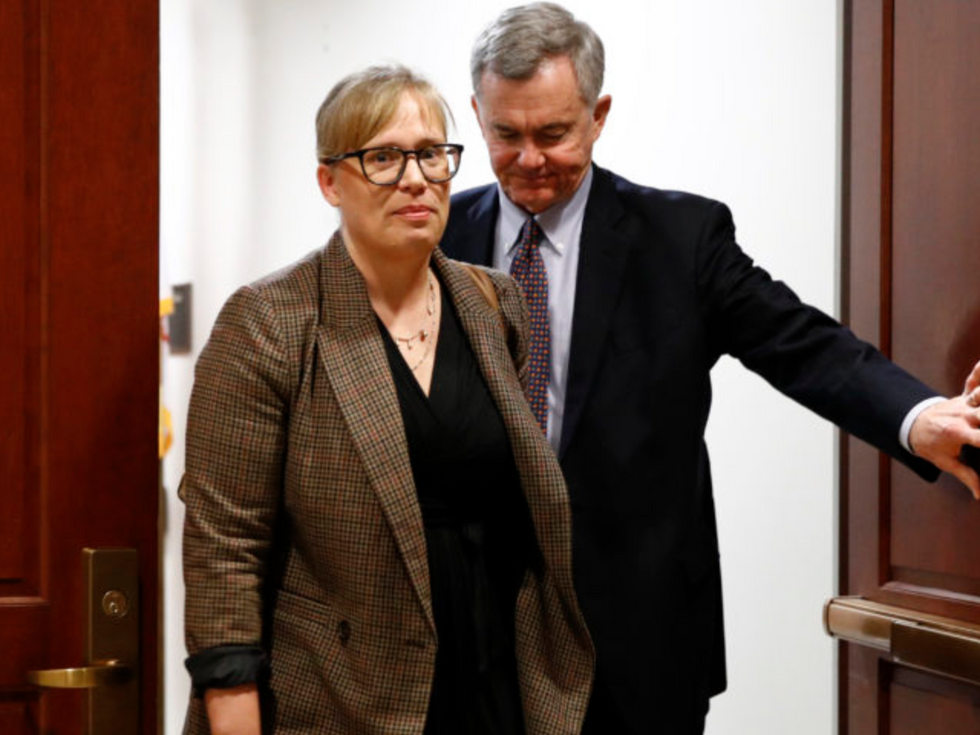 Ukrainian officials knew the Trump administration was withholding millions of dollars in military aid well before media reports made the information public, Catherine Croft, the State Department's special adviser for Ukraine, told Congress during a closed-door impeachment inquiry hearing last month.
A transcript of that testimony, given on Oct. 30 and released Monday, contradicts claims made by Donald Trump and his allies that Ukrainian officials did not know about the freeze on military assistance. Trump has claimed that because Ukrainian officials were unaware of the hold, his efforts to pressure them to investigate his 2020 political rival Joe Biden did not constitute a quid pro quo.
Croft told congressional investigators that "two individuals from the Ukrainian Embassy approached me quietly and in confidence to ask me about an OMB hold on Ukraine security assistance," adding that this was before the media reported on the hold. Croft also said she was impressed with her Ukrainian counterparts because "they found out very early on or much earlier than I expected them to."
Croft added that the Ukrainians had incentive to keep the hold secret because "if this [military aid hold] were public in Ukraine it would be seen as a reversal of our policy and would, just to say sort of candidly and colloquially, this would be a really big deal, it would be a really big deal in Ukraine, and an expression of declining U.S. support for Ukraine."
The House impeachment inquiry is looking into Trump's efforts to push Ukraine to investigate both Biden and a long-debunked conspiracy about the Democratic National Committee servers, in exchange for crucial aid to the country. In a July 25 phone call with Ukrainian President Volodymyr Zelensky, now at the center of the House impeachment inquiry, Trump explicitly asked for a "favor" and pressed Zelensky to investigate Biden.
Trump has claimed that call was "perfect" and showed he had done nothing wrong, despite the White House's attempts to initially hide the partial transcript of it in a top secret codeword system accessible only by a few.
Trump and his supporters have previously claimed that the Ukrainians did not know about the military hold, and thus there was no opportunity for extortion. Croft's testimony rejects that claim, corroborating accounts from others, such as Laura Cooper, a high-ranking Pentagon official, that Ukrainian officials were not only aware of the hold, but worried about the ramifications of such a hold.
In addition to Croft, the House Intelligence, Oversight, and Foreign Affairs committees, which are leading the impeachment inquiry, also released testimony from the State Department's former special adviser for Ukraine, Christopher Anderson.
Anderson told congressional investigators that pushing foreign countries to investigate individuals went against U.S. policy:
Question: And you felt like anticorruption efforts, writ large, were part of official U.S. policy, correct?

Answer: It was our policy to push—we have specific deliverables on anticorruption that we had developed. Individual investigations were not part of that policy that I was aware of.

Q: And, in fact, advocating for specific investigations was something that ran counter to U.S. policy to root out corruption, correct?

A: As I understood policy at the time, it was contrary, yes.
Other witnesses have testified that an investigation into Biden was a key "deliverable" in Trump's alleged extortion scheme. Bill Taylor, the top U.S. ambassador to Ukraine, told investigators that "security assistance money would not come until the President [of Ukraine] committed to pursue the investigation" into Biden. U.S. Ambassador to the European Union Gordon Sondland, a key figure in the growing Ukraine scandal, also corroborated the arrangement.
The first public hearings in the impeachment inquiry take place on Wednesday, with both networks and cable news expected to carry the hearings live to millions of Americans.
Croft's full testimony can be read here, and key excerpts are below:
Catherine Croft Excerpts (PDF)
Anderson's full testimony can be read here, and key excerpts are below:
Christopher Anderson Excerpts (PDF)
Published with permission of The American Independent.