New Texas Abortion Law Could Be Worst Yet For Poor Women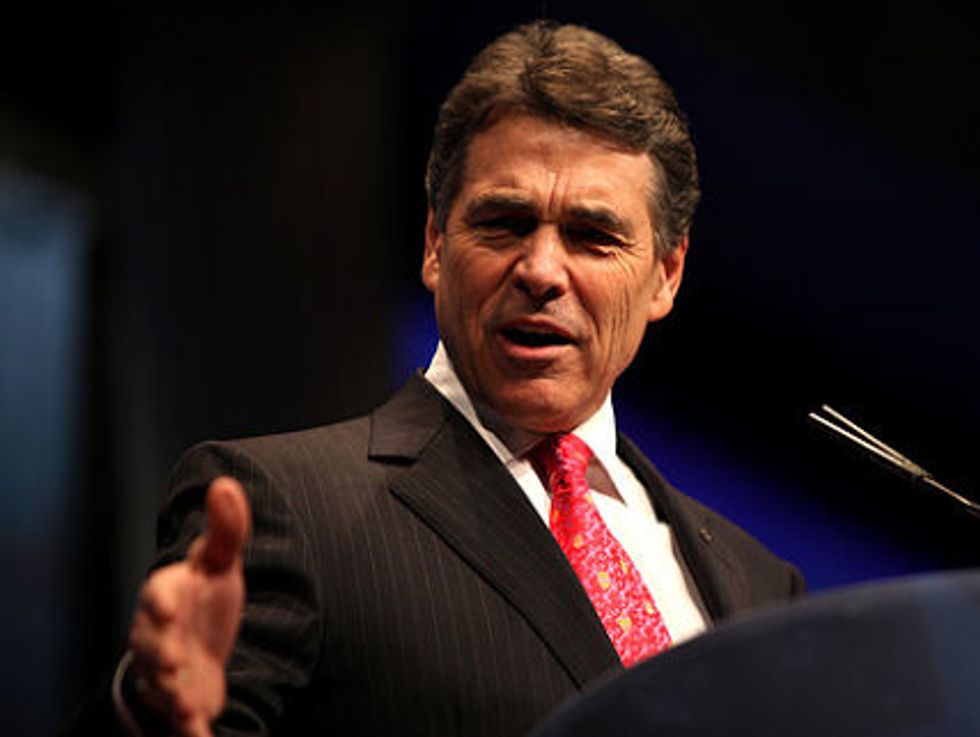 The controversial SB 5 is the latest case of the Texas GOP pushing anti-abortion measures that marginalize low-income women.
Some 5,000 orange-clad men and women invaded the Texas capitol in Austin on Monday in an emotional and enthusiastic show of support for reproductive rights. They faced off with Republican lawmakers still resolved to pass SB 5, the very bill limiting abortion access that was defeated last week after Senator Wendy Davis's 11-hour filibuster. Yesterday, nearly 2,000 people showed up to testify against the bill as it was considered by the Texas House Affairs Committee, which approved it 8-3.
This latest effort to roll back women's rights in Texas has met fierce opposition and resolve from Texans and other Americans who recognize the value of women's health care. "When you silence one of us, you give voice to the millions who will continue to demand our lives, our choices, our independence," Ilyse Hogue, president of NARAL Pro-Choice America, reminded us at Monday's rally.
It has also highlighted the deep gulf between the lived experiences of women in Texas, particularly low-income women, and lawmakers who have inserted themselves into decisions that should only be made by women and their physicians.
Monday's protest took place as Texas lawmakers convened for a second special session called by Governor Rick Perry. The bill they're considering would make abortion after 20 weeks illegal, impose onerous requirements on abortion providers, and demand that all clinics meet costly and burdensome building requirements. If passed, 37 of the state's 42 abortion providers will be forced to close their doors. This despite the fact that 79 percent of Texans believe abortion should be available to a woman under varying circumstances, while only 16 percent believe abortion should never be permitted.
This is just the latest in a seemingly never-ending assault on Texas women. In 2011, lawmakers decimated the Texas family planning program with a two-thirds budget cut that closed nearly 60 family planning clinics across the state and left almost 150,000 women without care.  Soon after, they also barred Planned Parenthood and other reproductive health clinics defined as "abortion affiliates" from the Women's Health Program (WHP), a state Medicaid program on which thousands of poor women rely. Governor Perry insisted that former WHP patients could find new providers and claimed there were plenty to bridge the gap, but that simply is not the case. Clinics across Texas have reported a sharp drop in patients, and guess that former WHP clients are receiving no care at all.
To suggest so cavalierly that women simply find new providers is evidence that Republican lawmakers simply don't understand – or don't care about – the socioeconomic realities that shape women's lives. Otherwise, they would recognize the absurdity of forcing women to navigate an increasingly complex health system to find new providers and then traverse hundreds of miles to receive basic care and services. This is a stark illustration of the privilege gap that exists between policymakers and the people they represent.
After it became clear that the warnings of public health experts – who testified that such policies would impose a heavy economic toll on the state, result in negative health outcomes, and increase the demand for abortion – were becoming reality, lawmakers last month restored family planning funding to the 2014 budget. While this is certainly good news, returning to pre-2011 funding levels still leaves nearly 700,000 women without access to care and so far has enabled only three of the nearly 60 shuttered clinics to re-open. And even before the 2011 budget cuts, only one-third of the state's one million women in need of family planning services received them through the state program. A provider shortage will persist for the foreseeable future; it is no easy task to reopen a clinic once it has shuttered its facility, released its staff, sold all its equipment, and sent its patients' files elsewhere.
If the current legislation were to pass, nearly all the state's abortion providers would be forced to close. The majority of those are clinics that not only offer abortion services, but also provide contraception, STD testing, and cancer screenings for poor women. Many of those clinics are located in areas that are already bearing the brunt of family planning clinic closures (see map below). The few clinics that would remain open in Texas are located in urban areas, leaving women in rural Texas with even fewer health care options than they currently have.
(Abortion data: New York Times and Planned Parenthood. Family Planning data: University of Texas Population Research Center)
What are women—especially poor women—to do? Women in Texas already face heavier burdens than women in many other states. Texas has one of the nation's highest teen birth rates and percentages of women living in poverty. It has a lower percentage of pregnant women receiving prenatal care in their first trimester than any other state. It also has the highest percentage of uninsured children in the nation and provides the lowest monthly benefit for Women, Infants, and Children (WIC) recipients (an average of $26.86 compared to the national average of $41.52). And soon the majority of women may not have access to abortion care at any stage of their pregnancy.
Governor Perry's policies have marginalized women who already bear the heavy weight of so many inequities. His latest efforts will only marginalize them further.
This anti-abortion legislation will not prevent women from getting abortions. It will simply push them across the border and into unsafe facilities like those operated by Kermit Gosnell. Its passage will add to the fury that has escalated over the past three years as women have lost access to breast exams, birth control, and abortion services while being told it is for their own good. These lawmakers fail to understand that the full range of reproductive health services, including the ability to access an abortion, is absolutely central to women's ability to lead happy, healthy, and productive lives – an ability that is itself essential to the strength of families, communities, states, and our nation.
On Monday, Planned Parenthood president Cecile Richards reminded the crowd in Austin of the old adage that you can measure a country by how well it treats its women. The same is true for Texas.  "We settled the prairie. We built this state. We raised our families," said the ever-feisty daughter of former Texas governor and progressive icon Ann Richards. "We survived hurricanes and tornadoes, and we will survive the Texas legislature, too."
Andrea Flynn is a Fellow at the Roosevelt Institute. She researches and writes about access to reproductive health care in the United States and globally.
Cross-posted From The Roosevelt Institute's Next New Deal Blog
The Roosevelt Institute is a non-profit organization devoted to carrying forward the legacy and values of Franklin and Eleanor Roosevelt.
Photo: Gage Skidmore via Flickr.com