New Text Messages Show Stone Knew About Wikileaks Dump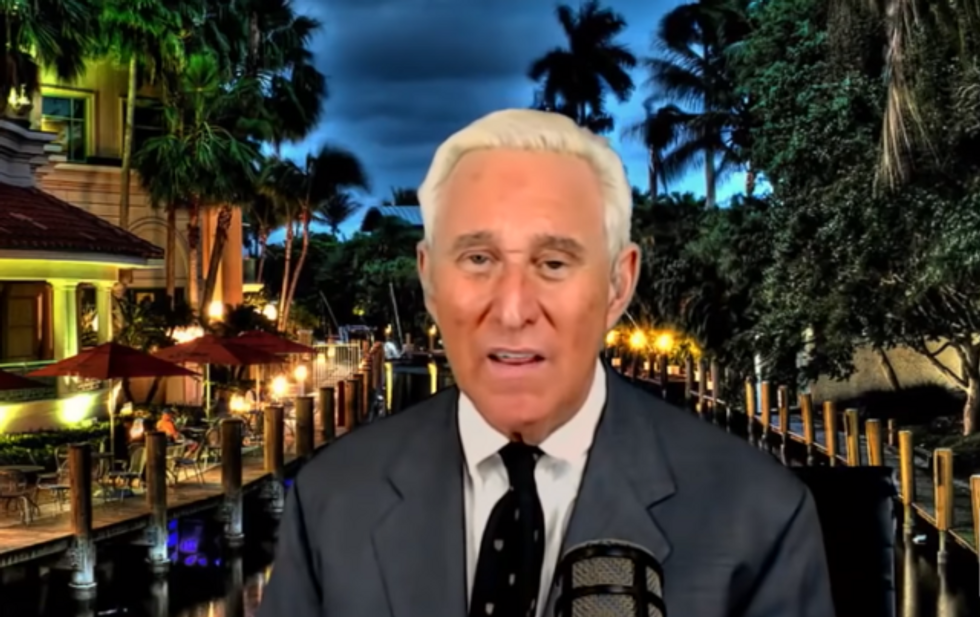 Reprinted with permission from AlterNet.
As Roger Stone appears increasingly likely to be indicted as a part of Special Counsel Robert Mueller's Russia investigation, the longtime political trickster and ally of President Donald Trump is trying his best to clear his name.
On Wednesday, he provided NBC news with a series of text messages between himself and Randy Credico, a friend of his who Stone has said passed along information about WikiLeaks during the 2016 campaign.
It's unclear how close a connection Stone actually had to WikiLeaks or Russian agents who hacked and released emails related to Hillary Clinton in the run-up to the election, but his promotion of the documents dumps and his boasting about having a backchannel to Julian Assange have raised suspicions. It is also clear that Mueller has been probing many of Stone's close friends and allies, calling them in to testify before the grand jury.
The new text messages show, Stone claims, that he wasn't in direct contact with WikiLeaks during most of the election and that he got most of the information secondhand through Credico. Separately, however, Stone has confirmed communicating with WikiLeaks over Twitter and conversing with Guccifer 2.0, which is believed to be a front for Russian intelligence. He says the communications were insignificant.
The newly revealed text messages do show that Credico and Stone were closely watching WikiLeaks' campaign activity, and they suggest that Credico had a direct connection to the group in the form of Assange's lawyer. It also shows that the pair discussed one of the most significant document dumps before it happened:
"Big news Wednesday," the Stone pal, radio host Randy Credico, wrote on Oct. 1, 2016, according to the text messages provided by Stone. "Now pretend u don't know me."

"U died 5 years ago," Stone replied.

"Great," Credico wrote back. "Hillary's campaign will die this week."
NBC News notes that the timing is somewhat off. WikiLeaks dumped a series of emails from John Podesta, Clinton's campaign chair, on the following Friday, not Wednesday. However, the exchange indicates both Credico and Stone had vague foreknowledge of the coming dump —and also that they believed they should keep their knowledge of this information a secret.
Another text obtained by NBC News shows that the pair knew at least some part of Assange's plans as early as August. On Aug. 27, Credico reportedly wrote to Stone: "Julian Assange has kryptonite on Hillary."
Credico told NBC News that there was nothing damning about the text messages. Stone's lawyer claimed they showed his client has been "consistent for the past two years in his assertion that Randy Credico was the person who was providing him what limited information Mr. Stone had regarding WikiLeaks."
It's not clear, however, if the texts Stone provided paint a complete or accurate picture of the pair's exchanges or knowledge at the time.
Separately, a new report Wednesday suggests that Mueller may be pursuing witness tampering and intimidation charges against Stone for alleged efforts to threaten Credico.
Cody Fenwick is a reporter and editor. Follow him on Twitter @codytfenwick.