New Yorkers Walk Past Political Bluster Over Bombing
@FromaHarrop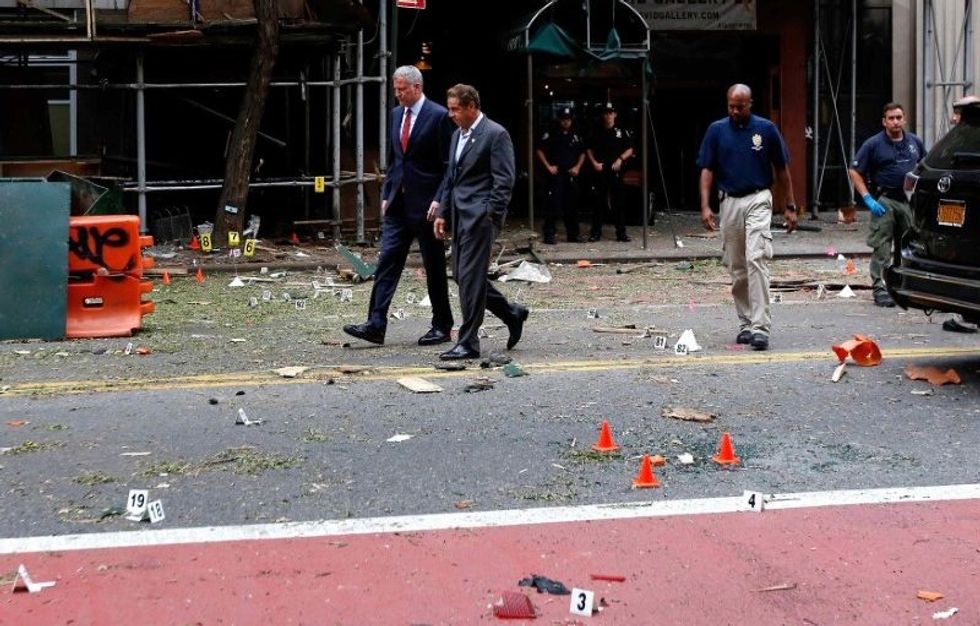 The explosives going off in the dumpster in the Manhattan neighborhood of Chelsea was not a major terrorist event — except on the TV news channels. No one was killed, fortunately. And thanks to superb police work, a suspect was captured within 48 hours.
On the night after, Sunday, trains from the northern suburbs were packed with young people returning to town for the workweek. They found a Grand Central Terminal patrolled by police and military personnel in fatigues — which had been the case when they left town. Were there more guards after the bombing the night before? Perhaps.
All the panic was on the television news channels, fanned to a great extent by Donald Trump and surrogates. Their bit is to blame the Obama administration for not having wiped out every Islamic State operative and sympathizer in the Mideast. How Trump would do that has yet to leave the realm of fantasy — and you wonder where he's going to find enough young Americans to ship overseas to perform mission Trump.
In the real world, the Islamic State group has been losing territory, and that humiliation is why its terrorists are striking out at Europe and elsewhere in the West. They need to maintain the illusion of power. Horrifying attacks on innocents abroad are how they keep their story going.
And Trump is their storyteller in chief, pumping up these miscreants as supermen to be feared. That might sell on national TV, but not to New Yorkers.
They are apparently more fearful of the chaos — economically and securitywise — that a Trump presidency could unleash than of a few terrorists or other crackpots rigging pressure cookers to go off. And over the same weekend, it was noted, a knife-wielding fanatic stabbed mall-goers in Minnesota.
George Metesky, the infamous Mad Bomber, terrified the city for 16 years in the '40s and '50s, planting bombs in libraries, train stations, the subway and the RCA Building. He was apparently angry with the electric company.
No one can make us totally safe, but cutting down to size the terrorist tales of invincibility and claims of being Islam's defenders is a step in the right direction. Rather than feed into the terrorists' story, the Obama administration is trying to deflate it.
It's a "bankrupt, false narrative," White House press secretary Josh Earnest said after the explosions in New York. "It's a mythology, and we have made progress in debunking that mythology."
In New York City polls, Clinton thrashes Trump by a margin of 63 to 20 percent — and it's not because the people don't worry about terrorist attacks. They know they are the center of the bull's-eye but fear having the country run by a man they see as a dangerous clown. Sophistication, not bluster, is the sharpest sword.
The brilliant (now-former) New York City Police Commissioner Bill Bratton said last month that he has full confidence in the NYPD to handle terrorism. Trump, he said, "scares the hell out me." He went on: "The lack of depth on issues, the 'shoot from the hip' … I just shake my head."
As for Clinton immediately after the bombings, she called for patience as the details of the case unfolded. Her words were wise, though not made for cable television against backdrop images of flashing police lights.
Better was Gov. Andrew Cuomo's simple response: "Whoever placed these bombs — we will find and they will be brought to justice. Period. … We will not allow these type of people and these type of threats to disrupt our life in New York."
And all indications are — given the week's traffic jams — that they haven't.
Follow Froma Harrop on Twitter @FromaHarrop. She can be reached atfharrop@gmail.com. To find out more about Froma Harrop and read features by other Creators writers and cartoonists, visit the Creators webpage at www.creators.com.
Photo: New York Mayor Bill de Blasio (L) and New York Governor Andrew Cuomo (R)  tour the site of an explosion that occurred on Saturday night in the Chelsea neighborhood of New York, USA,September 18, 2016. REUTERS/Justin Lane/Pool