New Zealand Author Eleanor Catton Wins 2013 Booker Prize
@AFP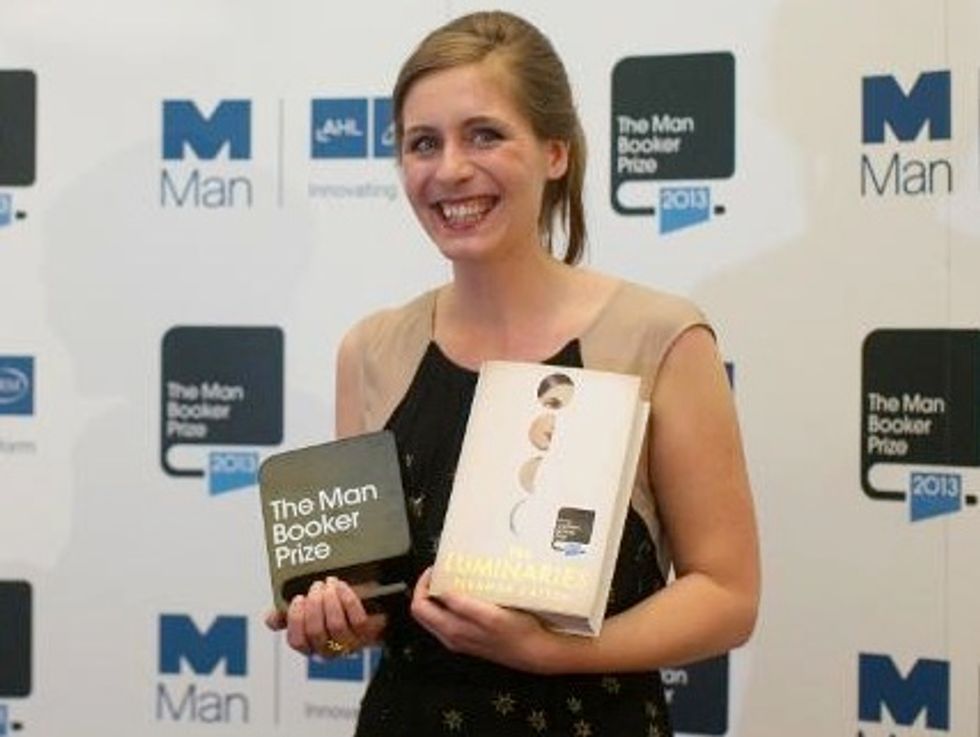 London (AFP) – New Zealand author Eleanor Catton became the youngest winner of the Man Booker Prize for fiction, claiming the award for her novel "The Luminaries".
Catton, 28, picked up the 2013 prize at a ceremony at London's Guildhall, becoming only the second New Zealander to win the prestigious award.
The novel, described as a "Kiwi Twin Peaks", follows fortune-seeker Walter Moody as he is drawn into a web of mystery during the New Zealand gold rush of the mid-1800s.
Catton thanked the Booker board "for providing the value and the worth for this extraordinary prize" on picking up her award.
She later told a press conference that "it was just a white wall," when her name was announced.
On her age, she said: "I feel very honoured and proud to be living in a world where the facts of somebody's biography doesn't give them a way of how people read their work, and I think that's true of age and also of ethnicity and all sort of other features of being human."
Chairman of judges Robert Macfarlane described the 832-page book, the longest work ever to win the prize, as "dazzling".
"'The Luminaries' is a magnificent novel," he said. "Awesome in its structural complexity, addictive in its storytelling and magical in its conjuring of a world of greed and gold.
"The maturity of this work exists in every sentence, indeed every sentence, and you are astonished by its knowledge and its poise."
Catton was 25 when she started writing the book and 27 when she completed it.
New Zealand Prime Minister John Key led the tributes.
"This is a hugely significant achievement on the world stage for a New Zealander," Key said in a statement.
"This will be a tremendous boost for young New Zealanders in the arts and is a testament to the obvious talent and hard work of Eleanor Catton."
Booksellers New Zealand chief executive Lincoln Gould said orders for Catton's book rose hours after her win.
"It's a tremendous success for New Zealand publishing and will help book sales in a market that's been somewhat depressed," he told AFP.
Prince Charles's wife the Duchess of Cornwall presented Canadian-born Catton with the £50,000 ($80,000, 60,000-euro) prize, widely recognised as Britain's highest literary honour.
This year, the Booker's 45th, is the final year the prize will be restricted to writers from the Commonwealth and former members Zimbabwe and Ireland.
US writers and those from any other part of the world will also qualify from next year, although the novel must still be an original work in English.
Catton topped a six-person shortlist that also included English writer Jim Crace, Zimbabwean NoViolet Bulawayo, Indian American author Jhumpa Lahiri, Canadian-American novelist Ruth Ozeki and Ireland's Colm Toibin.
She takes the title of youngest winner from Ben Okri, who was 32 when he won in 1991, and becomes the second Kiwi winner following Keri Hulme's triumph in 1985.
Bulawayo was the first black African woman to be shortlisted for the Booker, for "We Need New Names", the tale of a 10-year-old girl who escapes poverty at home only to find new problems in the United States.
Pre-ceremony favourite Crace, whose book is set in village under mortal threat from outsiders, spoke out against the end of the Booker as a Commonwealth-only prize, saying the contest would lose some of its character.
"For me the great thing about the Booker Prize is that up to now it's been a Commonwealth prize reminding us about shared history," he told an audience at a literary festival this week.
"Not always happy shared history, but there is a solidarity and cousinship between us. I am worried about losing that," he added.
Julian Barnes, the 2011 winner, also expressed concern about the change, saying: "I think that prizes thrive on having some restriction to them."
"There's a certain cultural cringe in this country to the big American books and I fear that British writers will win it much less often," he told BBC radio.
Hilary Mantel made literary history last year by becoming the first woman and the first British author to become a two-time winner of the award.
AFP Photo/Andrew Cowie