Newly Revealed Documents Expose The Trump University Scam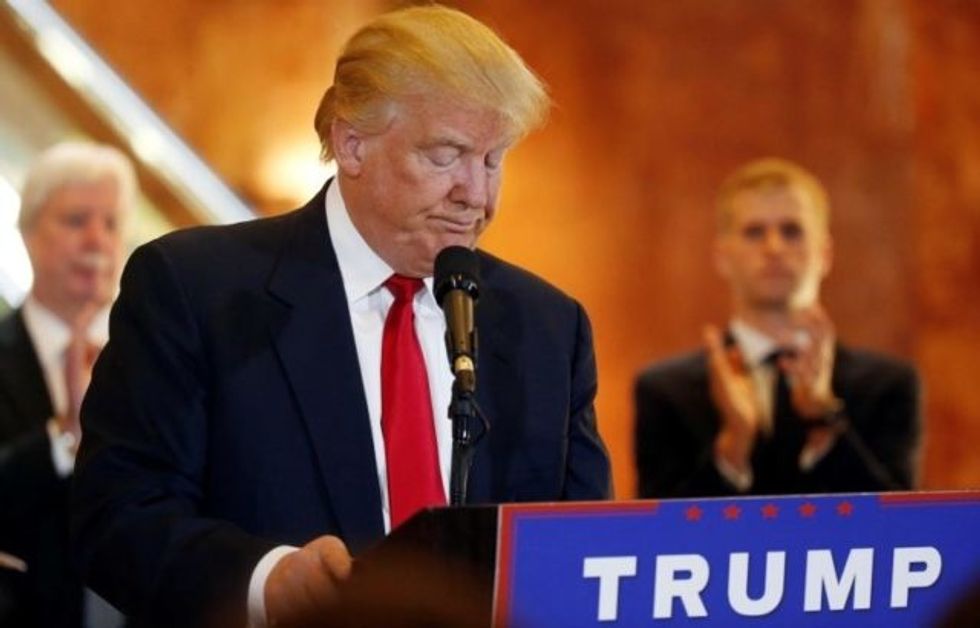 Trump's supporters tend to appreciate that "he tells it like it is," but Trump's record, obviously, tells a much different story.
Documents unsealed Tuesday confirmed a widely held belief about Trump University, the reality TV star's real estate academy: "It was all about the sales," instructors and mentors were "a joke," and it "preyed upon the elderly and uneducated to separate them from their money."
What did Trump actually promise students they would learn in his classes? How to "cash in on one of the greatest property liquidations in history!"
A 2007 internal memo to enrollment counselors alerted employees of the upcoming housing market crisis, telling them that about 1.5 million U.S. homeowners were about to face foreclosure and that they should advise students to seize "the tremendous opportunity" and buy majorly discounted properties in "hot markets" like Florida and Texas.
The roughly 400 pages of documents were released in conjunction with a federal lawsuit filed in California in 2010 by dissatisfied students. They include the testimonies of former Trump University employees, who claim that they were instructed to make high-pressure sales a priority, even if it meant lying by telling potential students that Mr. Trump would be an active presence in their education, and that he handpicked the instructors.
In reality, most employees testified to not ever having met him, and Trump himself admitted that he did not pick instructors in a deposition related to the lawsuit.
Employees also stated that they were encouraged to deceive vulnerable students who clearly could not afford the $35,000 course by encouraging them to raise their credit card limits "so that they could be ready to purchase real estate," when in reality this was so that they could pay for the course by putting themselves in debt.
Corrine Sommer, an event manager, recounted how fellow employees would tell students to "just max out" their credit cards.
Salespeople were told to make clients believe that Trump University did not offer its services "to just anyone," but rather that they only wanted to work with people who have "certain qualities."
According to former employees, the truth is that they would take money from anyone willing to pay. In fact, employees were instructed to do whatever it took to get people to come up with the money pay for the course, encouraging them to raise their credit card limits, spread payments out over multiple cards, or "borrow it from an uncle or cousin."
Ronald Schnackenberg, a former sales manager who resigned from his position because he believed that the so-called university — which was not ever an accredited academic institution — was "a fraudulent scheme," recalled an April 2007 event in New York City where he was punished for not wanting to encourage a couple in a dire financial situation to sign up for the course. He then watched a fellow employee convince the couple to pay for the course even though it was obvious they could not afford it.
A Trump University sales playbook included in the unsealed documents serves as proof of employee claims. The document states that the university "teaches the technique of using OPM… Other People's Money," and "how to leverage your tuition using OPM."
The playbook instructs employees to prey on students by using known psychological selling techniques like the "roller coaster of emotions." They were also told to make sure that "room temperature is no more than 68 degrees" when making a sale, and to coax the student's financial situation with questions like, "When it comes to major lines of credit cards like Visa, MasterCard, and those guys, who is it that you work with now?"
Trump lawyers denied employee claims, saying that these they were "completely discredited" in California depositions that they conveniently declined to release. "Trump University looks forward to using this evidence, along with much more, to win when the case is brought before a jury," said Trump spokeswoman Hope Hicks.
Trump, who started the failed "university" in 2005 and owned 93 percent of it, has accused Judge Gonzalo Curiel — who is presiding over the lawsuit and who is of Mexican descent — of being a biased "hater of Donald Trump."
Curiel, for his part, decided to release the documents after Trump went on a 10-minute rant about Curiel, saying he had been "railroaded" by the legal system, and that, "the judge… happens to be, we believe, Mexican." Curiel said that Trump "has placed the integrity of these court proceedings at issue," and has ordered more documents to be released by Thursday, June 2, in a response to a request from the Washington Post.
Photo: U.S. Republican presidential candidate Donald Trump addresses the media regarding donations to veterans foundations at Trump Tower in Manhattan, New York, U.S., May 31, 2016.  REUTERS/Lucas Jackson