Newt Gingrich: Donald Trump Is "The Candidate That 'Fox & Friends' Invented"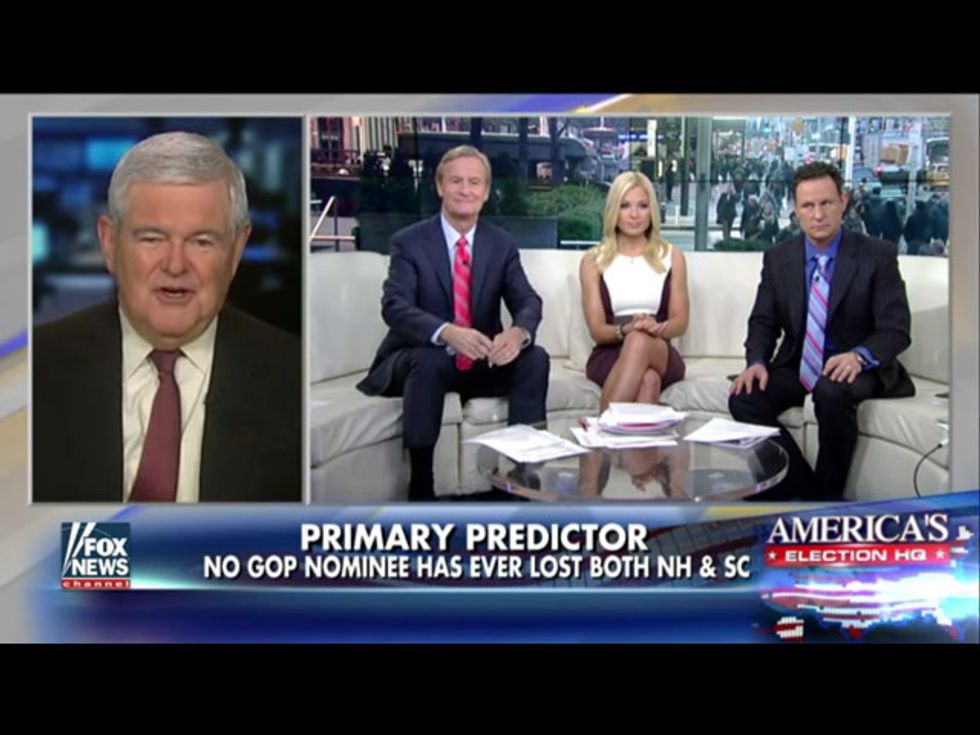 Newt Gingrich unloaded at the Fox News morning chat show on Monday, for the role that TV hosts have played in giving Donald Trump an easy platform for his candidacy. The Fox hosts actually mounted a decent rebuttal, illustrating how other campaigns have failed to exploit the media as effectively as The Donald has.
Fox & Friends Co-host Steve Doocy asked Newt what the Republican establishment is doing now about the rise of Trump: "This is their nightmare scenario. What are they trying to do?
"Oh, I think they live in a fantasyland right now," Gingrich said bluntly. "Donald Trump is tapping into something in the country that's real. And if you take Trump's vote, and Cruz's vote, and Carson's vote, the three outsiders, they are once again at about 62 percent in South Carolina. And they have been consistently above 60 percent everywhere in the country, if you pool together all of the insurgents. And there's a message there: People believe the country's decaying; they believe Washington is the heart of that decay. They want somebody who's gonna kick over the table and change Washington. That's why Cruz has done so well, and it's why Trump has done so well.
Co-host Brian Kilmeade chimed in. "What's interesting is, I remember Mitt Romney, one of his great advantages was money, and that's why a lot of you guys couldn't keep up," Kilmeade said, which got Newt laughing. He continued: "This time, the billionaire is spending the least amount of money, and running away with this thing."
"Wow," Newt said, in a suddenly stern tone, "But that's because of you guys."
"What?"
"Look, that's because of you guys," Newt explained. "Donald Trump gets up in the morning, tweets to the entire planet at no cost, picks up the phone, calls you, has a great conversation for about eight minutes — which would've cost him a ton in commercial money. And meanwhile his opponents are all out there trying to raise the money to run an ad — nobody believes the ad."
Kilmeade then felt the need to defend himself from the charge of building up Trump — and indeed, he offered a good critique of how other candidates simply didn't embrace the free media strategy in the same way as Trump.
"Well I mean, people make decisions. Newt, people make decisions," Kilmeade said. "Mitt Romney made a decision — for three months he wouldn't do us at all. I mean, people decide — for a while, Jeb Bush wouldn't hop on any television at all.
"Oh, I know," Gingrich responded.
"Hillary Clinton didn't do anything in the beginning. Donald Trump from day one made himself available to big and small — it paid off."
Doocy added: "Plus, he's invented scenarios where suddenly he's got all this free media. You know, that pope thing at the end of the week? Who wasn't talking about that?
Next got accusatory again: "Look, you could say that Trump is the candidate Fox & Friends invented. He was on your show I think more than any other show."
"Every Monday," Doocy helpfully interjected, referring to The Donald's old regular slot on the show, which he had for several years before ever launching his campaign.
Newt continued: "—It was always a happy, positive conversation. He just kept going around the country — and this is one of his great advantages: He loves what he's currently doing. And he is having a ball. That gives him more energy, and the fact that he can get on his plane to go back home, to get up in the morning, get back on his plane — a pretty comfortable life for a presidential candidate."
"You know what?" Doocy said, bringing the segment to a close. "I want to be a billionaire, too — just saying."