NFL Scandal Spotlights Complexities Of Abuse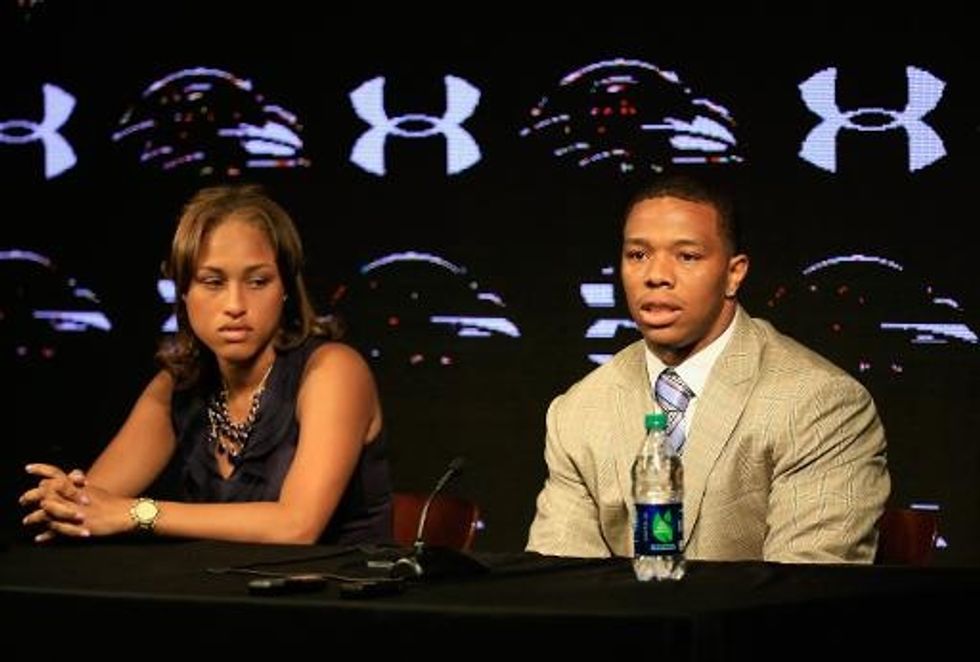 By Rosalind Bentley, The Atlanta Journal-Constitution
Well, if he hit her, why did she marry him?
Why hasn't she left him? Why is she defending him?
Those are a few of the questions buzzing on the Web, in offices, and in homes around the country in light of the graphic new video of now-former Baltimore Ravens running back Ray Rice knocking his then-fiancee Janay Palmer unconscious in an Atlantic City casino elevator.
The questions had been there ever since Rice was initially charged with felony assault in the February incident. They swelled after Rice was initially given a two-game suspension for the attack, which he admitted to. But after the website TMZ released an extended video on Monday showing the actual blow and the coarse treatment of Palmer, now his wife, in the aftermath of the beating, questions about the woman's apparent choice to stay with her husband grew exponentially. When a statement on Instagram attributed to Rice's wife accused the media of trying to hurt her marriage and "the man I love," it seemed the questions wouldn't stop.
But they are not the right questions, experts on domestic violence say.
"It's a very destructive question and it's the wrong question, to ask why she stays," said Ulester Douglas, executive director of Men Stopping Violence, an advocacy group based in Decatur. "When we focus on her, we make her the problem and we lose focus on holding him accountable."
Yet as unsavory as the questions might be, they persist. If there is anything to be gained from the Rice episode, it is greater insight into the complexity of a public health problem that is rooted not in a violent act or word, but in the dynamic of power and control, advocates say.
"Many women want the violence to stop, but they don't want the relationship to end," said Dr. Nadine Kaslow, president of the American Psychological Association and professor of psychology and behavioral sciences at Emory University. "They feel they really love the person, or that no one is perfect and the violence is something they have to put up with.
"They may be afraid that the violence will get worse if they try to leave or that if they leave they will be homeless with nowhere to go with their children. And in some cases this is all they've known in their lives because maybe they were abused as children or witnessed domestic violence between their parents. There are just a lot of reasons."
Since the extended video was released, #WhyIStayed has garnered hundreds of tweets, with women giving various reasons for why they remained in an abusive relationship, from simple fear to a paralyzing state of demoralization.
Leaving a relationship, whether the abuse is physical, verbal or sexual, is a fraught and sometimes dangerous decision for a woman. It takes seven incidents of abuse before a woman leaves or decides to leave a relationship, said Daphne Walker, president and CEO of the Partnership Against Domestic Violence. It can take that long, Walker said, because rarely does the abuse happen all at once or in rapid succession; rather, it may begin gradually and escalate over time, making it easier for a person to rationalize the behavior.
"So you separate it and think, 'He didn't mean it,'" said Walker, a former judge in Clayton County who heard domestic violence cases on the bench. "Oftentimes a woman doesn't recognize the level of abuse she is suffering until she just can't take it anymore. Each individual has to get to that point in their own time."
But that point is also the most dangerous time in an abusive relationship. That's because the woman's decision to leave alters the power dynamic in the relationship, and the abuser reacts to that shift.
The danger of the situation can often be masked by what's called a "honeymoon period," the time between episodes when an abuser is apologetic and ostensibly caring.
"That's why it's called a cycle of violence," Kaslow said.
Douglas, with Men Stopping Violence, said he has seen over and over, in courts in DeKalb County, women ask that charges be dropped against their husbands or partners.
"She says that because she has to go back home with him," Douglas said, pointing out that in Georgia, prosecutors may turn to earlier statements by the victim if she changes her story on the stand. For example, if a woman testifies in court that an incident of violence did not occur, the state may use a tape of the woman's 911 call to impeach her testimony.
In the case of Rice, who is now indefinitely suspended from the NFL, the ex-star made a deal with prosecutors in which he would go on probation and enter an anger management program. After successful completion of the program, he can apply to have the felony charge expunged from his record.
Questions have arisen over whether he'll ever play in the NFL again, and sports agent Leigh Steinberg said in an interview with The Atlanta Journal-Constitution that he thought Rice could and would, if he gets intensive therapy, shows contrition and works to become an anti-violence advocate.
"But it has to be penance in action, not just words," Steinberg said.
Douglas said it is possible for an abuser to learn to change his behavior, but it is difficult, intensive work that involves not couples' therapy, but long-term participation in an educational program with other men trying to clear the same hurdle.
In this moment, however, it is not Ray Rice's future that should be under consideration, but that of his wife.
AFP Photo/Rob Carr