No, African American Voters Won't Keep Silent To Defeat Trump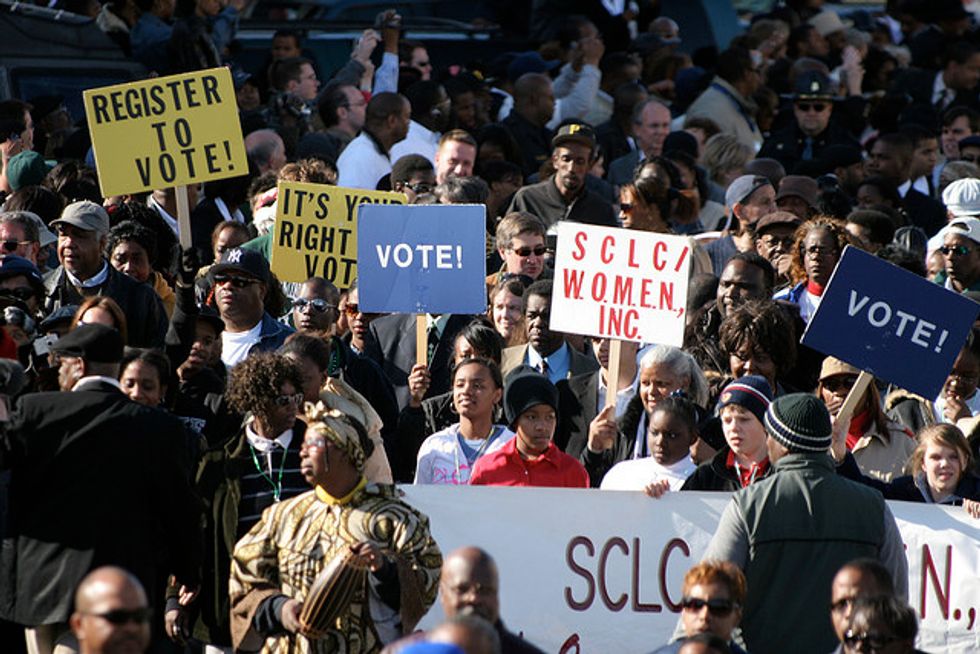 Republicans often say that the Democratic Party takes black voters for granted. They are right.
Of course, the GOP then does nothing to appeal to those voters. In fact, with the actions and words of its leaders on everything from gerrymandered districts (see North Carolina) to fair-housing enforcement (or the lack of it), the Republican Party, which once claimed broad support as the party of Lincoln, takes deliberate action to repel them.
So, election after election, Democrats count on GOP radioactivity to drive African Americans to vote for the "D." What choice do they have, after all?
In the 2020 campaign, the landscape has shifted. Against the backdrop of prospective candidates Joe Biden and Pete Buttigieg stumbling into racial controversies and the stakes of the outcome rising ever higher, all voters, especially reliable members of the Democratic Party base, are asking questions and demanding not only answers but also concrete proposals on issues such as education reform, income inequality and voting rights.
Any candidate who wants any citizen's vote will have to craft individual, policy-based appeals, and not take anything or anyone for granted. Why should black voters, who are not a monolith, expect anything less than the same care lavished on other members of the big tent?
Give them credit — the Democratic candidates this year are talking about health care, a living wage and other issues important to all voters but that may mean life or death to those who must deal with discrimination as well as the other obstacles each day brings. Candidates are offering comprehensive immigration plans that affect many people of color, and some dare to mention the word "reparations," acknowledging that racism and its legacy did not disappear when the Civil War ended in the United States, where the president and Lost Cause supporters revere stone statues of the losing general.
Most on the long list of Democrats (so long two nights of debates wouldn't accommodate them all) made another trip to early primary state South Carolina to attend the famous fish fry of Rep. Jim Clyburn, where the professionals and pundits are outnumbered by hard-working folks who come for some real talk along with the fish.
Candidates and fellow Democratic voters have to listen, as African American voters have signaled they will not lie low, be quiet and take one for the team because of the greater goal of taking Trump out of office.
The Democrats' most loyal constituency has seen many of its concerns relegated to the bottom of the list, as the party chases after a percentage of white voters of every economic level who abandoned the party elections ago. Though they show no signs of coming back, countless Democratic appeals place elusive white working-class voters on a pedestal. There's seemingly no room for ignored members of the black and brown working class, most of whom did not succumb to the siren song of Donald Trump yet get no thanks for their loyalty.
Don't demand conversations on systemic racism and its lingering and devastating effects for fear of scaring white voters in swing states, voters of color are told, and not for the first time. All it takes is two words — identity politics — to dismiss them, despite the obvious reality that raw, barely coded shout-outs to white identity were key to Trump's victory in 2016.
Increasingly, that tactic won't work.
During the Obama years, pride in the nation's first African American president sometimes muted disagreements — and there are some regrets about that. New generations of voters, as well as those who have trooped to the polls year after year, have learned being silent won't bring results.
After Biden's nostalgic words about cooperating with segregationists, his poll numbers did not drop, showing solid support — for now. But neither Biden nor any of the front-runners should get too comfortable. November 2020 is more than a year away, and voters are still shopping.
They're paying attention to Biden's own words and record on the 1994 crime bill and busing to achieve school desegregation. They're paying attention to Buttigieg's handling now and in the past of race and criminal justice in South Bend, Indiana, where angry citizens want answers on why police cameras were not activated during the recent shooting of a black man by a white police officer with a history of his own.
Each candidate can expect similar scrutiny as this week's Democratic debates provide a forum and the opportunity for make-or-break moments.
Will black voters get the blame if their outspokenness is pointed to as the cause of any and every Democratic Party setback? Probably. For example, low turnout among African American voters has been offered as a big reason Hillary Clinton lost, despite the fact that whites across the board, including the majority of white female voters, chose team Trump, and African Americans voted for her overwhelmingly.
It doesn't make much sense, but neither does much else when it comes to race and pointing the finger in America. African Americans are used to being the scapegoat no matter what the facts are.
To paraphrase a famous Trump quote, what do they have to lose by listening to each candidate, studying the issues, and voting for the one each may feel passionately about?
Mary C. Curtis has worked at The New York Times, The Baltimore Sun, The Charlotte Observer, as national correspondent for Politics Daily, and is a senior facilitator with The OpEd Project. Follow her on Twitter @mcurtisnc3.