No Brexit: Global Markets, Currencies, And Stocks Break Fall Amid Uncertainty
@reuters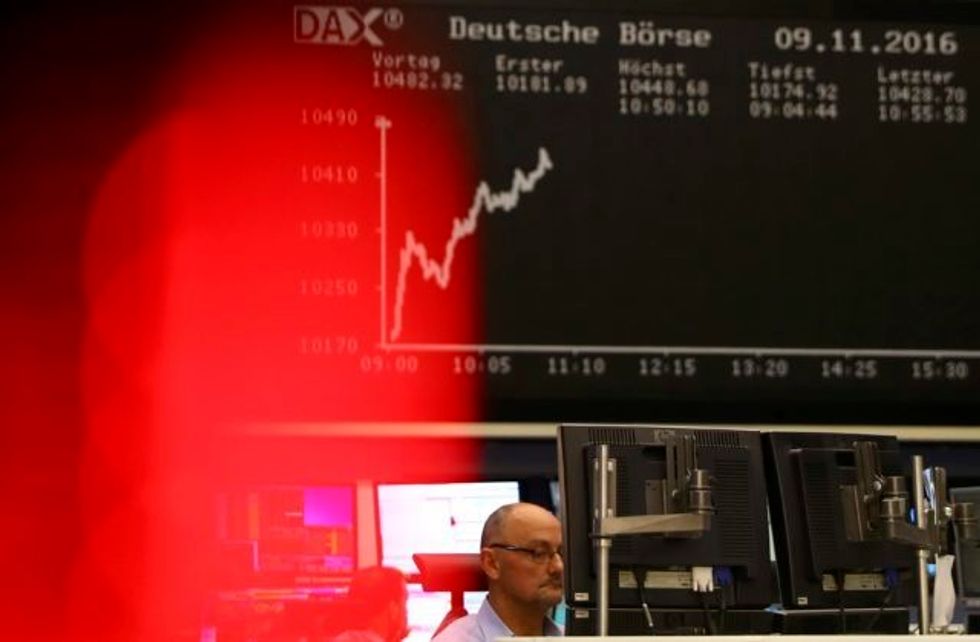 By Marc Jones
LONDON (Reuters) – The U.S. dollar, Mexican peso and world stocks fell on Wednesday as Donald Trump swept to victory in the U.S. presidential election, but fears of a Brexit-style shock that wiped trillions off global markets has failed to materialize so far.
As the Wall Street open neared, European shares were down less than 1 percent and traders were returning to other markets that had been sent into a tailspin as it became clear Trump was set for a dramatic victory over Democrat Hillary Clinton. [.EU]
Investors fear his victory could cause global economic and trade turmoil and years of policy unpredictability, which among other things could discourage the Federal Reserve from raising interest rates in December as long expected.
"I love this country," Trump said in a victory speech in New York. "America will no longer settle for anything less than the best … We have a great economic plan, we will double our growth and have the strongest economy in the world."
Pledges by Trump that he would also forge strong relations with other big nations helped ease concerns of heavy tariffs being slapped on selling to the United States and a starkly more aggressive geopolitical attitude.
Safe-haven sovereign bonds, the Japanese yen and gold were all giving back ground fast having surged in Asian trading as the election results had come in and, as in the case of the Brexit vote in June, proved polls and betting markets woefully wrong.
Overnight in Asia, Sean Callow, a forex strategist at Westpac, had said the market reaction had been "as though the four horsemen of the apocalypse just rode out of Trump Tower".
But the mood in European trade was far more measured.
"The equity markets has rebounded quite a long way so my view is that we have a couple of forces in play," said JP Morgan Asset Management's head of multi asset strategy, John Bilton.
"One is that markets are trying to figure out what this might mean and another force which is, if we do get this type of infrastructure spending and tax cuts that have been mooted, maybe that gives the economy a bit of a boost."
The 0.6 percent dip in European stocks was nowhere near as bad as the 4 percent plunge futures markets had indicated and the near 9 percent slump they initially suffered after the UK Brexit vote.
Mexico's peso also bounced 4 percent, off a record low it had hit overnight – though it was still down an eye-watering 8.5 percent as emerging markets bore the brunt of the impact.
Trump's threats to rip up a free trade agreement with Mexico and tax money sent home by migrants to pay for building a wall on the southern U.S. border have made the peso particularly reactive to events in the race for the White House.
"A lot of Trump's negative geopolitical rhetoric was concentrated around Mexico and trade with Mexico and tearing up the NAFTA agreement, so the peso just become this natural barometer of the election," said Deutsche Bank strategist Gautam Kalani. "What happens now though is all up in the air."
A wealthy real-estate developer and former reality TV host, Trump rode a wave of anger toward Washington insiders to win the White House race against Clinton, the Democratic candidate whose gold-plated establishment resume included stints as a first lady, U.S. senator, and secretary of state.
Markets had favored Clinton as a status quo candidate who would be considered a safe pair of hands at home on the world stage. Analysts had no such certainty about Trump whose powers will be bolstered by the Republican's control of the Senate.
U.S. stock futures were pointing to a drop of just under 2 percent for Wall Street when it reopens later, less than half the 5 percent they had been suggesting in Asian trade.
The 46-country MSCI 'All World' index was down just 0.8 percent and, although Wall Street's expected drop will add to the fall, so far at least there have been over 25 worse days for the index this year.
As FX markets reeled in the initial Asian fright, South Korean authorities were thought to have intervened to steady their currency, and dealers wondered if central banks globally would step in to calm nerves.
Japan's top currency diplomat signaled Tokyo's readiness to intervene if necessary as the surging yen threatened to snuff out its fragile economic recovery.
The scale of the scare was clearest in the Mexican peso, which plunged more than 13 percent against the dollar at one point in the biggest daily move in two decades.
The risk of a global trade war likewise knocked other currencies across Asia, with the Australian dollar leading the rout.
The story had been very different against the safe-haven yen, with the U.S. dollar shedding as much as 3.3 percent to 101.85 yen and around 2 percent on the euro before the market changed direction.
That U-turn left both were well of their highs by 0807 ET, at 104.18 yen and $1.1009 for the euro.
Asian stocks, which had closed before Trump's victory speech spoke of the need to strengthen the United States and keep global relations, showed the day's biggest dents.
MSCI's broadest index of Asia-Pacific stocks outside Japan ended down 2.3 percent and the Nikkei in Tokyo closing down 5.4 percent. It lost almost 9 percent after the UK Brexit vote.
Sovereign bonds whipsawed, with yields on 10-year U.S. Treasury notes initially flying down as much as 12 basis points to 1.75 percent – again the largest drop since the Brexit vote – only to climb back up to 1.96 percent in Europe.
Fed fund futures had toyed with the idea of a cut in rates next year at one point though they were back again to pricing at least a 50 percent chance of a December hike.
It was still seen as a possibility that the Bank of Japan and European Central Bank might be forced to ease policy further.
"We are definitely prepared to intervene in an emergency," one of the ECB's longest-standing members, Ewald Nowotny, told reporters in Vienna. "What that will really look like, we must wait and see."
In commodity markets, safe-haven gold saw big swings as well, climbing 3.5 percent to $1,320 an ounce as the dollar slid, but then backsliding to around $1,300.
There was a screeching U-turn from oil too. U.S. crude bounced over $2 to $45.12 a barrel, while Brent jumped back to $45.50 barrel having been as low as $44.40.
Russian President Vladimir Putin said he was ready to fully restore ties with the United States following Trump's victory.
(Additional reporting by Wayne Cole in Sydney; Editing by Pravin Char)
IMAGE: A trader at the Frankfurt stock exchange reacts in Frankfurt, Germany, November 9, 2016.   REUTERS/Kai Pfaffenbach