No Joke: Romney Considering Disgraced Former Merrill Lynch CEO For Treasury Secretary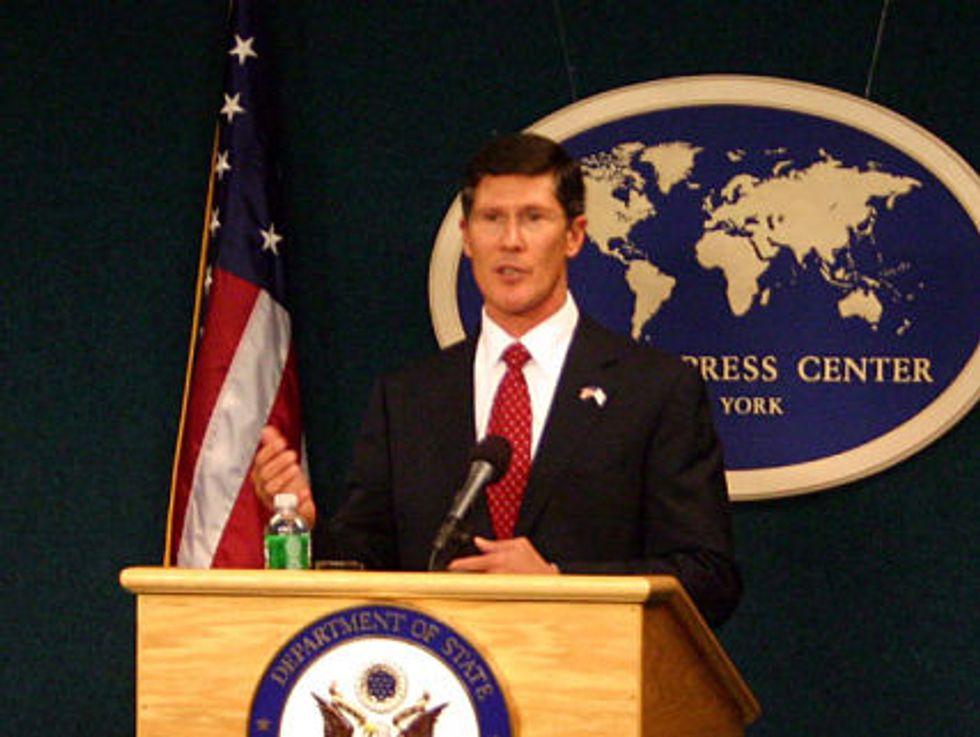 According to The Wall Street Journal, disgraced former Merrill Lynch CEO John Thain would be on the short list for Treasury Secretary if Mitt Romney wins the presidential election.
To those who recognize his name, this may seem odd because Thain — who currently runs CIT Group and serves as an economic advisor to Romney's campaign — is the archetypal out-of-touch "Master of the Universe." If Romney's goal is to further offend the "47 percent," then floating the reprehensible Thain for a top cabinet post is a great way to start.
Thain is best known for presiding over Wall Street giant Merrill Lynch as it lost tens of billions of dollars in the subprime mortgage crisis, leaving the once-venerable firm teetering on the edge of collapse until Bank of America purchased it, with strong encouragement from the federal government. Bank of America would later receive a $20 billion bailout to help it absorb Merrill Lynch's toxic assets (although, according to Business Insider, 75 percent of that money would go towards bonuses for Merrill Lynch executives.)
In January of 2008, as Merrill Lynch was losing a staggering $52 million per day, Thain chose to spend $1.22 million in company money to redecorate his office. Some of the most notable purchases included:
$87,000 for an area rug in Thain's conference room and another area rug for $44,000; a "mahogany pedestal table" for $25,000; a "19th Century Credenza" in Thain's office for $68,000; a sofa for $15,000; four pairs of curtains for $28,000; a pair of guest chairs for $87,000; a "George IV Desk" for $18,000; six wall sconces for $2,700; six chairs in his private dining room for $37,000; a mirror in his private dining room for $5,000; a chandelier in the private dining room for $13,000; fabric for a "Roman Shade" for $11,000; a "custom coffee table" for $16,000; something called a "commode on legs" for $35,000;  "Regency Chairs" for $24,000; "40 yards of fabric for wall panels," for $5,000; and a "parchment waste can" for $1,400.
Later that year, when Thain was called to Washington along with the heads of the major banks to discuss how the government planned to keep the financial system from completely collapsing, his first question was whether his compensation would be cut.
Any  remaining question about Thain's priorities was put to rest after Bank of America rescued Merrill Lynch. He unsuccessfully lobbied the board to award him a $10 million bonus for his work in 2008, despite the fact that the company suffered net losses of over $11 billion under his leadership that year.
Given that Romney has repeatedly pledged to repeal the Dodd-Frank Act — which is specifically designed to protect the American financial system from grasping, incompetent CEOs like John Thain — it's not terribly surprising that Romney is considering him for the top economic spot in his cabinet. It is, however, an almost comically awful idea.
On the campaign trail, Romney likes to claim that it is a moral imperative to rein in spending. If he really believes that, then he shouldn't be taking advice from a man who bought a $35,000 toilet as his company burned — much less nominating him to run the Treasury.