No, You've Never Heard Of The New #NeverTrump Candidate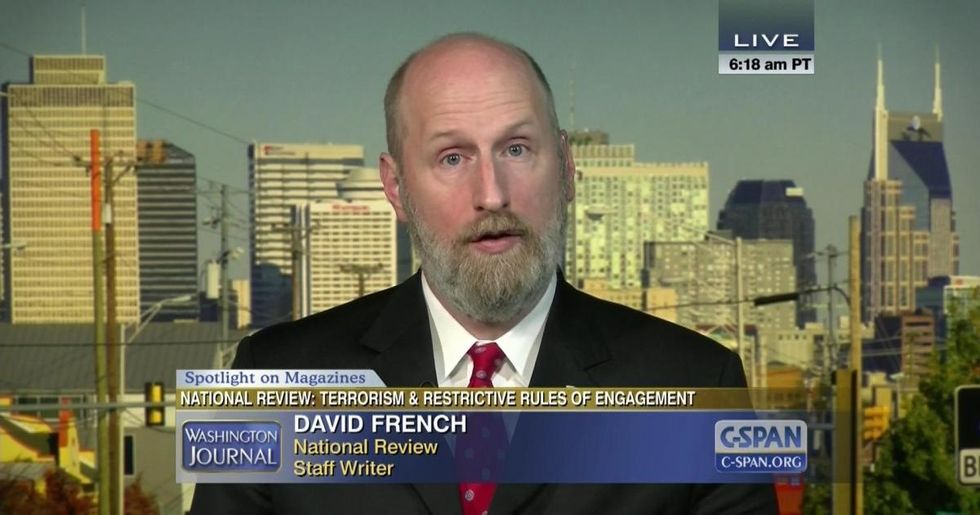 In what is rumored to be an inside leak, Bloomberg revealed Tuesday that David French is the elusive conservative that #NeverTrump movement leader and Weekly Standard editor Bill Kristol wants as a third-party bid to defeat Donald Trump. Kristol later confirmed to CNN that French was the chosen one.
French has not yet confirmed he is up for the challenge.
French is so unknown, even to media insiders, that when the news broke, TV stations were stuck with a handful of file photos they could find of him as they discussed his possible candidacy.
So who is David French, and does he stand any shot at all of being a noticeable presence in this election?
French is a Harvard-trained constitutional lawyer and a staff writer for the National Review, where he has strongly criticized Trump's candidacy. "It is certain that he is dishonest, ignorant of foreign and domestic affairs and deals in the most vicious personal attacks," French wrote of Trump last week.
What's especially surprising about the choice of French to represent the #NeverTrump movement is how unaware he was of his potential role just a week ago: In another piece last week, French encouraged Mitt Romney to run as an independent candidate, calling him "the only man who combines the integrity, financial resources, name recognition, and broad public support to make a realistic independent run at the presidency."
Romney now seems to be open to supporting French, tweeting "I know David French to be an honorable, intelligent and patriotic person. I look forward to following what he has to say."
French's wife, Nancy French, ghostwrote Bristol Palin's Not Afraid Of Life. David and Nancy French co-wrote the book Home and Away, in which they talk about their marriage and the rules they followed while he was in Iraq. Their strict rules included banning Nancy from engaging in phone conversations with men, "meaningful e-mail exchanges," and using Facebook — in order to stay away from "the ghosts of boyfriend's past."
Like everyone else in the conservative blogosphere, French has made a sport of contemplating alternates to voting for Trump. An article published May 5 asks, "Is the Libertarian Party's Gary Johnson a Plausible Alternative to Trump and Clinton?"
Yes, he is, French concluded. He advised Johnson: "You won't win, but you can matter. This is your moment."
Photo: CSPAN.