'Nobody Should Have To Be Living Like This,' Residents Of Flint Say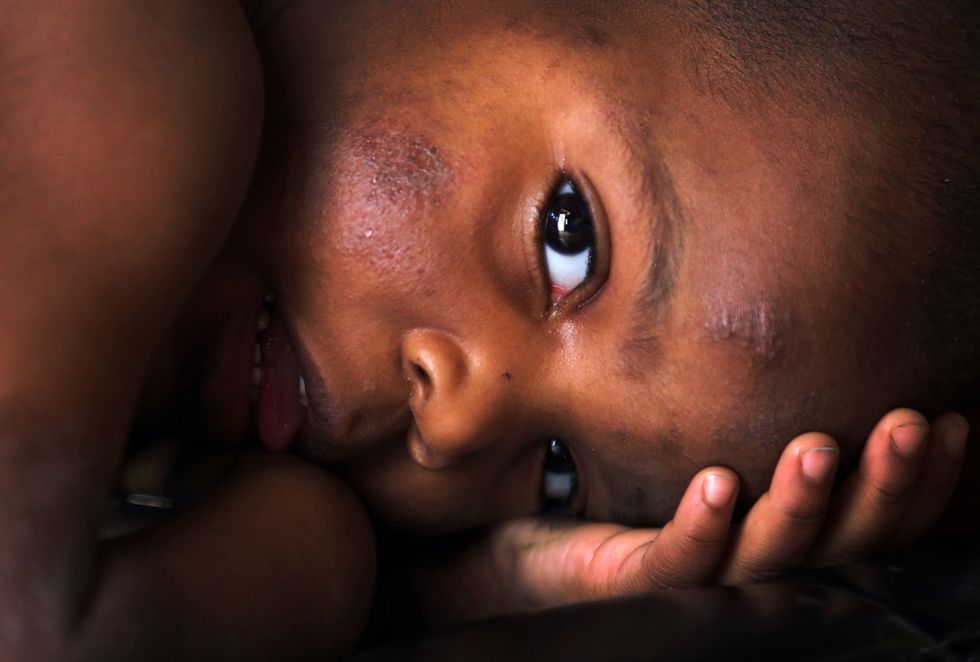 By Elisha Anderson, Detroit Free Press (TNS)
FLINT, Mich. — Ariana Hawk heated a bowl of distilled water in the microwave, dipped a washcloth in it and wiped her 2-year-old son's itchy, irritated skin.
She said she has been cleaning Sincere Smith's body this way — or with wet wipes — since last summer, because the boy's doctor doesn't want him bathing in the tap water at their Flint home.
"I can't afford to go buy 20 gallons of water just to bathe him one time," said Hawk, a 25-year-old single mother of three who attends Mott Community College and is pregnant.
Sincere has rough patches of skin on his legs, arms and face, she explained, adding that his skin condition started with a rash on his stomach after Flint switched it water supply source from Lake Huron to the more polluted and corrosive Flint River in April 2014 while under control of a state-appointed emergency manager.
Hawk blames the water for her middle child's suffering and plans to sue.
"We get treated like … we don't matter," she said. "That's how it's been feeling."
Residents across Flint — some of whom stopped using the water immediately after the cost-saving change because of its smell, color, taste and source and others who continued to drink and cook with it — echo her frustration.
People, pets, even plants have been affected by the poisonous, lead-contaminated water, they said.
Community members feel betrayed, worried, angry, sad and stressed and are bracing for what will happen next in Flint, a city with 99,000 residents, 40 percent of whom live in poverty.
The city has seen a spike in the levels of lead in children's blood. Lead poisoning, experts say, affects IQs and has lifelong impacts, including learning disabilities, speech and language problems, and an increased risk for behavioral issues.
"This is a population-wide exposure," said Hurley Children's Hospital pediatrician Dr. Mona Hanna-Attisha.
Kids absorb lead more easily and have been exposed to lead if they drank Flint water since April 2014, health officials said.
"I love my kids," said Pamela Battle. "I want them to grow up like I grew up … wasn't no worries about no water."
Battle, whose seven children range in age from 1 to 16, said she got a water filter Monday. Before that, she was using water from her faucet to cook, make Kool-Aid and put it in bottles for her two youngest children.
"We were drinking it regularly," said Battle, 36. "The whole family. Everyone here."
The water in her previous home was discolored and tasted terrible, she said, but when she moved to her house on Chambers in December 2014, the water came out of the faucet clear and tasted fine. She said she didn't realize there was an issue.
At the urging of her mother, Battle went to Freeman Elementary School last Tuesday with some of her kids to get their blood checked for lead. The school hosted an event where she learned about lead poisoning and its effects on children.
"I'm really concerned now," she said.
Battle said she has no choice but to stay in Flint with her children and live with the water crisis. Others have had enough and plan to leave.
Kerry Wheeler, 45, said she, her 11-year-old daughter and their dog are moving to Taylor to escape the water situation.
Shortly after she moved into her Flint apartment on Alvord Avenue last fall, her active dog became lethargic, wouldn't eat and started vomiting. Wheeler took the 10-year-old boxer named Beast to the veterinarian and was told to give him bottled water.
"Once I switched him to bottled water, he perked right back up after a couple days," she said.
Water in her home has varied from clear or cloudy to brown or yellow. At times, it has been so discolored, she refused to let her daughter bathe in it, opting for wipes instead, she said.
"Nobody should have to be living like this," Wheeler said.
Gov. Rick Snyder declared a state of emergency Jan. 5 and acknowledged that actions taken by the state have not been good enough at a Jan. 11 news conference, saying "more work needs to be done with more urgency."
State efforts were ramped up this week to get free bottled water, filters, replacement cartridges and water testing kits in the hands of Flint residents. Members of the Michigan National Guard have been deployed to Flint, and Snyder requested federal help for the water crisis.
On Saturday, President Barack Obama declared a federal emergency in Flint and ordered federal aid to help.
Throughout last week, people lined up to pick up free water and filters at fire stations, and more free supplies have been passed out door-to-door by Michigan State Police troopers, volunteers and others.
"It's that kind of door-to-door contact that's important right now, so people know that we're committed to their health and their safety," Snyder spokesman Dave Murray said Friday.
Flint Mayor Karen Weaver said Thursday night that the city has made progress but needs more people to help with the efforts.
"We're starting to get what we need … but these are Band-Aids, and we need the Band-Aids because as long as we can't drink the water, we have to have bottled water. We have to have filters," Weaver said.
The state helped the city move its source of water back to Lake Huron water supplied by Detroit in October, but concerns about contamination remain because the Flint River water damaged pipes and other infrastructure. Dan Wyant, the former head of the state Department of Environmental Quality resigned last month. The agency failed to require the addition of anticorrosive chemicals to the water.
Snyder has repeatedly apologized for the state's role in the water crisis, but many say he still hasn't done enough.
"That apology ain't going to help these kids," said Hawk, who said she doesn't know what her children may face because of their exposure to lead. "That apology's not going to help the families that's suffering."
Weaver said the ultimate solution is to fix the infrastructure and provide long-term help for all of the people impacted in the city where public trust has been shattered.
"We didn't deserve to be in this position, in this situation," she said. "And what happened here in Flint should never happen to any community."
©2016 Detroit Free Press. Distributed by Tribune Content Agency, LLC.
Photo: Sincere Smith, 2, of Flint, Mich., is one of three children living with his single mom Ariana Hawk, 25. He is suffering from a severe skin rash that his mother believes is due to bathing in the contaminated Flint water. (Regina H. Boone/Detroit Free Press/TNS)