Nondiscrimination Ordinance Puts Houston At The Center Of Latest LGBT Rights Battle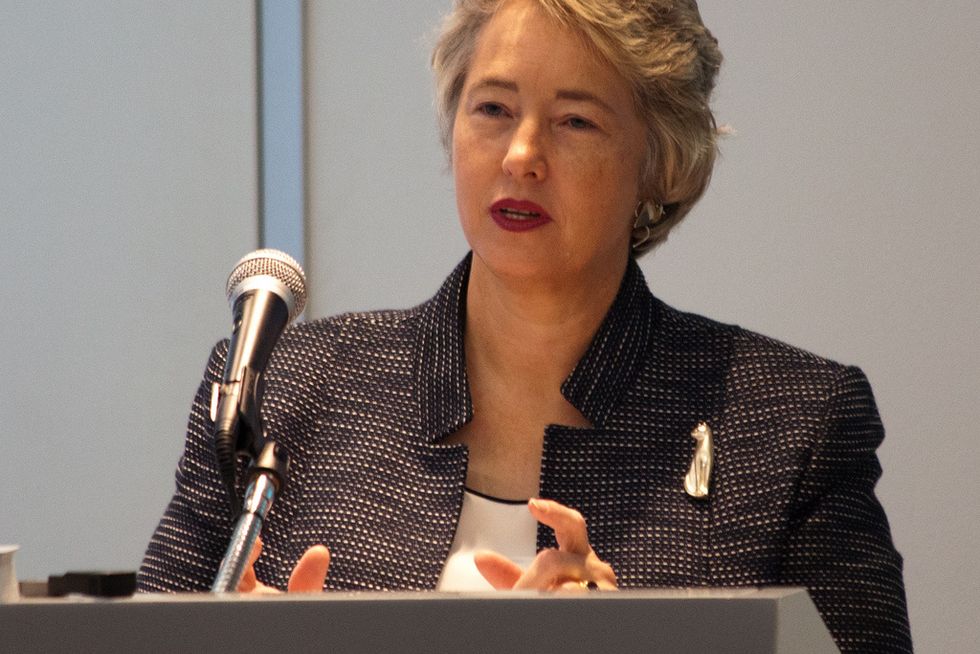 By Molly Hennessy-Fiske, Los Angeles Times (TNS)
HOUSTON — Mayor Annise Parker won re-election here — twice — by taking on some of the city's most basic municipal problems: the water system, street repairs, homelessness.
But when Parker pushed aggressively for Houston to adopt nondiscrimination protections for gay and transgender people, the mayor's support was tested and the fourth-largest city in the country found itself at the center of a national debate over LGBT rights.
Parker, the first openly lesbian mayor of a major U.S. city and a moderate, admittedly wonkish, politician, has made Tuesday's citywide vote on the nondiscrimination ordinance a deeply personal battle.
"It is my life that is being discussed," Parker said before the City Council approved the nondiscrimination law last year by an 11-6 vote."… The debate is about me."
Parker's position emboldened critics, including conservative pastors and pro athletes, who successfully pushed to have the law put to a vote. The outcome could send a signal to other cities and states considering similar protections — which in the wake of this year's Supreme Court ruling on same-sex marriage have replaced that issue as a priority with LGBT activists.
A loss could derail Parker's political career.
"It's unfortunate that we have a mayor who's willing to put her personal agenda above the law," said Jared Woodfill, a former Republican county chairman who was among those who sued and petitioned to get the measure on the ballot.
Proposition 1, the Houston Equal Rights Ordinance, would consolidate existing bans on discrimination based on race, sex, religion and other categories in employment, housing and public accommodations, extending protections to gay, lesbian, bisexual and transgender individuals.
Texas is one of 28 states without statewide nondiscrimination protections, although major cities have adopted policies, including Austin, Dallas, Fort Worth and San Antonio. Of the 22 other states, 17 bar discrimination on the basis of sexual orientation and gender identity in employment, housing and public accommodations, and soon New York will too.
"If we win here," Woodfill said, "I think it will be an opportunity to defeat these types of ordinances when they pop up."
Hillary Rodham Clinton, President Barack Obama and Vice President Joe Biden have endorsed the ordinance. A White House spokesman said in a statement that the president and vice president were "confident that the citizens of Houston will vote in favor of fairness and equality."
Parker remains resolute.
"It is personal, and it's not only personal because of sexual orientation," she said, noting that the ordinance also would affect her adopted son and daughters, who are African-American and mixed race.
Parker, 59, began her political career as a gay activist, but in city government she's known largely for her ability to harness Houston's bureaucracy. She has led a relatively conventional life with her wife and children in a historic house in the gentrified Montrose neighborhood, working for 20 years in the oil and gas business, then a dozen years for the city as comptroller and on the council.
Along the way, she championed a frontier meritocracy mentality that, in a city as diverse as Houston, anyone can succeed. Losing now would turn her narrative of triumph "into a sob story," said Sean Theriault, a professor of government at the University of Texas at Austin.
"If this loses, it's got to be the end of her political life," he said.
And it may fail.
Early voting ended Friday, and polls by Houston TV stations found the ordinance's supporters have a slight lead, but about a fifth of voters remain undecided.
Robert Stein, a political scientist at Parker's alma mater, Rice University, said turnout has been particularly high in African-American and white conservative precincts inclined to oppose the ordinance, targeted by an opposition campaign that includes powerful conservative pastors.
The ballot measure could be in trouble, he said.
Paul Simpson, chairman of the surrounding county's Republican Party, which has rallied to block the ordinance, called it "unnecessary, discriminatory and intrusive."
"There's not this vast problem of discrimination in Houston," he said, and Parker "is one of the main proofs. No one worried about her orientation when she was first elected…. This is hardly a legacy for her last term."
Opponents contend the "bathroom ordinance" poses a public safety threat because it would allow transgender women into women's restrooms, infringe on religious liberty and prompt a slew of lawsuits against small businesses and the city.
"Do you know what lurks behind this door?" asked fliers distributed by an opponent in front of City Hall last week. "If Houston Mayor Annise Parker has her way and her controversial Proposition 1 passes, it could be a man dressed as a woman or worse."
The mayor was prepared.
"I knew it was going to be an ugly, divisive campaign," said Parker, who faced death threats and had her tires slashed as an activist in the 1980s. "It's the same people who have been organizing against the LGBT community for decades."
But Parker antagonized many when city attorneys tried to subpoena sermons by five pastors who sued to block the ordinance, sparking a national outcry over religious liberties. The lawsuit eventually reached the Texas Supreme Court, which ruled in July that the city had to repeal the ordinance or let voters decide.
The Rev. Ed Young at Houston's Second Baptist, one of the nation's largest churches, recently urged his congregation to vote against the ordinance because "it will carry our city… further down the road of being totally, in my opinion, secular and godless."
Even former Houston Astros star Lance Berkman has jumped into the fray, appearing in ads against the ordinance, saying he wanted to protect his wife and four daughters from threats, including being forced to share bathrooms with "troubled men."
Parker, an Astros fan since childhood, responded forcefully.
"Lance Berkman played in St. Louis. Guess his girls didn't go to his games! SL has a non-discrimination ordinance," Parker tweeted. "Then Lance Berkman went to Dallas. Oops. Dallas amended its Charter to clarify gender identity protections. Can you spell hypocrite?"
Last week, Parker pledged $50,000 in matching donations in addition to $50,000 she already gave the HERO campaign, and remained hopeful that voters would back the ordinance. Blocked from seeking re-election because of term limits, Parker has not ruled out running for statewide office in 2018.
"In a city as diverse as Houston, a city that has elected me nine times as an out lesbian…. I just can't fathom that this would not pass," she said.
(c)2015 Los Angeles Times. Distributed by Tribune Content Agency, LLC.
Photo: Ed Schipul via Flickr