Norquist's Latest Plot To Drown Government: Monthly Debt Ceiling Fights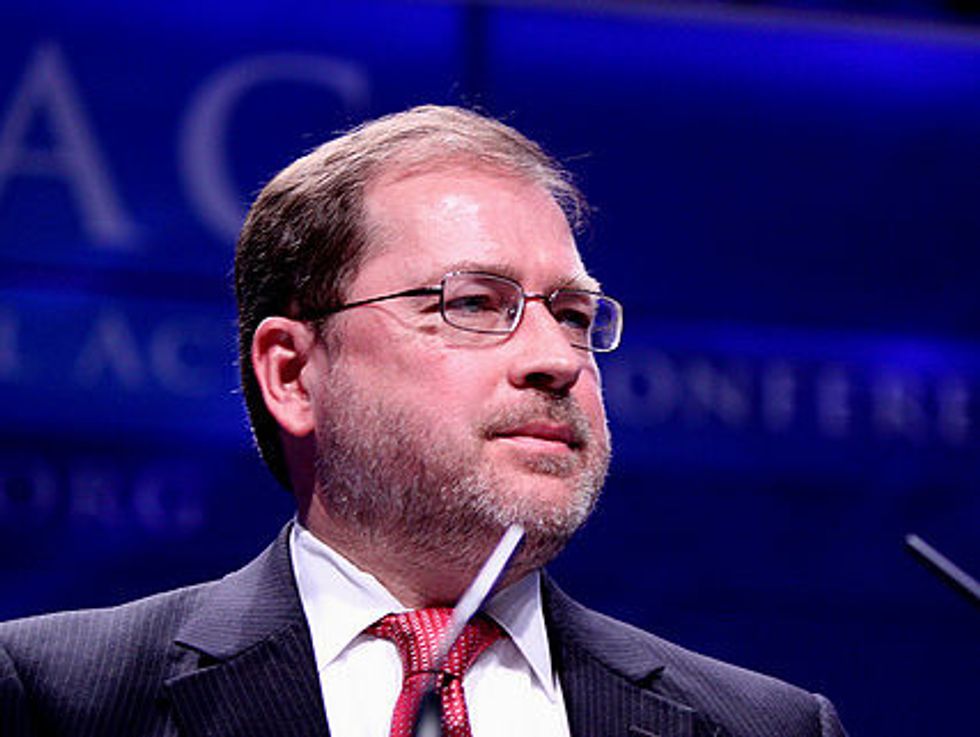 There's two ways to look at Grover Norquist. He's either the most powerful unelected man in the world or an amazing self-promoter who is about to be proven obsolete. Norquist obviously feels he's the former. For nearly two decades, he's held Republicans to a pledge to never raise taxes. Now he wants them to force the president to cede to their wishes on a monthly basis.
The President of Americans for Tax Reform is urging Republicans to use the debt ceiling to exact spending cuts or continue the Bush tax cuts for incomes over $250,000.
"The debt ceiling that Obama's plans bump into every month or so for the next four years provides plenty of 'leverage' for the GOP to trade for spending cuts — as done in 2011 — or continuing the lower rates," Norquist wrote Wednesday in The Hill.
Nearly 6 out of 10 Americans want to end the Bush tax breaks for the rich. But enough Republicans in the House and Senate have signed Norquist's American Taxpayer Pledge that he's certain that the negotiations on the so-called "fiscal cliff" can end without taxes going up.
After an electoral college landslide, many — including the White House — believe that the president has the leverage in negotiations. But the debt ceiling, which we will hit in February, does give Republicans a chance to make demands on the president.
When President Obama asked Speaker Boehner to raise the debt limit, Boehner reportedly said, "There is a price for everything."
In 2011, Republicans, for the first time ever, used the debt limit to force cuts — something they never asked for in the dozens of times they raised the limit for the last three Republican presidents.
Though senators Lindsey Graham, Saxby Chambliss and other Republicans have said they would break their pledge with Norquist, the lobbyist seems unfazed. He told Slate's Dave Weigel that he has no concerns that his pledge is about to crumble.
"I've talked to Lindsey Graham on the phone after some of his pronouncements, and he's said, 'Oh, I would need 10-1 [ratio of cuts to tax hikes], and it would have to include permanent, unalterable entitlement reform.' I said, 'Lindsey, if that's what it's going to take to get you to raise taxes, I'm not going to worry about you," Norquist said. "You are not in danger of being offered a silver unicorn, because unicorns don't exist."

The Washington Post's Greg Sargent keeps insisting that the GOP is just trying to present an appearance of compromise. Some Republicans are making news with their alleged willingness to buck Norquist — but votes speak louder than words.
Unlike many Republicans, Norquist would be pleased if the so-called sequester goes into effect. He's a Republican who believes the Department of Defense isn't sacred when it comes to spending cuts.
The question is, how many Republicans would be willing to risk the cuts to Defense along with responsiblty for a middle-class tax increase by holding out for a deal that honors Norquist's pledge?
And if the president won't agree, will they doom the United States' credit and cause unprecedented "uncertainty," which Republicans claim to hate, by holding the debt limit hostage on a monthly basis?
Even if Republicans were to go down that path, the president would have to adopt a strategy advocated by former president Bill Clinton often called "the 14th Amendment option."
The amendment includes the sentence, "The validity of the public debt of the United States, authorized by law, including debts incurred for payments of pensions and bounties for services in suppressing insurrection or rebellion shall not be questioned."
In 2011, Clinton said that "without hesitation" he would invoke the 14th Amendment "and force the courts to stop me."
President Obama nixed that plan, saying his lawyers didn't see the validity in it. But if Republicans decided to use the debt ceiling to keep him on an "allowance," it wouldn't be hard to imagine him deciding that it was worth going to court.
Norquist has never been shy about his disdain for government. He's often joked," I just want to shrink it down to the size where we can drown it in the bathtub." But he's never faced a predicament like expiring tax cuts and a president with the political capital to fight to keep some of them expired.
Soon we'll find out how much power he actually has.
Photo by Gage Skidmore via Flickr.com