North Carolina GOP Fights Sharia With Sneak Attack On Abortion Rights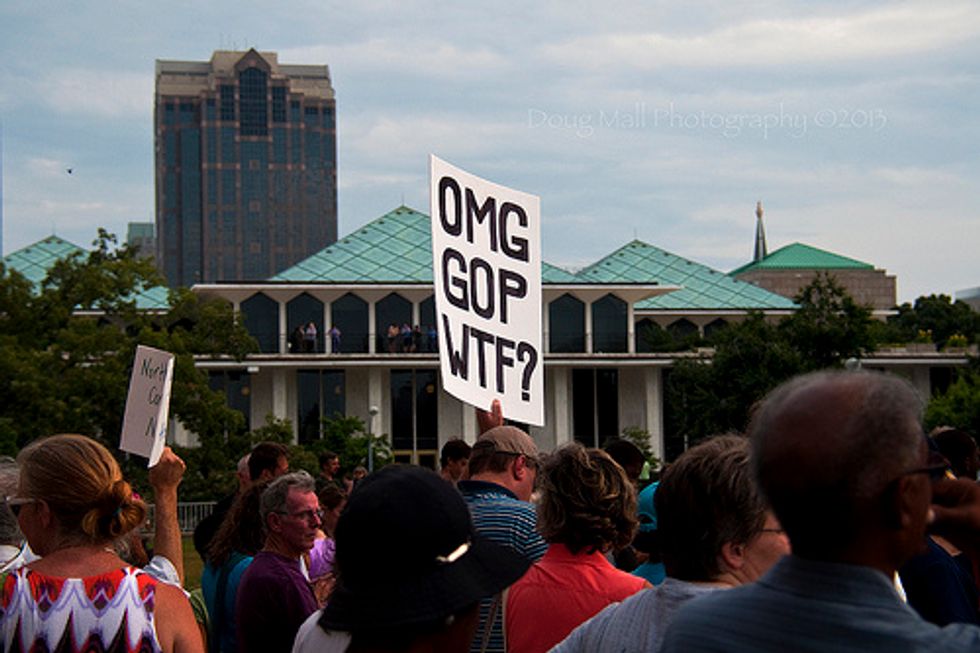 Despite a slight rebuke from the state's Republican governor, North Carolina's House has passed a series of new restrictions on abortion providers that Republicans in the State Senate stuck into a bill banning Sharia law Tuesday evening.
"Regardless of what party is in charge or what important issue is being discussed, the process must be appropriate and thorough," Governor Pat McCrory  (R-NC) said in a statement about House Bill 695.
Last year, McCrory vowed not to enact any new abortion restrictions.
Even if the governor decides to veto the measures, which prevent the state's insurance exchange from offering plans that cover abortion along with restrictions on doctors or facilities that could shut down all but one clinic that performs abortions in the state, Republicans in the legislature have enough votes to override him. The bill passed the House by a vote of 29 to 12.
An estimated 600 people gathered at the state capitol Wednesday as news of the new sneak attack on abortion rights spread. They protested the House's vote by waving their arms silently.
"This is an atrocious, shameful bill," said Senator Earline Parmon, (D-Winston-Salem). "It's about dictating to women about very personal medical decisions that should be left to a woman and her doctor. This is going to cause more back-alley abortions whether you want to admit it or not."
Demonstrators have been gathering to protest the Republican leadership in Raleigh weekly for "Moral Mondays," with hundreds generally ending up under arrest.
Since they took control of both houses of the legislature along with the governorship, the state's GOP has been passing a wish list of legislation focusing on cutting education, restricting voting and ending public funding of local elections. Most recently, they passed  unprecedented cuts to unemployment insurance.
While all those laws have been passed in broad daylight, Senate Republicans resorted to the cloak of night, likely after watching State Senator Wendy Davis (D-Fort Worth) successfully delay abortion restrictions in Texas' Senate.
"It seems to me that they're trying to pass under cover of darkness legislation that would not otherwise be passed," said Suzanne Buckley, executive director of NARAL Pro-Choice North Carolina. "They're trying to pull a Texas."
Restrictions in North Carolina resemble those of Texas, which were pioneered by Republicans in Ohio who are innovating new ways of limiting women's choices in their latest budget.
Photo: Doug.Mall via Flickr.com