North Carolina Mom Takes Fight Against Climate Change To Washington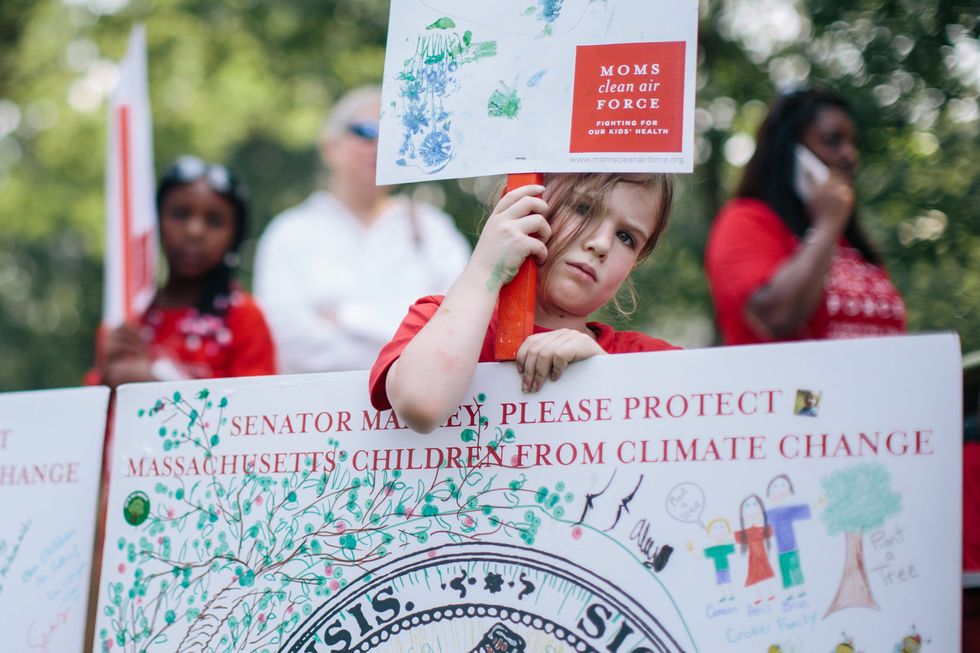 By Franco Ordonez, McClatchy Washington Bureau (TNS)
WASHINGTON — It was warm out, and the new mom just wanted to take her baby girl for a walk around the pond in her East Charlotte, N.C., neighborhood. A friend suggested she check the air first.
Code orange: unhealthy for sensitive groups such as children and the elderly.
That was the warning when Danielle Hilton checked the air quality index for Mecklenburg County. She decided she and her daughter, Makena, would do afternoons inside.
That was the summer of 2008. It was a bad time for the Charlotte region in terms of air quality. Some local schools and government offices hoisted color-coded warning flags about breath-stifling ozone levels. The Charlotte metro region had violated federal standards for ozone on at least 24 days by the end of the summer. Twenty-one days were deemed "code orange," and three days were "code red" — unhealthy for everyone.
It changed Hilton's outlook on life. She began devouring anything she could find on the environment, power plants and fossil fuels. She attended activism meetings about local power plants and coal ash ponds. She studied the potential impacts of the oil drilling technique known as fracking. She cried watching the struggles of polar bears living on melting ice caps in the Oscar-winning documentary An Inconvenient Truth. She worried about Makena's future.
On Tuesday, Hilton, 40, joined hundreds of mothers from across the country on Capitol Hill calling on members of Congress to address climate change. Hilton planned to meet with Sen. Thom Tillis, R-N.C., and the staff of Rep. Alma Adams, D-N.C.
She planned to share her thoughts not only as a mother, but also as an African-American woman concerned about her community.
Hilton recruited her friend Nakisa Glover to join her in Washington. The two moms, who brought along Glover's 3-year-old son, Zion, had a secondary goal to infuse some color into an environmentalist movement that historically has been dominated by white people.
They planned to share statistics that show how minority communities suffer more from excessive pollution. They will push members of Congress to increase federal regulations for power plants, which are often located closer to poorer neighborhoods. A 2012 report from the NAACP found that in areas around the 12 most polluting coal-fired power plants in the United States, minorities were about 76 percent of the population.
"They're not putting these coal ash dumps in Ballyntyne," Glover said of the upscale, majority-white Mecklenburg neighborhood. "They're putting them in the under-served and minority, low-income communities."
The Charlotte region continues to have air quality issues.
But it's not all bad. The county got an "A" for levels of particle pollution, or soot.
County officials said the primary source of ozone-forming air pollution in Mecklenburg County is cars and trucks on the road.
Asthma is the No. 1 chronic disease among students in Charlotte-Mecklenburg Schools, according to the school system. More than 14,000 Charlotte-Mecklenburg students have been identified with asthma.
"We need action," Hilton said. "We need it now."
(c)2015 McClatchy Washington Bureau. Distributed by Tribune Content Agency, LLC.
Photo: Rose Peltason Arkush, 5, from Takoma Park, Md., holds a sign calling for climate change action as she and her mother (not pictured) attend a rally with Moms Clean Air Force on July 7, 2015 in Washington, D.C. Hundreds of mothers from across the country are calling on their members of Congress to address climate change for their children's future. (Lexey Swall/McClatchy/TNS)