Nothing Normal About Allegations Against Teenager Kavanaugh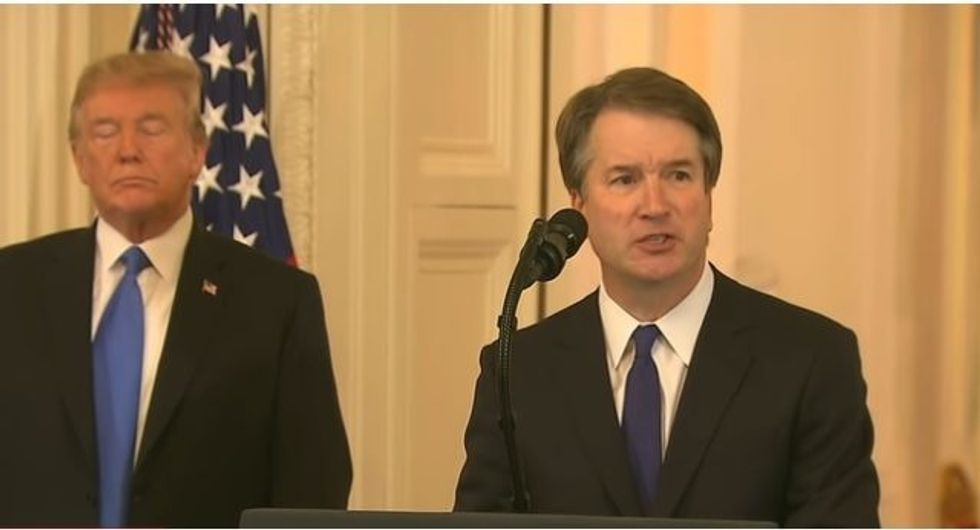 Reprinted with permission from Creators.
Tuesday evening, I was scrolling Twitter for news updates when I came upon this post by Emma Thatcher:
"Hello, female high school student here. I would just like to say that the emergence of this whole 'teenage boys should get a pass because they're not mature enough to understand consent' narrative is probably one of the most unsettling things I have ever witnessed."
She was referring, of course, to recent attempts to simultaneously excuse and demonize all teenage boys to salvage the reputation of one man, U.S. Supreme Court nominee Brett Kavanaugh.
Christine Blasey Ford, a research psychologist and professor, has accused Brett Kavanaugh of sexually assaulting her at a party when he was 17, and she was 15.
In a letter to Sen. Dianne Feinstein and Rep. Anna Eshoo, she describes Kavanaugh as "stumbling drunk" as he and a friend pushed her into a bedroom. She writes that he pinned her onto a bed, groped her and grinded against her, and tried to remove her clothes. When he put his hand over her mouth to muffle her screams, she wrote, "I feared he might inadvertently kill me."
These descriptions bear repeating because, regardless of whether one believes Dr. Ford, defending Kavanaugh by arguing that adolescent boys frequently do stupid things discloses more about his defenders than they intend. If you never attempted to rape a girl in high school, shouldn't your response be outrage that any teenage boy would?
In October 1991, Anita Hill appeared before the U.S. Senate judiciary committee to testify under oath about how Supreme Court nominee Clarence Thomas' alleged sexual harassment.
This was the opening description of that hearing from David A. Kaplan for Newsweek:
"It pre-empted the game shows, it interrupted weekend plans of foliaging, it transfixed a nation," wrote Kaplan. "It was carnal, ugly and surreal. This was the Scandal With Everything—penises, power, intense emotional pain — and millions tuned in. They watched an X-rated spectacle that was repulsive and irresistible at the same time."
An exchange between committee chairman Sen. Joe Biden and Hill, whose elderly parents sat behind her:
HILL: "The incident involved his going to his desk — getting up from a work table, going to his desk, looking at this can and saying, 'Who put pubic hair on my Coke?'"
BIDEN: "Was anyone else in his office at the time?"
HILL: "No."
And this:
BIDEN: "What was the content of what he said?"
HILL: "Well, this was a reference to an individual who had a very large penis. And he used the name that he had been referred to in the pornographic material."
BIDEN: "Do you recall what it was?"
HILL: "Yes, I do. The name that was referred to was Long Dong Silver."
Four days after her testimony, my son turned 17.
I don't remember our discussions about Anita Hill, but I'm certain we talked about her. His father was a law professor and I was freelance journalist. There is no way we ignored what was happening to Hill — as an assistant to Thomas, and as a witness before the Senate judiciary committee.
I am just as certain that my son and I talked about what men should and shouldn't do to women. I was a mother and a feminist, and I did not leave to chance what my children would learn about such boundaries.
Here's what I do remember about my son at age 17: He was thoughtful and smart — my "chess jock," I called him. His room was a mess and he mouthed off regularly to me, but he was also gentle and kind, which was never more obvious than in his interactions with his little sister.
I confess to a mother's certainty that there's no one like my son, but I know there have always been many other teenage boys like him, then and now. Such boys never presume consent where it is not granted, nor would they ever ignore a girl's pleas to stop.
I don't want to lose sight of this — of these boys — as we discuss what is and is not acceptable from a male of any age.
There will always be teenage boys and men who are sexual predators, who do terrible things to innocent people. They are not the norm. Let us use this moment in our country — as parents and grandparents, educators and counselors — to make sure of it.
Connie Schultz is a Pulitzer Prize-winning columnist and professional in residence at Kent State University's school of journalism. She is the author of two books, including "…and His Lovely Wife," which chronicled the successful race of her husband, Sherrod Brown, for the U.S. Senate. To find out more about Connie Schultz (con.schultz@yahoo.com) and read her past columns, please visit the Creators Syndicate webpage at www.creators.com.