Novelist Takes On Academia In 'Dear Committee Members'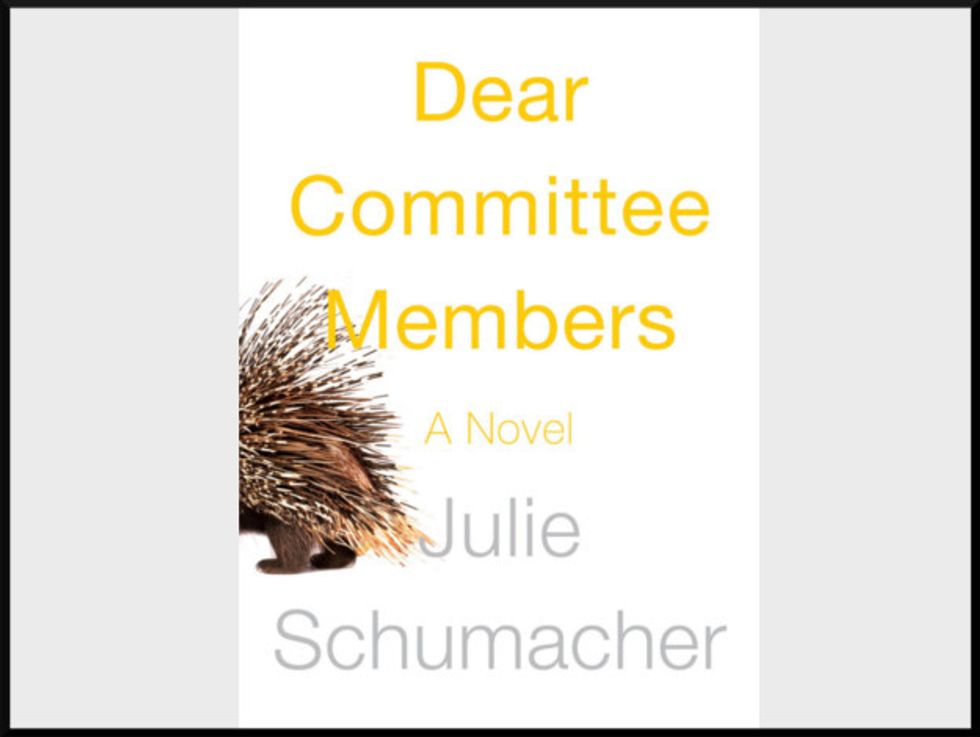 By Connie Ogle, Miami Herald (TNS)
Novelist Julie Schumacher admits that she shares a few characteristics with Jason T. Fitger, the cranky, boorish professor experiencing a meltdown in her hilarious epistolary novel Dear Committee Members.
"He's sort of an evil twin," admits the author, who (like her character) is a faculty member in a Midwestern university creative writing program, in her case the University of Minnesota. "It was scary how quickly that character came to me."
The good news is she's engaging and significantly saner than her fictional counterpart, who teaches at the undistinguished Payne University. In Dear Committee Members (Doubleday, $22.95), presented as a series of increasingly inappropriate recommendation letters, Fitger — once a promising novelist — is crumbling under academic and personal pressures.
Construction on the building in which he works is driving him mad (the valued economics department was moved out, while the English department was left to fend for itself amid the rubble). He's reaping the emotional consequences (namely irate exes) of writing a deeply autobiographical novel. The college is relying more and more on overworked and underpaid adjuncts, which burdens full-time faculty further, and the students, buried in debt, struggle to find jobs after graduation. Worst of all, Fitger can't seem to help his prize student land a fellowship, a job, or a quick glance from a publisher. With each letter he writes, he unravels a little more.
"Esteemed Avengers," one missive reads, "This letter recommends Mr. Allen Trent for a position at your paintball emporium. Mr. Trent received a C- in my expository writing class last spring which — given my newly streamlined and increasingly generous grading criteria — is quite the accomplishment." Things go steadily downhill from there.
Taking on academia was cathartic "with a capital C," Schumacher says, laughing. "My colleagues have been great about it. There's one true-to-life incident in the novel: The building I work in was refurbished, and the math and IT faculty was moved out. It was cathartic to write with all that construction going on and the upper echelon moved out."
Also the author of the novel The Body Is Water, the story collection An Explanation for Chaos, and five novels for young readers, Schumacher came up with the concept while talking to students about an exercise in writing stories in particular forms, such as a to-do list, via emails, or a recipe. When they asked what form she'd write in, she facetiously replied she'd write a story in the form of recommendation letters — "which I spend all my time writing for you," she told them archly.
"One of my colleagues said, 'I really hope you're doing that,'" she says. "So I set it to myself as a sort of challenge. As soon as I started playing with the idea, I knew the character would have to be a huge mouthy egotist who talks about himself in all the letters."
Schumacher had never started out with a set structure before, but the task provided a strange freedom.
"It was very liberating to start with all these restrictions," she says. "There were all these decisions I didn't have to make. I don't physically describe him or anybody. I don't have to get him from point A to point B, or get him in his car and get him home. There's just the ranting of the letters. Sometimes you can be writing something and thinking, 'I just want to get this guy to California so I can start the plot! It's going to take me 20 pages!' That was all gone."
And even though Fitger goes too far, Schumacher can't help but share some of his ideology.
"The stuff he really cares about is stuff I care and worry about a lot," she says. "Adjuncts can't afford to live in decent apartments, they work at four different institutions, and drive all over town. Students are taught in high school by unionized teachers who have a decent wage and get to college and are taught by someone who earns 10 percent of what their high school teachers make. It's terrible."
Like Fitger, Schumacher is a bit of a technophobe: "You see people putting iPads in every kindergarten class. I say ditch all those and get them another teacher and get that teacher a living wage."
She also gets a bit riled on the subject of M.F.A. writing programs, which lately have endured a few swipes from literary critics who seem to believe the programs churn out only one sort of writer. Schumacher recently wrote a letter to The New York Times on the subject: "My own alma mater, Cornell University, granted M.F.A.s in creative writing to Junot Diaz, Lorrie Moore, Melissa Bank, NoViolet Bulawayo, Tea Obreht, Stewart O'Nan, Susan Choi, Diane Ackerman, Melanie Thernstrom, and many others. Cookie-cutter workshop writers? Really?"
"No one ever says, 'Thank god that cellist didn't go to Juilliard. He should learn the cello in his basement,'" she says. "People in the arts, most of them, develop in an atmosphere of feedback and support, and people find that in M.F.A. programs. That doesn't mean everybody should be in one. Some people don't need or want it. But they help a lot of people become better writers. … You don't see this attitude with other art forms, like dance. Or architecture. There's this mystique about writers that they're supposed to suffer for their art and burst out of nowhere after waiting tables or driving a cab. It's a romantic attachment to the lonely alcoholic genius. They want everybody to be Edgar Allan Poe. … People feel if you attend an M.F.A. program you will be a published writer, but that's not the case. Maybe you'll just be a better writer. And if that's a terrible outcome, sue me!"
She pauses, well aware of her Fitger-esque rant, and laughs.
"That really pushed my buttons," she says.
(c)2015 Miami Herald, Distributed by Tribune Content Agency, LLC