So Now John McCain Flip-Flops, Says He'll Vote To Destroy Obamacare And Medicaid?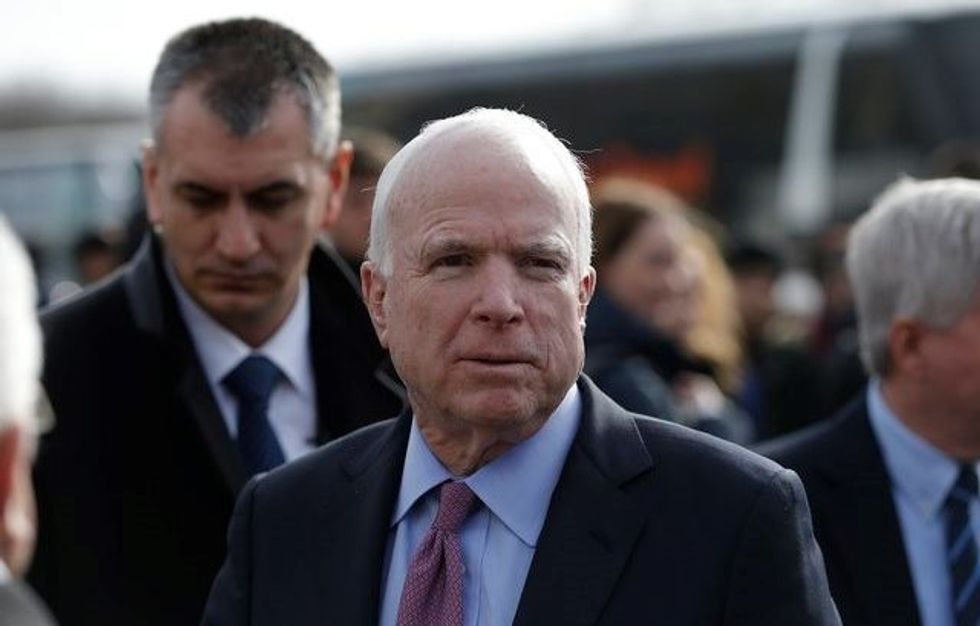 Reprinted with permission from AlterNet.
Sen. John McCain, whose vote stopped the Senate's effort to gut Obamacare and dismantle state-run Medicaid programs for the poor, is now poised to vote yes on an equally destructive bill, according to reports circulating among health policy analysts.
"McCain says he supports Graham-Cassidy healthcare bill. Would vote for it," tweeted Pete Sullivan, staff writer for The Hill, on Wednesday. When asked if he supports a bill drafted by senators Lindsey Graham, R-SC, and Bill Cassidy, R-LA, that would eliminate Obamacare's insurance premium subsidies and convert Medicaid spending into block grants for states, he told reporters, "Yes. You think I wouldn't be?"
McCain's justification is the new bill would come through the Senate's standard committee process, unlike the repeal package he opposed.
This about-face is causing alarm among Obamacare supporters, such as Andy Slavitt, who ran Medicare, Medicaid and the Affordable Care Act for the Obama administration.
"NEW: Repeal push picked up steam with McCain's shocker," Slavitt tweeted. "We are in for a battle."
"Whatever tweaks made to Cassidy-Graham, reminder its highly damaging structure = block grants and Medicaid cap," tweeted Edwin Park, vice president for health policy at the Center for Budget and Policy Priorities.
"Senators Bill Cassidy and Lindsey Graham are reportedly working with the White House to push their plan to repeal and replace the Affordable Care Act (ACA)," wrote Park and his colleague Matthew Broaddus. "The Cassidy-Graham plan (which Senator Dean Heller has also co-sponsored) would have much the same damaging consequences as other Senate and House Republican repeal and replace bills. It would cause many millions of people to lose coverage, radically restructure and deeply cut Medicaid, increase out-of-pocket costs for individual market consumers, and weaken or eliminate protections for people with pre-existing conditions."
How this will unfold in coming days and weeks is unclear. There is a bipartisan push by the Senate Health Education Labor Committee to pass legislation before the federal fiscal year ends September 30, at least to stabilize premium insurances for 2018. In the meantime, the White House has not said if it will keep funding the Obamacare premiums this year and has withheld funds to advertise the next open enrollment period later this fall.
"Graham-Cassidy DOES ABSOLUTELY NOTHING TO STABILIZE MARKETS. Rather, it creates massive uncertainty. Insurers would pull out in droves," tweeted Topher Spiro, a senior fellow at the Center for American Progress. "The two paths are clear: 1) the most severe ACA repeal plan yet or 2) a bipartisan stabilization bill. It's a 24-day fight."
There you have it. It's a 24-day fight, and it looks like John McCain will jump ship.