Now Trump Calls North Korean Dictator 'Very Honorable'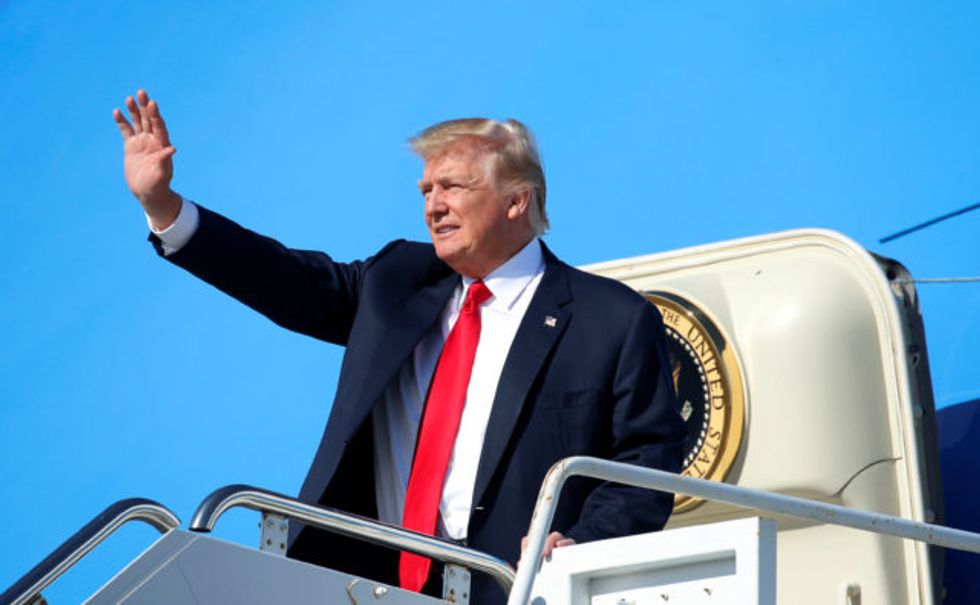 Reprinted with permission from Shareblue.com
Trump has spent more than a year provoking North Korean dictator Kim Jong Un with childish taunts, but on Tuesday he declared the brutal dictator "very honorable."
At an expanded bilateral meeting with French President Emmanuel Macron, Trump spoke before cameras on a variety of subjects, including his upcoming summit with Kim.
"We have been told directly that they would like to have the meeting as soon as possible, and we think that's a great thing for the world," Trump said. "That's a great thing for North Korea, and South Korea, and Japan, and France, and everybody."
"So we're having very, very good discussions," Trump said. "Kim Jong Un was — he really has been very open and I think very honorable, from everything we're seeing."
Trump's praise for Kim is unusual for a number of reasons, not the least of which is the dictator's history of brutality and treachery specifically with regard to nuclear negotiations. But the comment also follows Trump's relentless campaign of provocation and mockery aimed directly at the North Korea leader.
A few months into his administration, Trump naively said he would be "honored" to meet with the dictator. But then last August, Trump interrupted one of his golf vacations to issue a threat of "fire and fury" against North Korea, and followed that up by threatening something "more tough" than fire and fury, which he later explained meant "military solutions."
By September, Trump had taken to calling Kim "Little Rocket Man" and threatening to "totally destroy" North Korea. By January, the taunts had turned even more sophomoric, with Trump bragging about the size of his nuclear "button."
On the other hand, Trump also has a well-known admiration for brutal dictators. Most recently, Trump bragged about his "chemistry" with Russia's Vladimir Putin, and has made a regular habit of congratulating oppressive leaders over sham political victories and brutal policies.
Whatever Trump means by this praise, it is difficult to imagine Republicans would sit still if a Democrat called someone who holds American captives "very honorable." But it's equally difficult to imagine they'll speak a word against Trump doing so.