NRA's GOP Stooges Aim To 'Nullify' Federal Gun Statutes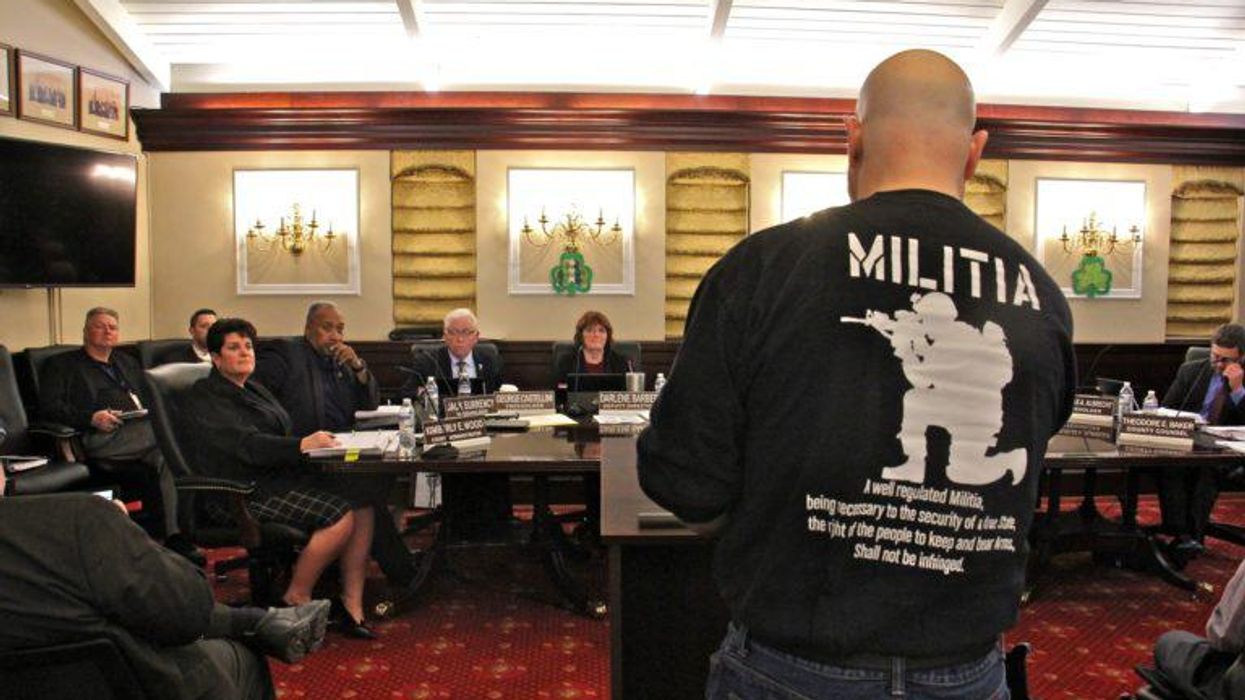 Reprinted with permission from DCReport
Republicans funded by the National Rifle Association have borrowed from the ideology of the once slave-holding South to try to nullify federal laws about guns.
---
The most extreme proponents of Second Amendment sanctuaries, claim, like slaveholders more than 150 years ago, that the federal laws are invalid and can be nullified by states. Abolitionists also did this. Northern states passed personal liberty laws to try to nullify the federal Fugitive Slave Acts of 1793 and 1850.
"The still more interesting question is, whether the institutions of our forefathers … are to be preserved … free from the rude hands of innovators and enthusiasts," wrote South Carolina slaveholder Robert Turnbull in 1827.
Missouri state Sen. Eric Burlison (R-Battlefield), who pushed for a law that led to Kansas City police restricting federal access to their records, put it more succinctly: "We are telling President Biden to go pound sand."
More than 1,200 local governments have passed Second Amendment sanctuary resolutions in at least 43 states, including Colorado, Florida, Illinois, Kansas and New Mexico. At least 17 states also have these laws.
The gun rights movement borrowed the term sanctuary from supporters of immigrants who opposed helping the federal government enforce immigration laws. Thousands of immigrants from El Salvador and Guatemala facing deportation sought shelter in churches. One was the Adalberto United Methodist Church in Chicago where Mexican native Francisca Lino lived in an apartment above the church for more than three years.
"I said, well, they're creating sanctuary counties for illegals up in Chicago," said Bryan Kibler, the top prosecutor for Effingham County in Illinois. "Why don't we just steal their word and make Effingham County a sanctuary county for firearms?"
Perhaps our nation's worst sanctuary law is that one that Missouri Gov. Mike Parson, a former sheriff, signed in June at the Frontier Justice gun shop in Lee's Summit. Under this law, Missouri citizens can sue police departments for $50,000 in damages for violations. Even the National Rifle Association didn't support the bill.
In Columbia, Mo., the police department shut an imaging machine used to share information about guns used in murders and other crimes after Parson signed the law. Kansas City police won't release investigative records to the federal Bureau of Alcohol, Tobacco, Firearms and Explosives (ATF) or let its agents inspect guns and ammunition.
St. Louis and Jackson and St. Louis counties sued Missouri over the law. Brian Boynton, an acting assistant attorney general, said the law is invalid. He argued that, under the Constitution's Supremacy Clause, Missouri can't nullify federal laws.
Cole County Judge Daniel Green, a Republican, ruled in August that the law can take effect.
Shawn Fields, an assistant law professor at Campbell University in Raleigh, N.C., has argued that local governments have a limited path to pass Second Amendment sanctuary laws.
The laws that gun rights advocates try to nullify include background checks, assault weapons bans and laws that let judges order that guns temporarily be taken from people who are dangerous to themselves or others. These "red flag laws" let relatives or others, including police, petition a judge to remove the guns.
Connecticut was the first state in 1999 to pass a red flag law. President Joe Biden's Justice Department wrote model legislation to help states pass laws about extreme risk protection orders. Nineteen states and the District of Columbia now have these laws.
A study about Indiana's law published by the Journal of the American Academy of Psychiatry and the Law estimates that for every 10 red flag orders one life is saved. Similar results were found in a previous study in Connecticut.
But gun rights activists are seeing red over red flag laws.
More than half of Colorado's 64 counties declared themselves Second Amendment sanctuaries, some even before Gov. Jared Polis signed a red flag law. The law is known as the Deputy Zackari Parrish III Violence Prevention Act after a Douglas County deputy who was killed in an ambush on New Year's Eve 2017 that also injured six other people.
Parrish, 29, who was wearing a bulletproof vest, was shot 11 times. Some of the high-caliber rounds went through his body armor.
The gunman, Matthew Riehl, a former Army reservist with a history of mental health problems, fired more than 100 rounds at officers in his suburban Denver apartment. Riehl was killed by police.
Douglas County commissioners voted unanimously for a Second Amendment sanctuary law to preempt the state red flag law named after their murdered deputy.
"Does that mean everybody gets to carry a gun?" asked Douglas County Sheriff Tony Spurlock. "Those who already have restraining orders? The sex offender that's registered down the street here from my office?"
In Oklahoma, Gov. Kevin Stitt signed a sanctuary law that prohibits local governments from passing red flag laws.
Although gun lovers have wrapped themselves in the language of the sanctuary movement to protect their guns, they spurn it for using it to protect immigrants.
In Texas, Gov. Greg Abbott signed Senate Bill 4 which bans sanctuary cities in the state. Local officials can be criminally charged if they refuse to help the federal government enforce immigration laws.
"Elected officials and law enforcement agencies they don't get to pick and choose which laws they will obey," Abbot said in 2017.
Four years later, Abbot signed seven laws pushed by gun lovers, including one that makes Texas a Second Amendment sanctuary state.