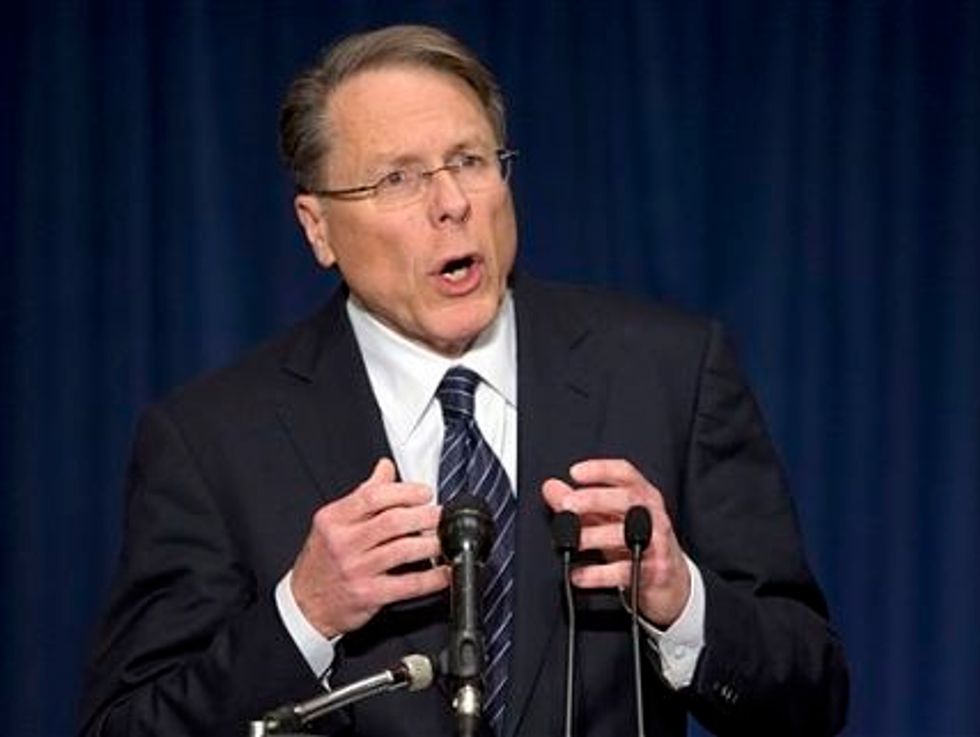 When the National Rifle Association promised "meaningful contributions" to prevent another massacre like the recent horror in Newtown, Conn., I didn't expect much, but I hoped for more than what we got.
After a mentally ill gunman killed 20 children and seven adults, including himself, a remorseful public has been jerked alert once again to the need for some sensible gun reforms.
I had hoped NRA CEO Wayne LaPierre might try for a middle ground with some common-sense reforms on which gun owners and non-owners tend to agree — like measures that can help keep guns out of the hands of the mentally or criminally unfit.
But, no, LaPierre hunkered down. His "meaningful contributions" sounded less concerned with promoting gun safety than promoting gun sales.
The firearms trade business must have been delighted. The guns-and-ammunition industry has contributed between $14.7 million and $38.9 million to the NRA's corporate-giving campaign since 2005, according to a report last year by the Violence Policy Center, a gun-control advocacy nonprofit. The trade appears to be getting its money's worth.
LaPierre's big news: He called for armed guards and armed schoolteachers in all of our schools. My initial thought: As soon as some teacher's gun is stolen by a rambunctious student, that'll be the end of that idea.
But, no, arming guards or even teachers is not a totally goofy idea. It's not very original, either. "Across the country, some 23,200 schools — about one-third of all public schools — had armed security staff in the 2009-10 school year, the most recent year for which data are available," The New York Times reports. Most are high schools in troubled areas, although a K-12 school in rural Harrold, TX, has allowed teachers to carry concealed weapons since 2007, after proper training. Lawmakers in at least six other states are considering similar policies, according to news reports.
But armed guards are not the panacea that many imagine they might be. Columbine High School in Colorado, for example, had an armed guard on duty during the murderous rampage of two students. He even engaged in a shootout with one of them, according to the official report on the tragedy. But he failed to stop either of the two teens before police arrived and they had killed themselves.
And Virginia Tech's campus police had their own trained SWAT team. Yet they, too, failed to stop a student before he killed 33 in 2007, including himself.
"There exists in this country a callous, corrupt and corrupting shadow industry that sells, and sows, violence against its own people," said LaPierre. No, he was not taking about the gun industry. He was talking about the entertainment industry.
He lambasted violent in movies, videogames, a coarsening of the culture and, ah, yes, that all-purpose scapegoat, the news media — as if massacres were not worthy of public attention.
What about common-sense gun reforms? At least two recent polls, for example, show large numbers of gun owners and non-owners favor measures that help keep guns out of the hands of the mentally ill, suspected terrorists and people who have a criminal past. But the NRA headquarters opposes them.
Most gun owners who were not NRA members supported a national gun registry, a ban on magazines that hold more than 10 rounds and a ban on semi-automatic weapons, according to a poll last year by YouGov, a global marketing firm. Most NRA members in the poll — and the national organization — opposed all three of those measures.
In an NBC Meet the Press interview Sunday, LaPierre rejected a proposed ban on large magazines, saying he didn't think it would "do any good." Yet, such a ban might have saved lives in Tucson, Ariz., last year. Jared L. Loughner was tackled and restrained by onlookers when he paused to reload his oversized magazines. That was after he shot 19 people, including U.S. Rep. Gabrielle Giffords, killing six.
If only he had been limited to smaller magazines, one wonders, how many other lives might have been spared? But LaPierre and the NRA don't seem to be interested in "if only" scenarios that don't fit their arguments — or promote more sales of guns and ammo.
(Email Clarence Page at cpage(at)tribune.com.)
Photo credit: AP/Evan Vucci