NRA's LaPierre: America Is Falling Apart, So You Should Get A Gun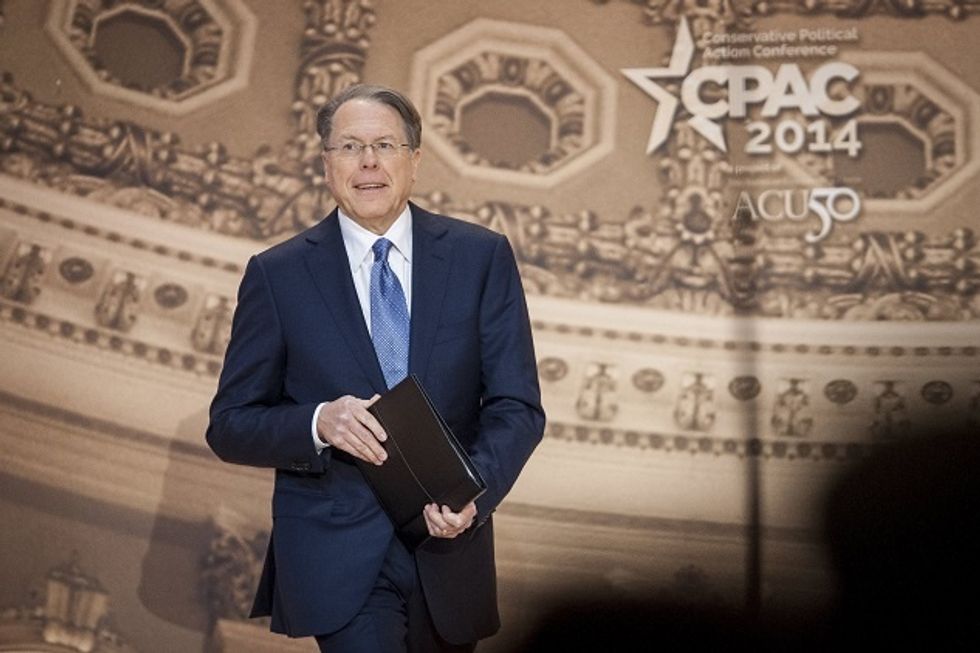 Be afraid. Be very afraid. They're coming for your guns, your ideals, your religious freedom, your identity, and your country. Band together in fear.
That's the message that Wayne LaPierre, Executive VP and CEO of the NRA, gave to attendees of this year's Conservative Political Action Conference (CPAC), which started today outside Washington D.C. Speaking to a boisterous crowd in a packed ballroom, LaPierre said that contemporary America was unlike anything he had seen before. No longer are "neighborhood streets filled with bicycles and skateboards and laughter," because "something in our country has gone wrong. The core values we believe in, the things we care about most in our lives are eroding. The right to free speech, the right to gather…to practice our religion and raise and protect our families the way we see fit. Those aren't old values, they aren't new values, they are core freedoms that have always defined us as a nation, and we feel them slipping away."
LaPierre has a laundry list of what's eroding America: the IRS' targeting of conservative groups. Benghazi. President Obama's executive orders. Obamacare. The NSA. LaPierre also repeatedly bemoaned the "elite" media and pro-gun-reform politicians, who he says "have never been honest about the NRA. They hate us. Just for sticking up and saying what we believe, as if we have no right."
Gun owners must be careful, LaPierre warns, or Democrats will use the upcoming midterm elections to lay "the groundwork to put another Clinton back in the White House."
Since the government offers no protection — "We don't trust government because government itself has proven unworthy of our trust," he says — "We are on our own. That is a certainty."
And, he added, "when you're on your own, the very best way to stop a bad guy with a gun is a good guy with a gun." (LaPierre repeatedly made a very strong distinction between the "good guys" with guns — a group that apparently includes every NRA member and every CPAC attendee — and the bad guys, who seem to be mainly burglars and drug dealers.)
This rhetoric, and the rhetoric of his entire speech, is nearly identical to that which he used when addressing CPAC last year. Then, the country was considering one of the most serious gun control efforts in years. Today, thanks in part to the NRA's work, those efforts are dead. And yet LaPierre and his supporters still consider themselves the little guys, with their backs up against the wall.
LaPierre's portrayal of gun supporters as a minority means they need to band together — nay, crusade — to fight for what he views as their rapidly disappearing rights. "Standing with the NRA is a massive declaration of individual rights…There is no nobler cause than saving the Second Amendment."
"We are good Americans. We all love our country," he continued. "And we are not about to stand idly by as the dishonest political and media elites try to slip our values away."
All five million NRA members, and one hundred million gun owners, "will not back down, not now, not ever," the NRA leader declared. "Freedom has never needed our defense more than now."
LaPierre received a standing ovation for his speech and loud cries of support throughout his presentation — his session was the best attended of the afternoon. After he finished, scores of CPAC attendees spent the rest of the day sporting pro-NRA stickers, as the sounds of broadcasts from "NRA News" reverberated throughout the conference halls.
Photo: Pete Marovich/MCT