New Evidence In Capitol Riot Probe Shows Coordination Between Militia Groups
@next2godwin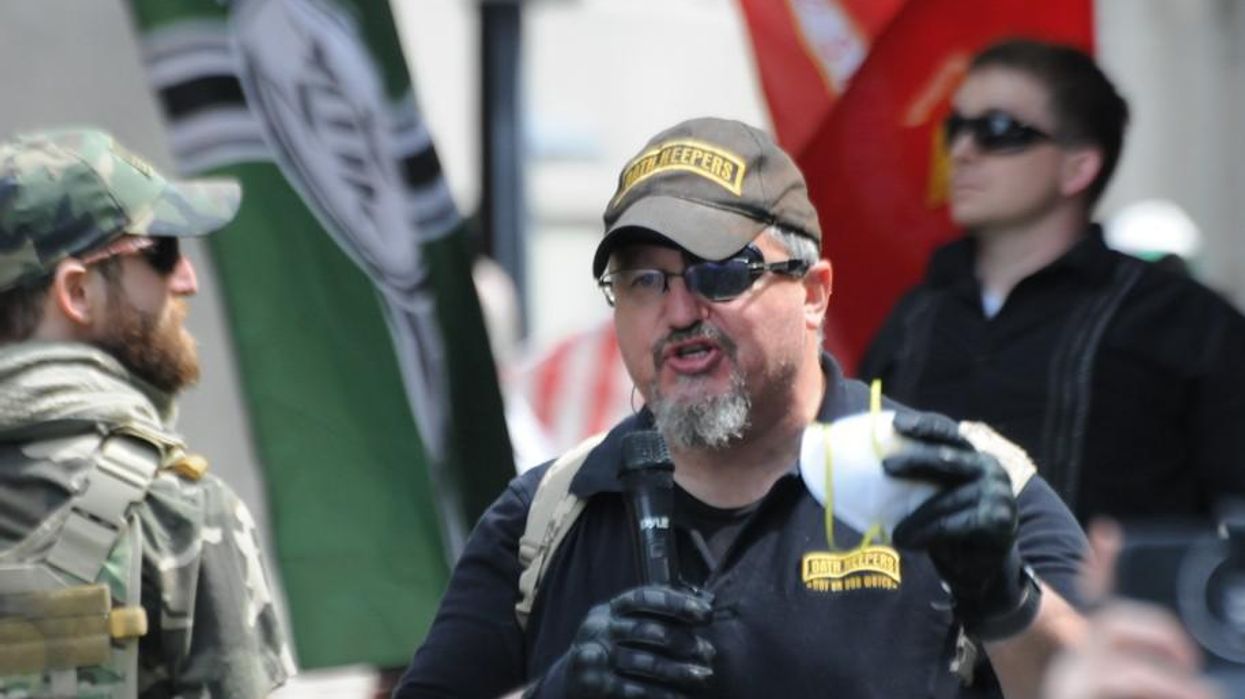 In January, the Department of Justice charged Oath Keepers founder Elmer Stewart Rhodes with seditious conspiracy, alleging he and others had conspired to invade the Capitol on January 6, 2021, and interrupt the counting of electoral votes in the 2020 presidential election.
The central role played by Rhodes and his Oath Keepers has come into sharper focus, including their links to others being investigated in connection with the insurrection and the events that preceded the attack — one of whom is Derek Kinnison, a member of Oath Keepers.
Kinnison, who was indicted last year by a federal grand jury, is alleged to be part of a group that came to Washington "armed and "ready and willing to fight" in the nation's capital," per NBC News.
Texts released by a defense lawyer in connection with the Oath Keepers court case revealed Rhodes added Kinnison, under the name "CA Oath Keeper who is in with a four-man team," to a Signal Chat. According to the indictment, Kinnison traveled to Washington in a rented SUV with three other Oath Keepers, Erik Scott Warner, Felipe "Tony" Martinez, and Ronald Mele, all of whom have also been arrested.
However, Kinnison is a self-identified member of another right-wing group: the Three Percenters, proscribed by the Canadian government as a terrorist organization.
In its new report, NBC News said the ties between the Oath Keepers and Three Percenters were uncovered by Capitol Terrorist Exposers, an anonymous investigative group looking into the rioters who stormed the Capitol on January 6, 2021.
Capitol Terrorist Exposers is one of several groups in the "Sedition Hunters" community working hand to identify the rioters who attacked the Capitol. Other members of the public have been in on the investigative activities as well, announcing they have identified hundreds of rioters yet to be arrested by the FBI, per NBC News.
These unidentified sleuths also noticed that a radio channel Kinnison mentioned in his indictment, 142.422, was also mentioned in chats released in last month's Oath Keepers case, according to NBC. Kinnison was also connected to chats released in an Oath Keepers hack — a breach that revealed active members of law enforcement and the military had tried to join the far-right group after January 6.
The anonymous investigators also announced that they had traced Kinnison's locations on January 6 and in the days leading up to it, and matched his chats with his locations in videos and photos, NBC said in its report.
The unidentified sleuths further revealed that Kinnison was wearing an Oath Keeper's patch on the back of his hat on January 6.
Kinnison already has popped up in videos from around Washington, D.C., days before the insurrection. In one photo, he can be seen wearing a gas mask as pro-Trump rioters attacked Capitol law enforcement officers with pepper spray. His location, authorities allege, matches with his communications in the Oath Keeper chat.
According to authorities, Kinnison was in communication with another group of 30 Californians traveling to Washington, D.C., who were "ready and willing to fight" and help "able bodied individuals." The group called themselves "California Patriots-DC Brigade," according to NBC News.
Kinnison has pleaded not guilty to all counts, and his attorney, Nicolai Cocis, would not respond to questions about Kinnison's alleged Oath Keeper ties.