Oath Keepers Leader Offers Damning Evidence In Seditious Conspiracy Case
@Brandi_Buchman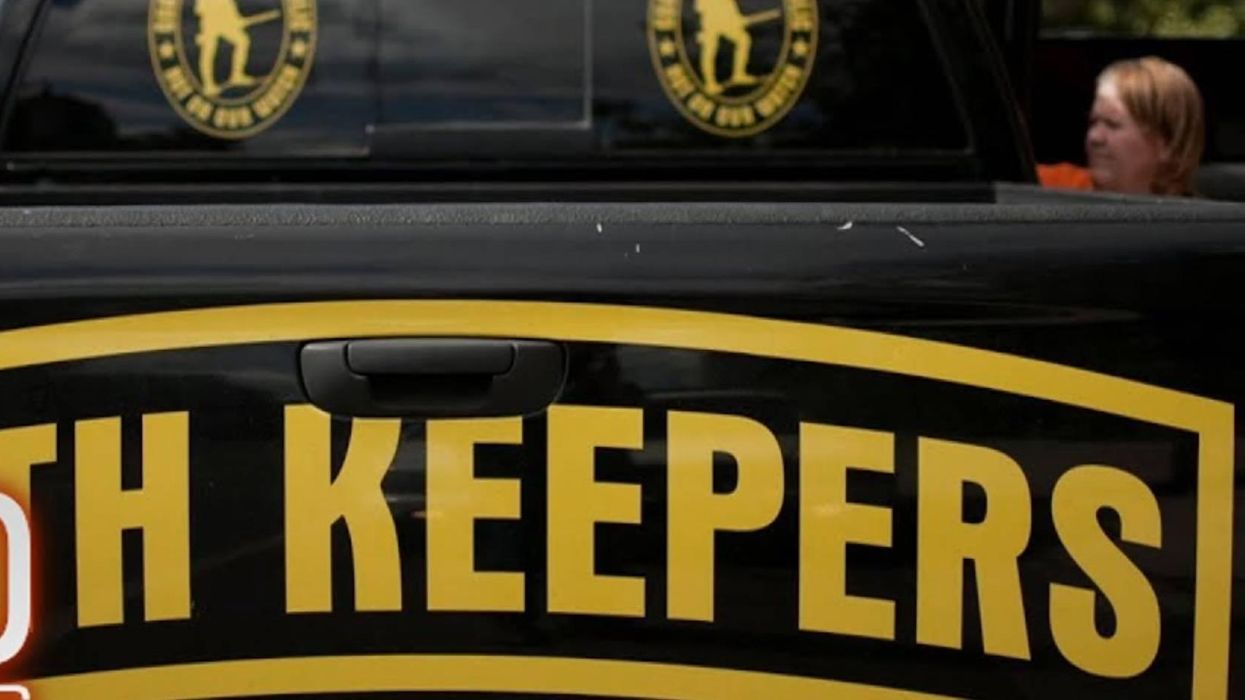 Youtube Screenshot
On January 6, after the mob receded from the Capitol, Oath Keeper Wiliam Todd Wilson sat in a hotel room less than a mile away and listened as Elmer Rhodes attempted to call someone who he thought could connect him to then-President Donald Trump.
After a violent, failed day, the leader of their extremist network implored this individual to tell Trump that groups like theirs were on the ready to forcibly stop the nation's transfer of power.
This is the account of William Wilson, the leader of the Oath Keeper's North Carolina division. On Wednesday, he pleaded guilty to seditious conspiracy and obstruction of an official proceeding for his part in what Department of Justice prosecutors have described as a well-orchestrated, fully weaponized conspiracy.
Rhodes has pleaded not guilty and awaits trial. Around him meanwhile, his former compatriots are turning their backs to seek reduced sentences at an increasing clip. Wison's plea marks the third Oath Keeper to flip and subsequently up the ante on Rhodes who is facing possible decades in prison should a jury convict.
According to the 45-year-old Wilson, during the call with someone appearing to serve as a Trump intermediary—the individual was not named in court records—Rhodes was left flat.
He would not be patched through to Trump. Wilson recalled that an apparently tense Rhodes turned to his fellow Oath Keepers gathered at the Phoenix Hotel and remarked: "I just want to fight."
Wilson's guilty plea is added to those entered by fellow Oath Keepers Joshua James of Alabama and Brian Ulrich of Georgia in the seditious conspiracy case. Wilson, however, was not indicted by a federal grand jury first, unlike James and Ulrich. Instead, he flipped voluntarily. This is a strong indicator that Wilson has been cooperating with the Justice Department for some time.
Statement of Offense Willia... by Daily Kos
Wilson was one of many Oath Keepers from neighboring states who arrived in D.C. in advance of Jan. 6 and prepared to lay siege.
He arrived in Vienna, Virginia, on January 5 and stowed weapons at the Hilton Garden Inn Hotel including an AR-15-type rifle, a pistol, ammunition, and body armor. Wilson also carried a pocket knife and chemical irritants like pepper spray and brought along a large wooden stick he intended to use as a weapon.
When coming to Washington, he traveled with Rhodes. During the rioting, Wilson has admitted to charges that he plowed through the west side of the Capitol only to force open the Rotunda doors and usher in a column of Oath Keepers to join the fray.
The Justice Department argues that this moment had been in the works since right after the 2020 election. Enraged over Trump's lies about rampant fraud in the results, Rhodes, his indictment noted, wanted Trump to invoke the Insurrection Act.
If he did, the Oath Keepers would have a series of "quick reaction force" teams lined up in nearby hotels with weapons to aid him.
Between January 4 and January 6 alone, Wilson said he and Rhodes spoke dozens of times with their co-conspirators to finalize their plans. As Wilson made the drive, he texted members of a "DC Op Jan. 6 21" encrypted channel.
"It's going to hit the fan tonight!" he wrote.
In fact, it would take a few more hours yet.
Once they breached the barricades on January 6, Wilson said he and Rhodes, and others steadily advanced through a chaotic scene. Rhodes told the group they were "in the midst of a 'civil war" and moving in a stack formation, the Oath Keepers attempted to force their way deeper inside the building. Wilson, at times, filmed the assault.
When it was over, and Wilson, Rhodes, and other co-conspirators found themselves back at the Phoenix Hotel, the inability to connect with Trump directly seemed to fill the ringleader with a new rage.
In an encrypted Signal chat seized by prosecutors, Rhodes warned that "patriots entering their own Capitol to send a message to the traitors is NOTHING compared to what's coming." [Emphasis original]
After meeting for dinner to discuss the longer fight ahead—what Rhodes allegedly said was going to be akin to the American Revolutionary War—the Oath Keepers agreed to destroy any incriminating evidence and scrub their devices. They went their separate ways.
Weeks later, after Wilson had returned to North Carolina, he told prosecutors he chucked his phone into the ocean.
At present, Rhodes and nine other defendants charged with seditious conspiracy have pleaded not guilty. But they are far from the only Oath Keepers involved or charged with crimes connected to Jan. 6. There is another group of seven Oath Keepers and their affiliates also poised to face trial for conspiracy. The Rhodes group goes to trial in July; the second group is expected to go to trial in the fall.
Rhodes has maintained that Oath Keepers who were in D.C. on January 6 and charged with violence went off-script. He has argued that they were there if Trump invoked the Insurrection Act, but also to provide security details to Trump's associates like Roger Stone.
Reprinted with permission from Daily Kos.