Obama Administration Puts Out Fracking Rules For Federal Lands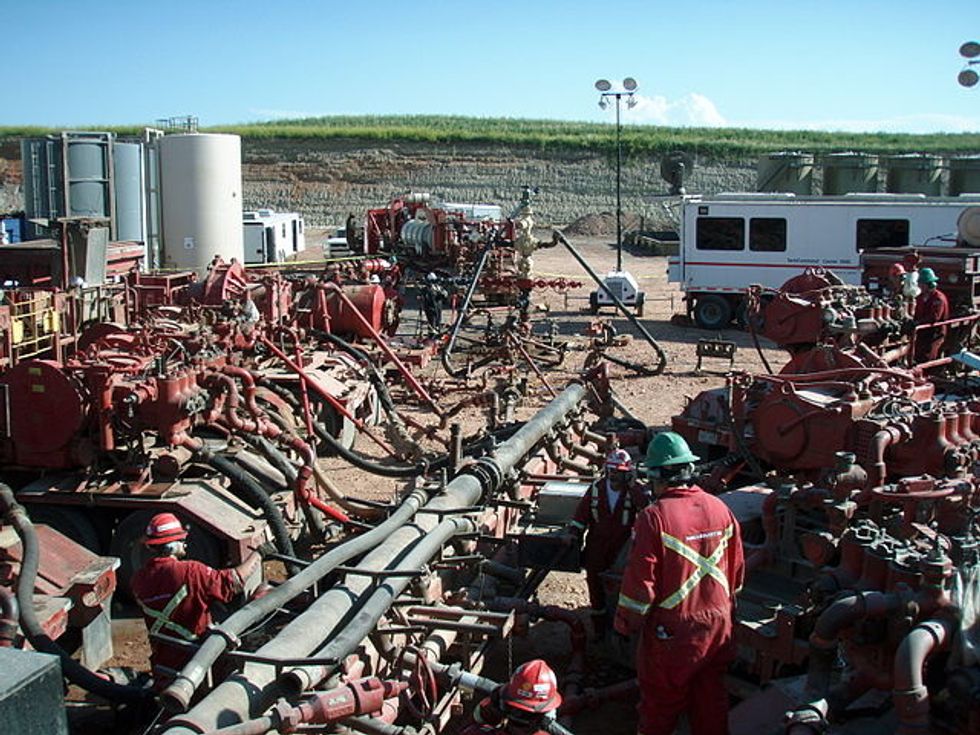 By Sean Cockerham, McClatchy Washington Bureau (TNS)
WASHINGTON — The Obama administration issued its first major fracking rules Friday with standards for wells on federal and Indian lands, requiring disclosure of chemicals and covered storage of waste.
While the vast majority of hydraulic fracturing, known as fracking, happens on state and private lands, there are more than 90,000 oil and gas wells fracked on federally managed lands.
"Many of the regulations on the books today haven't kept pace with advances in technology," Interior Secretary Sally Jewell told reporters. "In fact, some are the same ones from when I was working on drilling and fracking operations in Oklahoma over 30 years ago."
Fracking created an American energy boom but remains controversial, with concerns ranging from earthquakes to the possibility of groundwater contamination. New York state has banned fracking altogether.
The regulations for federal lands, which go into effect in 90 days, will require companies to publicly disclose the chemicals used for fracking, in which high-pressure water and chemicals are pumped deep underground to break shale rock and release the oil and gas trapped inside.
Companies also will have to use covered storage tanks for fracking waste rather than open pits, a requirement that was made in order to give "greater confidence that we are in fact protecting groundwater," said Neil Kornze, director of the Bureau of Land Management.
The rules also include requirements for companies to test the durability of a well and for the construction of strong cement barriers between the wellbore — the hole that forms the well — and groundwater. The oil and gas industry and environmentalists both declared themselves to be disappointed with the new rules.
The American Petroleum Institute, the industry's main lobbying group, called them a "barrier to growth."
"A duplicative layer of new federal regulation is unnecessary, and we urge the BLM to work carefully with the states to minimize costs and delays created by the new rule to ensure that public lands can still be a source of job creation and economic growth," Erik Milito, the group's director of industry operations, said in an email.
The Independent Petroleum Association of America and the Western Energy Alliance immediately filed a lawsuit in federal district court in Wyoming seeking to block the new rules.
The chairman of the Senate's environment committee, Senator Jim Inhofe (R-OK), said he and other senators have introduced legislation seeking to prevent the federal government from regulating fracking.
House Speaker John Boehner (R-OH), said President Barack Obama is working to "appease radical environmentalists.
Environmental groups called the new rules an improvement but said they wanted a ban on fracking on public lands, or at least stronger protections.
"These rules put the interests of big oil and gas above people's health and America's natural heritage," said Amy Mall, senior fracking policy analyst at the Natural Resources Defense Council.
Among the environmentalists' complaints is that the rules don't require disclosure of fracking chemicals until 30 days after a well is drilled, and that the disclosure then is to appear on an industry-run website.
The Interior Department defended its decision not to demand disclosure before the well is drilled. Companies often don't know which chemicals are going to work before they start the fracking job, said Janet Schneider, assistant secretary for land and minerals management.
"What we think is most important and what the public is going to be most interested in is actually what went down the hole rather than what a company thought they might potentially use but didn't," she said.
Interior Secretary Jewell said that while some states have strong fracking rules, others have none, and the federal rules could be a model. Brian Deese, special climate and energy adviser to the president, told reporters that the industry also can use the rules to help ease public concerns.
"Ultimately this is an issue that is going to be decided in state capitals and localities as well within the industry," Deese said.
___
Kevin G. Hall of the Washington bureau contributed.
Photo: Joshua Doubek via Wikimedia Commons