Obama Admits U.S. Underestimated IS, As Air Strikes Intensify
@AFP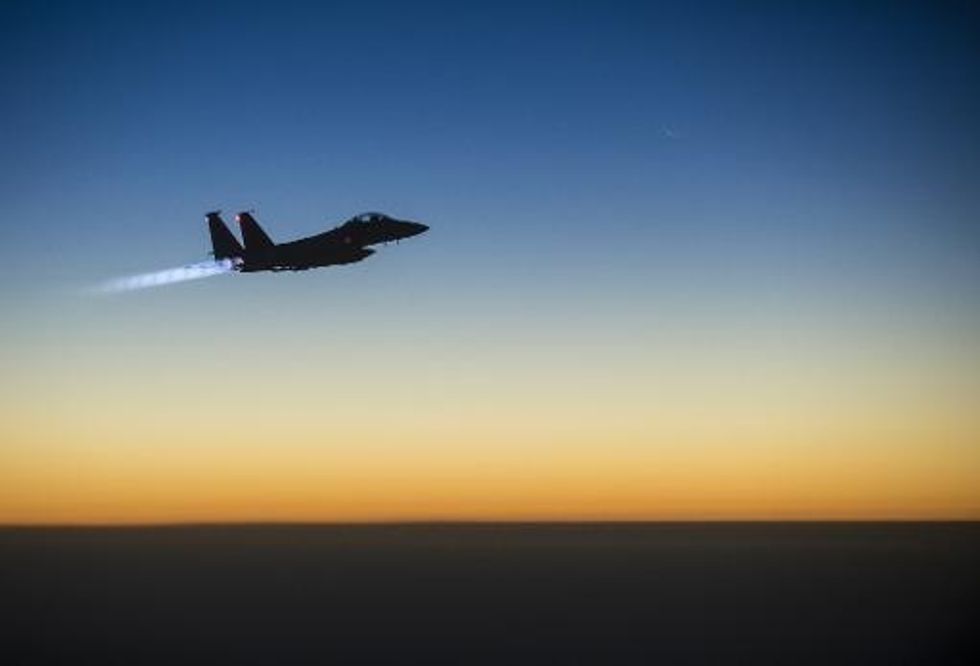 Damascus (AFP) — President Barack Obama admitted Sunday that the United States underestimated the threat posed by Islamic State fighters in Syria, as U.S.-led coalition warplanes pounded the oil sites that fund the jihadist group.
Late Sunday coalition planes hit the entrance to the country's main gas plant, in an apparent warning to Islamic State militants to abandon the premises under their control, a monitor said.
"The international coalition has for the first time struck the entrance and prayer area of the Coneco gas plant. It is under IS control, and is the largest in Syria," said Syrian Observatory for Human Rights director Rami Abdel Rahman.
Up until Sunday, the strikes had targeted mainly jihadist bases and makeshift oil refineries used by the militants, in a bid to weaken one of their main sources of financing.
Speaking to CBS News, Obama said that former Al-Qaeda fighters driven from Iraq by U.S. and local forces had been able to gather in Syria to form the newly dangerous Islamic State group.
"I think our head of the intelligence community, Jim Clapper, has acknowledged that they underestimated what had been taking place in Syria," Obama said, referring to his director of national intelligence.
Asked whether Washington had also overestimated the ability or will of Iraq's U.S.-trained military to fight the jihadists on its own, Obama said: "That's true. That's absolutely true."
U.S.-led coalition planes pounded oil sites in Syria Sunday that fund the IS group, as Syria's Al-Qaeda branch warned that people in Europe and America would pay the price.
The United States, along with coalition partners Saudi Arabia and the United Arab Emirates, targeted four modular refineries and an IS command and control post, all north of Raqa in Syria, U.S. Central Command said.
"Initial indications are that they (the strikes) were successful," it said.
In his first speech since air raids were launched on Syria, the head of the Al-Qaeda affiliate there, Al-Nusra Front, warned of reprisals.
"Your leaders will not pay the price for the war alone, you will pay the higher price," Abu Mohammad al-Jolani said in an Internet audio message, addressing "people of America and Europe".
Failure to stop these air strikes "will transfer the battle to your very homes", he said.
Washington has said it would press on with "near continuous" strikes, and the latest raids were part of intensifying efforts to disrupt the group's lucrative oil-pumping and smuggling operations.
The jihadists control a swathe of territory straddling northwestern Iraq and eastern Syria, home to most of Syria's main oilfields, and their oil infrastructure is the main target of the air strikes.
Experts say the jihadists were earning as much as $3 million (2.4 million euros) daily from oil before the coalition began launching strikes on Syria, building on the air war under way against IS in Iraq since August 8.
Sunday's strikes hit close to the Turkish frontier, near Tal Abyad, said the Syrian rights observatory, destroying "at least three makeshift refineries under IS control".
Coalition warplanes also hit the jihadist heartland province of Raqa early Sunday and the raids destroyed a plastics factory outside Raqa city, killing one civilian, the Britain-based Observatory said.
The Pentagon said U.S.-led air strikes in Iraq near insurgent-held Fallujah on Sunday destroyed two IS checkpoints.
– British fighter jets ready –
In western Iraq, pro-government forces backed by warplanes repelled an IS attack on the strategic town of Amriyat al-Fallujah, security sources said.
"Warplanes eventually engaged the insurgents and killed 15 of them," local police chief Aref al-Janabi said, without identifying the aircraft.
The town "has strategic importance. It is a main logistics road for the army and it is the link between Anbar and Karbala", a Shiite holy city south of Baghdad, Janabi said.
Several European governments have approved plans to join the air campaign in Iraq, including most recently Britain, and Turkish President Recep Tayyip Erdogan said on Sunday Ankara "cannot stay" out of the fight.
British warplanes flew their first combat mission over Iraq on Saturday but returned to base in Cyprus with their bombs after no targets were identified.
European governments have resisted joining the air campaign in Syria for fear of becoming embroiled in that country's more than three-year-old civil war, forcing Washington to rely on Arab allies.
– Al-Nusra threat –
At least 57 Al-Nusra fighters have been killed in the air campaign, the Observatory said.
Washington has made a distinction between the wider Al-Nusra Front and a cell of foreign fighters dubbed the Khorasan Group that it says was plotting attacks against the United States.
Muhsin al-Fadhli, a long-standing Al-Qaeda operative and alleged Khorasan leader, was reportedly among those killed.
The allies had "committed a horrible act that is going to put them on the list of jihadist targets throughout the world," Al-Nusra spokesman Abu Firas al-Suri warned in an online video message on Saturday.
Meanwhile, Kurdish fighters from northern Iraq have begun training in Germany on handling weaponry supplied by Berlin to support the battle against IS.

AFP Photo/Senior Airman Matthew Bruch
Interested in more world news? Sign up for our daily email newsletter.