Obama Authorizes Air Strikes To Prevent Iraq 'Genocide'
@AFP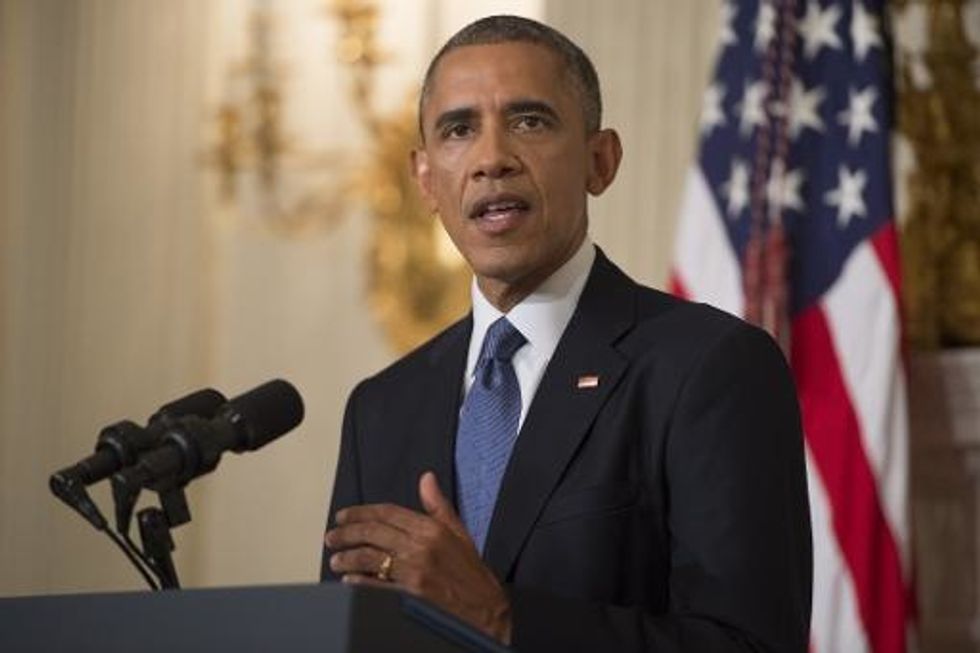 Arbil (Iraq) (AFP) – President Barack Obama has ordered U.S. warplanes back into Iraqi skies to stop jihadists from moving into autonomous Kurdistan and carrying out a potential genocide against displaced minorities.
The U.S. air armada's first mission was to drop food and water to thousands of people who have been hiding from the Sunni extremist militants in a barren northern mountain range.
Three years after he ended eight years of U.S. occupation, U.S. President Barack Obama announced late Thursday he had authorized limited air strikes against the Islamic State (IS) group.
Many people who have been cowering in the Sinjar mountains for five days in searing heat and with no supplies are Yazidis, a minority that follows a 4,000-year-old faith.
Obama accused the IS, which calls Yazidis "devil-worshippers", of attempting "the systematic destruction of the entire people, which would constitute genocide".
He also justified possible air strikes because of the jihadist threat to Washington's Kurdish allies, following a lightning advance that saw the Sunni extremists move within striking distance of Arbil.
Panic had begun to grip the Kurdish capital after IS thrust into the Nineveh plains separating their main hub of Mosul and the autonomous territory over the past two days.
"We plan to stand vigilant and take action if they threaten our facilities anywhere in Iraq, including the consulate in Arbil and embassy in Baghdad," Obama said.
Senior U.S. officials, however, denied a Kurdish claim that U.S. warplanes had already struck jihadist targets.
The Kurdish peshmerga, short of ammunition and stretched thin along a huge front, have been forced to retreat in the face of brazen assaults by the jihadists.
Their withdrawal from Iraq's Christian heartland on Wednesday and Thursday sparked a mass exodus and spurred Western powers into taking urgent measures.
Obama's announcement came after an emergency UN Security Council meeting called by France, which also offered to support forces battling the jihadists.
Chaldean patriarch Louis Sako said Iraq's largest Christian town of Qaraqosh was emptied of its population on Thursday and estimated the number of Christians forced from their homes at 100,000.
Most tried to enter neighboring Kurdistan, piling further pressure on the autonomous territory of five million people which has already allowed in hundreds of thousands of people since IS began its offensive on June 9.
Yazidis and other minorities who fled Sinjar nearly a week ago have also been pouring into Kurdistan.
A senior U.S. defense official confirmed a mission had started to save those who were still stranded in the mountain by dropping "critical meals and water".
Another official said American planes could drop more aid and Obama said he authorized "targeted air strikes if necessary to help forces in Iraq as they fight to break the siege".
One trapped Sinjari reached by phone on Friday said none of the aid yet reached him and his family, sheltering in an old cave dwelling.
"Nothing has landed in this part of the mountain. We need all kinds of aid, food and water. There are many children here," he said.
Obama was at pains to assure war-weary Americans that he — the president who withdrew U.S. forces from Iraq — was not about to get "dragged into fighting another war".
Republican senators John McCain and Lindsey Graham accused Obama of not going far enough, however.
"We need a strategic approach, not just a humanitarian one. A policy of containment will not work against ISIS (IS)," they said in a statement.
Obama came to office determined to end U.S. military involvement in Iraq, and in his first term oversaw the withdrawal of the huge ground force deployed there since the 2003 American invasion.
But the capture of huge swathes of land by jihadists, who in late June proclaimed a "caliphate" straddling Syria and Iraq, has brought a country already rife with sectarian tension closer to collapse.
The separatist Kurds and the Shiite-dominated government in Baghdad have shown limited willingness to cooperate against what top world leaders have called an "existential threat".
IS has enjoyed a spectacular run of military successes in Iraq, but the group also scored a key victory in Syria, with the capture overnight of a key army base in Raqa province.
Observers say one of the main obstacles to coordinated action by all of IS's Iraqi foes is Prime Minister Nuri al-Maliki, accused by many of having institutionalised sectarianism in recent years.
The United States, the Shiite religious leadership, powerful neighbor Iran and even much of his own party have all pulled their support but Maliki has dug his heels in.
AFP Photo/Saul Loeb