Obama Calls For Immigration Officials To Review Deportation Practices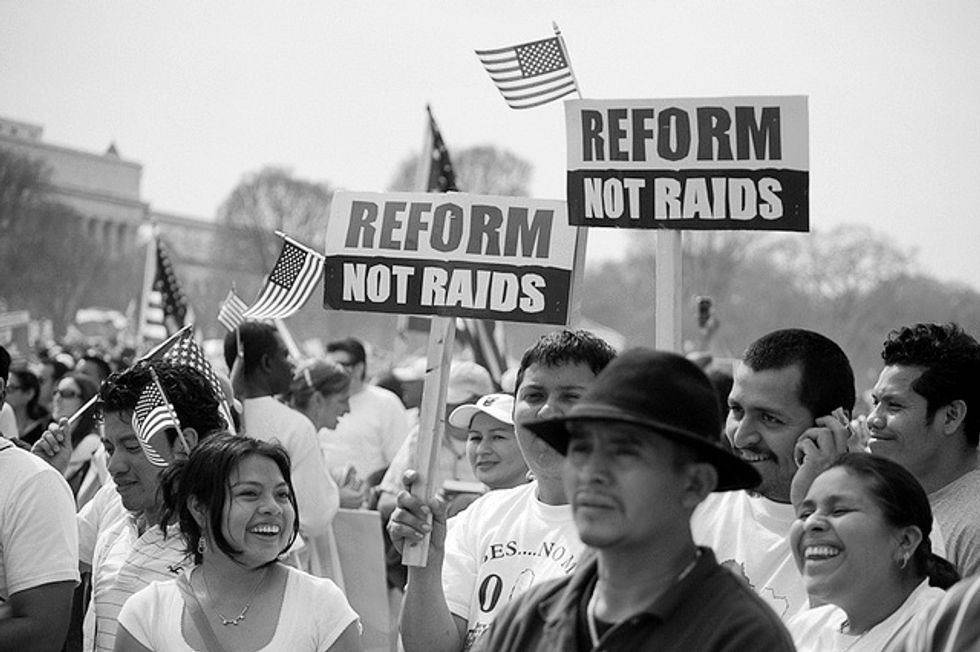 By Christi Parsons and Kathleen Hennessey, Tribune Washington Bureau
WASHINGTON — President Barack Obama is directing top immigration officials to review U.S. deportation practices to see whether they can be carried out "more humanely" while still enforcing the laws on the books.
In an evening meeting with Latino lawmakers, Obama said he still wanted to push a comprehensive immigration reform package but that, in the meantime, he had asked the head of the Department of Homeland Security to run an "inventory" of the agency's practices.
Obama "emphasized his deep concern about the pain too many families feel from the separation that comes from our broken immigration system," White House press secretary Jay Carney said in a statement released after the meeting.
Obama made the private announcement at a time when he is coming under increasing pressure from Latino lawmakers and other leaders to ease deportations even if Congress isn't willing to pass an immigration reform package this year.
With hope for an immigration overhaul all but dead for the year, advocates are calling for executive action in increasingly forceful terms. Last week, the head of the country's largest Latino advocacy group pronounced Obama the "deporter in chief."
Obama's fellow Illinois Democrat Rep. Luis V. Gutierrez echoed the phrase on the House floor, noting that Obama had presided over a record number of deportations. About 2 million people have been ejected from the U.S. since Obama took office.
The idea that Obama might take executive action doesn't come out of the blue. In 2012, Obama announced that he would temporarily stop deporting many immigrants who came to the U.S. illegally as children.
Advocates have demanded that Obama extend that protection to others, such as the families of those young immigrants. They have also called for changes in other enforcement programs, including cooperative agreements between immigration authorities and local government agencies.
But Obama has said he thinks he has pushed his executive power as far as it will go on the matter. Republican critics have cited Obama's past actions as a reason not to trust him to enforce the law as it stands.
Obama has also told top advisers that, when it comes to tough questions on immigration policy, he wants to hear from the people most likely to be affected.
The White House has been frustrated by immigration activists' decision to turn their focus on the president. Officials said they believed the strategy only served as a distraction that has taken pressure off Republicans.
On Thursday, Obama hosted Gutierrez, Congressional Hispanic Caucus Chairman Ruben Hinojosa (D-TX) and House Democratic Caucus Chairman Xavier Becerra (D-CA) for a meeting in the Oval Office.
They talked about their mutual efforts to pass "common sense" immigration reform through the House this year and about the need to "put pressure on congressional Republicans" to pass a bipartisan package, Carney said.
Anunska Sampredo via Flickr