Obama Caught Between CIA And Senator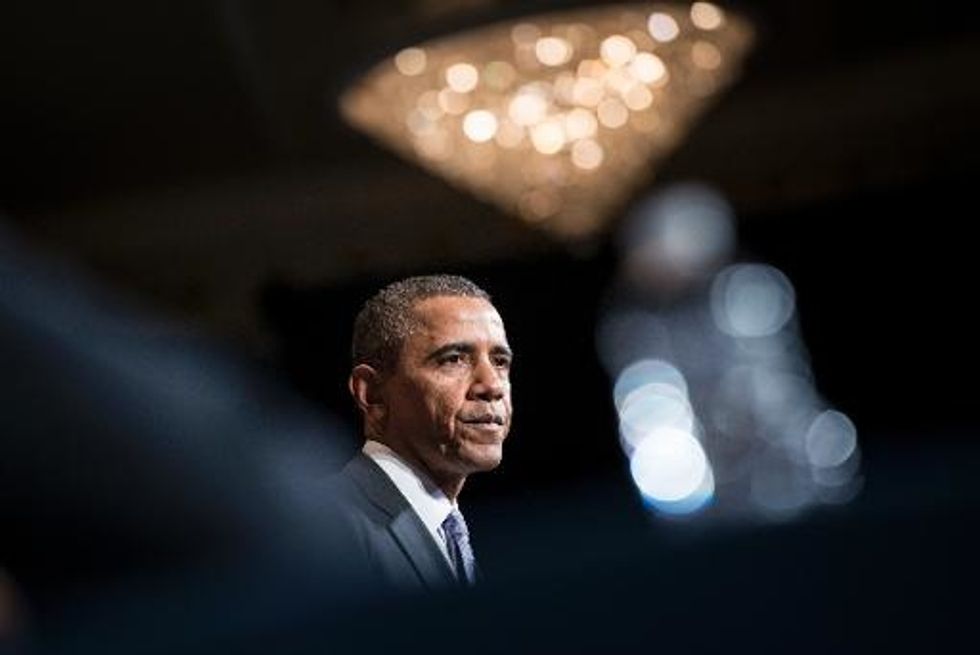 By Kathleen Hennessey, Tribune Washington Bureau
WASHINGTON — A bitter fight between Sen. Dianne Feinstein and CIA Director John Brennan has President Barack Obama caught between a powerful political ally and a trusted senior adviser, a bind likely to tighten as the dispute raises questions of executive power and touches on a key piece of the president's legacy.
In the days since the California Democrat angrily accused the CIA of trying to thwart her investigation into its now-defunct interrogation and detention program, the White House has tried not to take sides publicly. Obama went out of his way say the case was under review at the Justice Department and that he would not "wade into" it.
Obama has good reason to try to maintain distance.
As head of the Senate Intelligence Committee, Feinstein has defended the administration on several intelligence-related issues, including the CIA's embrace of lethal drone strikes. As one of the most senior Democrats in the Senate, she also has a reputation for remembering — and punishing — those who she believes have not treated her appropriately.
Brennan was Obama's senior adviser on counterterrorism before the president picked him to head the CIA. His tenure could turn on whether the rank and file at the spy agency believe he has defended them against what they see as congressional Democrats' unfair accusations of torture.
But neutrality may be difficult for the president to maintain. The tug of war over classified documents between an executive-branch agency and its congressional overseers has sharp constitutional overtones.
Obama is juggling political interests and legal precedent. He and previous presidents have long defended the executive's right to withhold documents from Congress to ensure that advisers feel free to speak candidly without fear their words will later haunt them.
The tension was evident Thursday as the White House acknowledged that it withheld thousands of pages of documents from Feinstein's Senate investigators out of "executive branch confidentiality interests." McClatchy Newspapers reported that more than 9,000 documents were withheld.
White House spokesman Jay Carney said Obama's aides believe the material — part of 6 million pages turned over — is not necessary to complete the Senate report, nearly five years in the making, on the so-called "enhanced interrogation" program launched by the George W. Bush administration after the terrorist attacks of Sept. 11, 2001.
"All of these documents pertain to and come from a previous administration," Carney said. "They have nothing to do with this administration. But these are matters that need to be reviewed in light of long-recognized executive prerogative and confidence — confidentiality interests."

Obama has not invoked executive privilege because the White House is engaged in discussions with the committee about the files, Carney said.
White House lawyers were alerted before the CIA made its criminal referrals to the Justice Department. But they did not condone the move, Carney noted.
"There was no comment, there was no weighing in, there was no judgment," he said.
White House officials say every congressional inquiry requires some negotiations over documents. Still, they acknowledge the awkwardness of this case: Obama is wrestling with fellow Democrats to block release of Bush administration records about a CIA program that he fervently opposed and ended as soon as he entered the White House.
The more immediate question is whether the CIA, or Senate staffers, broke the law.
The CIA's inspector general made a criminal referral to the Justice Department to determine whether, as Feinstein claims, CIA officials improperly searched activity logs of computers that Senate staffers used to review files about waterboarding and other now-banned techniques used at secret CIA prisons.
But the CIA's acting counsel also made a criminal referral to the Justice Department, alleging that Senate staffers improperly copied and removed documents that they should not have seen. The documents were internal drafts of a report prepared for then-CIA Director Leon E. Panetta — the sort of documents often withheld under claims of executive privilege.
So far, the White House has stood by the agency. The current spat thus only widens the rift between Obama and fellow Democrats in Congress, and in his party's liberal base, regarding trust in America's spy agencies.
AFP Photo/Brendan Smialowski