Obama Enlists Police Chiefs To Push For Gun Reforms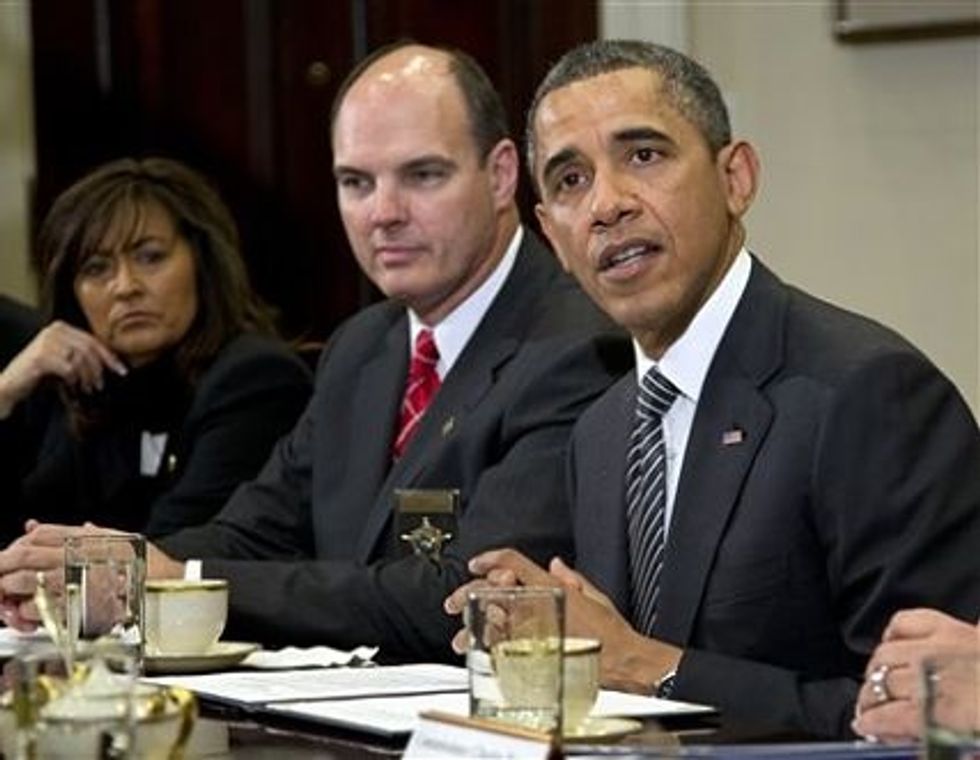 President Obama, Vice President Biden and members of the president's cabinet met Monday with law enforcement representatives to discuss their proposals to fight gun violence.
The heads of the Major Cities Chiefs Association and the Major County Sheriffs Association were present in the Roosevelt Room of the White House along with the police chiefs of the communities that have suffered recent instances of mass shootings — Aurora, CO; Oak Creek, WI; and Newtown,CT.
After the mass shooting in Newtown in December that left 20 students and six adults dead, the president asked Biden to lead a task force to come up with a set of proposals, which were introduced in mid-January.  The proposed legislation includes universal background checks and a ban on future sales of high-capacity magazines and assault weapons.
Obama said he brought law enforcement leaders to the White House because "they are where the rubber hits the road." But their importance is also political. Police have provided a powerful counterweight to the gun lobby in past efforts to secure gun legislation.
"Hopefully if law enforcement officials who are dealing with this stuff every single day can come to some basic consensus in terms of steps that we need to take," he said, "Congress is going to be paying attention to them, and we'll be able to make progress."
The president also made clear that though the Newtown massacre was the spark that motivated the current interest in gun violence, he wasn't just worried about reducing the relatively rare instances of a lone gunman murdering several people at one time. He also called for more better mental health care and school safety along with more funding for law enforcement agencies represented at the meeting to deal with the shootings they deal with on a far too regular basis.
"Many of them also recognize that it's not only the high-profile mass shootings that are of concern here," the president said. "It's also what happens on a day in, day out basis in places like Chicago or Philadelphia, where young people are victims of gun violence every single day."
A new study has shown that the president's effort to pursue fight gun violence has been much more effective than any effort following a recent high-profile instance of a crime involving firearms. Stories about Newtown had nearly disappeared from the news until the president announced on January 9 that he "is going to act," according to a study by George Washington University's Danny Hayes.

Organizing for Action, the new nonprofit formed from the organizations that orchestrated Obama's two presidential campaigns, is preparing to work with Mayors Against Illegal Guns, a group of more than 800 mayors pushing for national legislation, to push the president's proposals through an unprecedented online effort.
Photo credit: AP Photo/Carolyn Kaster
Chart credit: The Washington Post's Wonkblog