Obama Gets A Taste Of KC Barbecue Alongside Some Fellow Citizens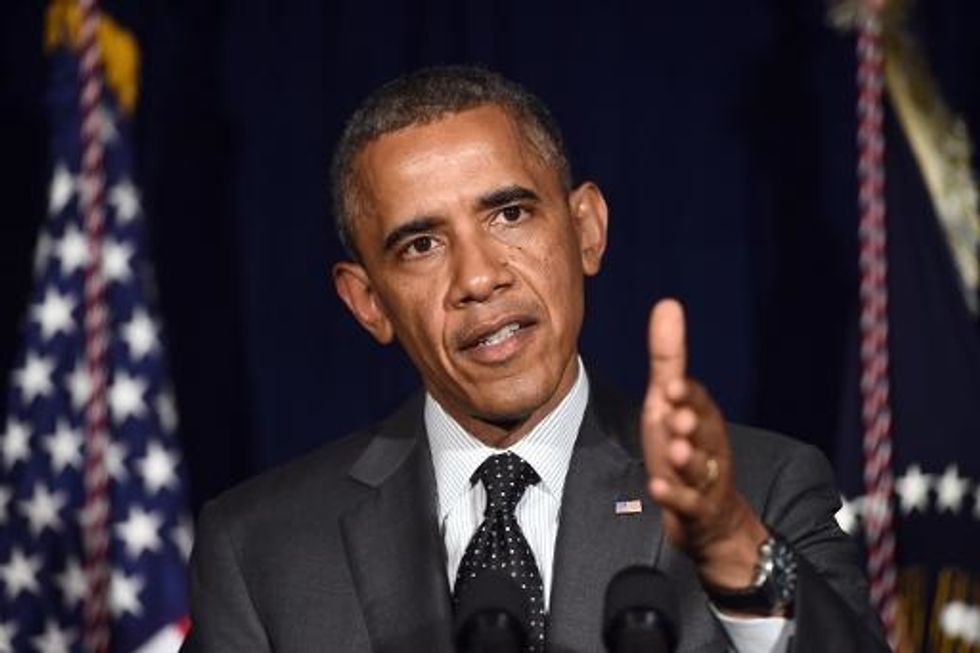 By Steve Kraske, The Kansas City Star
KANSAS CITY, Mo. — President Barack Obama feasted on working-class delicacies in Kansas City Tuesday night as he sought to bond with people unaccustomed to having the ear of the most powerful man in the world.
His presidential motorcade steered to Arthur Bryant's Barbeque shortly after landing at Kansas City International Airport.
Once there, he met with four White House-chosen Kansas Citians over a half-slab of ribs, a Bud Light, and conversation about how what he does in Washington registers in people's lives.
After picking up the tab, he moved to a corner of the restaurant where he greeted the four, put his hand on Becky Forrest's arm, and looked her in the eye.
"When," the president asked, "did you decide to get involved" in a neighborhood association?
That Obama chose to meet with "real people" has become standard operating procedure. He's done it repeatedly throughout his time in office to connect with everyday citizens. He's also used such meetings to drive home political issues.
The practice dates back years and through multiple presidencies.
"It endures because when you can put a face to a problem, when you can humanize a problem … it's a very powerful way of communicating an idea," said Steve Jacques, a Johnson Countian who performed advance work for Presidents Jimmy Carter and Bill Clinton.
Steve Glorioso, a longtime Kansas City political consultant who set up events for former Mayor Kay Barnes, said Americans like seeing top leaders connecting with seemingly ordinary people.
"That's a very difficult thing to do, obviously, with a president," he said. "They don't have any other way to do it than to stage it."
Wednesday, Obama will take the stage in more conventional fashion. He'll give a speech about the economy to hundreds in the Uptown Theater in a message that will reach tens of thousands more in news reports.
Before arriving in Kansas City, Obama met privately Tuesday with wounded service members at Walter Reed National Military Medical Center in Bethesda, Md., and spoke to the nation about the crisis in Ukraine. He didn't arrive at Arthur Bryant's until nearly 8 p.m.
The White House said it chose those who dined with Obama through letters each had written to the president. Every night, the president is said to read at least 10 notes from Americans.
Forrest, the one Obama addressed first, had written about the work of the Town Fork Creek Neighborhood Association east of the University of Missouri-Kansas City. She wanted the president to know, the White House said, that people in her community were working hard to improve their neighborhood and positively impact the lives of those around them.
Victor Fugate had written to thank the president for help repaying a student loan through the Income-Based Repayment Plan. Through the Affordable Care Act, also known as Obamacare, Fugate used an insurance exchange to get health coverage when he was laid off from his job as a financial counselor. He now works for the Missouri Department of Mental Health.
Mark Turner teaches a high school equivalency degree course for the Full Employment Council. The White House said he wrote the president about trying to make a difference in the lives of young people.
The president's aides noted that the council was among local agencies that received a $1 million U.S. Labor Department grant for educational and job-related services for juvenile offenders and at-risk youth.
Valerie McCaw wrote the president about challenges she faces as a single mother and owner of a small business. She started VSM Engineering 11 years ago and has four part-time employees. She's struggling, according to the White House, to pay her son's out-of-state college tuition of almost $40,000 a year.
In a White House video of the president's spokesman inviting the four to dinner — press secretary Josh Earnest hails from Kansas City — McCaw said she wrote her letter to the president in the middle of the night.
"I can't work any harder," she said. "I've got to work smarter."
The meal, and conversation, proceeded after reporters and photographers were ushered out of the restaurant. Obama left the legendary barbecue joint about 9 p.m. and spent the night in a downtown hotel.
Glorioso said the president deserves credit for at least trying to get out of the suffocating bubble that defines an American presidency.
"There are so many filters between a president (and the people), that a president is just overwhelmed," Glorioso said. "He's the leader of the free world. With all the things going on in the world right now, to spend an evening talking to people is commendable."
Republicans didn't see it that way. They said the president picked an odd time to leave Washington. Missouri Sen. Roy Blunt pointed out that Obama left town with Congress still grappling with bills aimed at improving border security, transportation, and the Veterans Administration health care program.
"The timing could've been a little better. … The president's got the traveling and campaigning part of the job down just right," he said. "It's the managing part of the job and the getting-things-done part of the job that appear to be a big question."
But Democrats say even a somewhat-staged opportunity to break bread with somebody who doesn't work for the White House, or isn't engaged in its politics, beats staying bottled up in the White House.
"(Presidents) feel trapped," said Martin Hamburger, a long-time Democratic political consultant. "It probably does give them perspective."
AFP Photo/Jewel Samad
Interested in U.S. politics? Sign up for our daily email newsletter!