Obama Gives Democracy A Chance In Syrian Crisis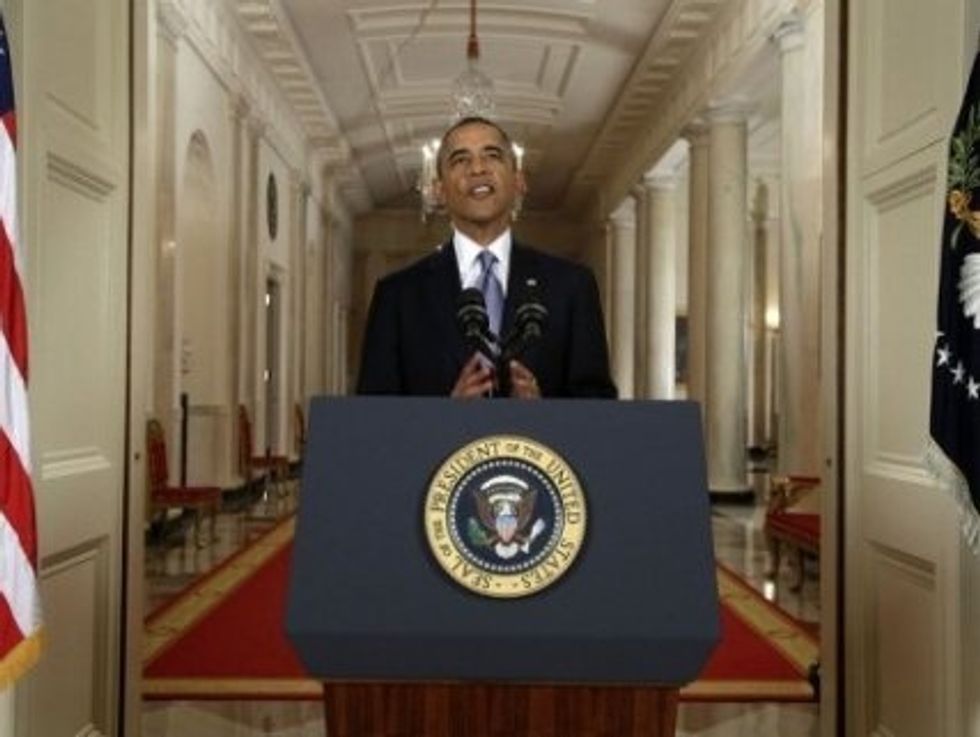 Regarding the Obama administration and Syria, preliminary thoughts about a rapidly evolving situation:
It's not necessary to think that President Obama has performed brilliantly throughout this debacle to suspect that next time around it's going to be much harder for an action-hero president to stampede the country into war. As a corollary, hawkish politicians will find it more difficult to intimidate skeptics by questioning their patriotism.
On the eve of George W. Bush's catastrophic invasion of Iraq 10 years ago, this column observed that "regime change" wasn't a conservative policy, but "utopian folly and a prescription for endless war." It suggested that over the longer term, Bush's neoconservative advisors "may have misjudged the American people as well. Mostly, Americans wish to be left alone; they have no heart for endless wars of empire."
Maybe I was right about that.
Ten years ago, fools were pouring Bordeaux wine into gutters and ordering "freedom fries" because the French urged the Bush administration to let U.N. weapons inspectors in Iraq do their work. Ten years ago, American agents were kidnapping suspected terrorists and delivering them into Syrian dictator Bashar al-Assad's dungeons to be tortured. Ten years ago, "diplomacy" was a dirty word, a synonym for cowardice.
Ten years ago, President Bush, having promised to put his case against Saddam Hussein to a vote in the UN Security Council, reneged on that vow, ordered weapons inspectors busily finding no weapons of mass destruction in Iraq to clear out, and commenced his "shock and awe" bombing campaign. The "embedded" American news media treated the subsequent invasion like the world's largest Boy Scout Jamboree.
These days, diplomacy gets more respect. Most Americans hope for the success of a French-sponsored Security Council resolution transferring custody of Syria's arsenal of chemical weapons to international monitors. The numbers in a recent New York Times poll reflect a massive change in public opinion. Six out of ten Americans oppose bombing Syria. Sixty-two percent say the United States should avoid taking the lead role in solving foreign conflicts.
Ten years ago, a strong plurality favored U.S. activism. Asked last week if America should use force to turn dictatorships into democracies, people said no by a remarkable 72 to 15 percent. "A war-weary public that can turn an eye from children being gassed—or express doubt that it happened—is another poisoned fruit of the Bush years," comments New York Times columnist Tim Egan.
Actually, the great majority, 82 percent in a recent CNN poll, believe that the Assad regime launched nerve gas weapons against its own people. But they've also witnessed reports of stupefying barbarities by his enemies, and bitter experience has left people wary of believing that American bombs can make things better. They fear that cruise missiles would only be the catalyst for an interminable, slow-motion grind like the Afghan war, which nearly everybody supported at the start.
This reluctance is also why—assuming the Russian, French, and Syrian agreement holds up—that political damage to President Obama for his hesitant, crawfishing approach to the Syrian crisis is apt to prove more limited than Beltway drama critics think. Obama's ambivalence is widely shared.
As Michael Tomasky points out, Republican hypocrisy has been shocking even by GOP standards. During the 2012 campaign, Mitt Romney took a hawkish line, proposing to arm Syrian rebels and to conduct covert operations against the Assad regime. As recently as April, putative 2016 GOP presidential hopeful Marco Rubio chided Obama's passivity.
"It is in the vital national security interest of our nation to see Assad's removal," he insisted. Regime change!
Last week Rubio voted no in the Senate Foreign Relations Committee.
If President Obama's for it, GOP opportunists are against it. The end.
That said, the irony of Russian president Vladimir Putin appearing to rescue Obama from a political trap built by George W. Bush and baited by his own bluffing rhetoric about "red lines" would be almost disabling but for the horrors of nerve gas.
A deadly anachronism, gas weapons don't work when it rains or the wind blows. They're essentially useless in modern combat. Their appeal to a tyrant like Bashar al Assad is as an indiscriminate means of genocide, exterminating defenseless civilians like insects. Not to mention farm animals, pets, birds—basically anything with a nervous system.
Historical memories of the horrors of gas barrages during WWI are particularly strong among the Russians and French. On this subject, there really is an international community.
This too: however indecisive President Obama appeared to Beltway cognoscenti, he treated the American people like adults and honored the Constitution.
"I put [the question] before Congress," Obama explained "because I could not honestly claim that the threat posed by Assad's use of chemical weapons on innocent civilians and women and children posed an imminent, direct threat to the United States."
Genuine democracy—what a concept.
AFP Photo/Evan Vucci