Obama Hopes To Defy Ill Omens In State Of The Union
@AFP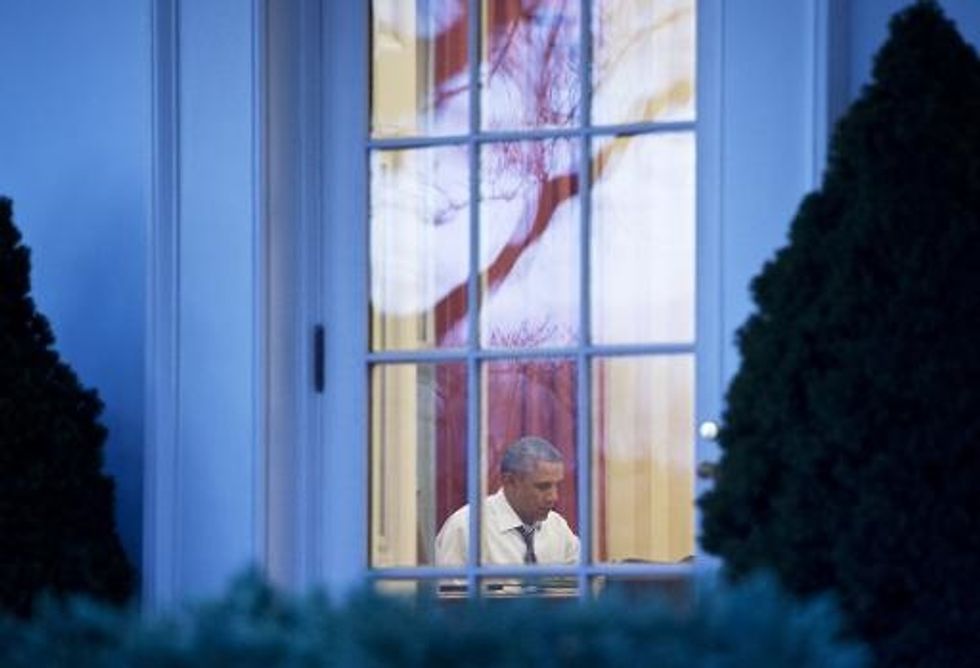 Washington (AFP) – President Barack Obama will seek to rally his divided nation and his own compromised political prospects Tuesday, in his ritual State of the Union address.
Obama will step up in the House of Representatives at 9pm, wielding the issue of economic inequality as a cudgel against the Republicans holding his second term hostage.
White House aides say Obama will be "optimistic" and "ambitious" in the speech to lawmakers, cabinet members, Supreme Court justices and military top brass, which is sure to include multiple, choreographed standing ovations.
But beyond the spin — and despite signs of faster growth in a still wounded economy — the president has little to cheer going into his sixth year in office.
A new Wall Street Journal/NBC News poll found Obama's approval rating stood at 43 percent, the worst level for any president apart from George W. Bush, heading into his sixth year State of the Union address since World War II.
Twelve disastrous months after Obama delivered an inaugural address bursting with liberal ambition, six in ten of those asked said they were uncertain, worried or pessimistic about what he will do in his last three years in office.
Obama's reputation was scarred by a botched roll out of his signature health care law, budget clashes with Republicans and perceived missteps abroad.
But he will try to seize the chance on Tuesday to recapture momentum and to chart the early going for mid-term elections in November, in which his Democrats are in danger of losing the Senate.
Republican control of both chambers on Capitol Hill would mean a grim final two years in the White House for a president who came to power vowing to change the world.
To fight back, Obama will mine a political seam that has proven profitable before — taking aim at the inequality that has deepened as the wealthiest Americans prosper and the middle class struggles to shake off the worst economic crisis since the Great Depression.
"I think restoring security and economic vitality to the middle class is a very ambitious goal," White House spokesman Jay Carney said.
The White House has signaled that since Republicans are unlikely to advance Obama's agenda in Congress, he will try to directly mobilize the American people behind his priorities in the prime time address.
He will also wield his own powers to the limit, though what he can achieve through executive order is more limited than what is possible through congressional action.

Obama will for instance call on Congress on Tuesday to raise the federal minimum wage to $10.10 — a proposal that he has raised before and never seen enacted.
But with a sweep of his pen, the president will use his executive authority to hike the minimum wage to that level for low level workers employed on new federal contracts.
Obama is also expected to call on Congress to extend expired unemployment benefits for the long-term unemployed and to improve access to pre-school and college education as a way to pave the wave for future generations into the middle class.
The president is also expected to announce that he has secured pledges from some major U.S. companies, including Procter & Gamble and Xerox, not to discriminate against those that have been out of work for a prolonged period when they are hiring.
Obama is required under the Constitution to report on the state of the American union from time to time. Since the early 20th century the practice has traditionally involved a spoken address.
He is expected to overwhelmingly concentrate on domestic issues, though he will likely defend of an interim nuclear deal with Iran that is facing significant opposition in Congress.
Obama is also likely to stress he has lived up to a promise to end US combat in Iraq and will do so in Afghanistan by the end of this year.
He may also highlight Secretary of State John Kerry's exhaustive attempt to forge peace between Israelis and Palestinians and attempts to create trading blocs with Asia and Europe.
But with Washington facing turmoil and challenges from Syria to the South China Sea — and few easy solutions — there is little political advantage to be gained by summing up U.S. prospects abroad.
He is also likely to tread carefully on the one issue where he could achieve a large, domestic legacy enhancing achievement in 2014 — immigration reform.
There are signs that House Republicans, fearful of continuing to anger the key Hispanic demographic are moving towards some kind of reform this year.
The White House is giving House Speaker John Boehner space to maneuver, knowing that an ill-timed intervention from Obama, who is reviled by conservative Republicans, could backfire.
The White House will also follow a tradition dating back to ex-president Ronald Reagan of inviting notable or heroic Americans to sit with the First Lady for the speech.
The first female CEO of GM, Mary Barra will attend, as will Antoinette Tuff, an Atlanta bookkeeper who prevented a shooting at an elementary school last year.
Photo: Mandel Ngan via AFP